Sitemaps 101: An Introduction to Sitemapping Your Website
Here's what you need to know:
A sitemap is a visual way to organize your website navigation, so it's better for the user.
You need a sitemap because it defines your website hierarchy and keeps your SEO, development and design teams aligned with user experience in mind.
Download your free sitemap template here.
Are you tracking the right metrics on your website? Find out.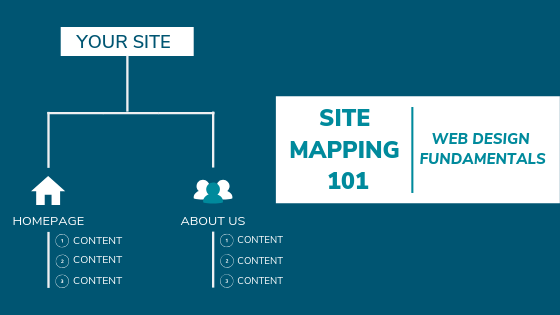 No question about it. You need a sitemap.
Seriously. If your website has more than a handful of pages, you should have one. Wait – let me rephrase that, you NEED A SITEMAP.
We recommend creating a sitemap so that you can ensure your user experience runs smoothly and that the organization of your website makes sense to your audience.
So, Why Do We Sitemap?
As your website becomes more complex, the sheer amount of information on your website can be daunting. Keeping track of what goes where becomes even more challenging as your team expands from just one person into a whole group of designers, developers, SEO specialists, managers, etc.
How do you keep track of what page is what? How do you stop repeat content from happening? How do you plan it all? What is the answer! Help! I need somebody! Help, not just anybody! … and so the song goes.
That is where sitemapping, like a superhero in a red cape of awesomeness, comes to the rescue.
The sitemap organizes the chaos of your website, creating a plan that your team can follow even if they're in a different building or across the country. Sitemaps keep the monster of confusion at bay and in the long run, make your users happy too.
Rather not deal with making your own sitemap? Reach out to see how we can help.
What Is a Sitemap Anyway?
As briefly touched upon in the previously posted "The 6 Stages of Web Design," a sitemap is a visual diagram of the hierarchy of pages within a website. Typically, sitemapping is one of the first tasks to be completed in any web design and development project. However, sitemaps can be created and updated at any point of the website process.
Even if your site is already up and running, there may be holes in your navigation or user experience that you don't know about. A sitemap will show you where you need to improve.
What a sitemap does:
Defines and organizes every page of your website hierarchically
Sorts pages from most broad to most defined
Keeps your entire design, development and SEO team coordinated
Ensures your UX strategy is on the right track
What a sitemap does NOT do:
Define the content (copy points, illustrations, widgets, thingamabobs, etc.) of each individual page
Define the layout or hierarchy of information on a single page
Define the final visual layout
Sitemaps do not tell you exactly what to put on your website. While they outline places on your website where you should put content and help you understand how much content you'll need, sitemaps function as guidelines. Similarly, your sitemap will not define the hierarchy of content on an individual page.
The Anatomy of a Sitemap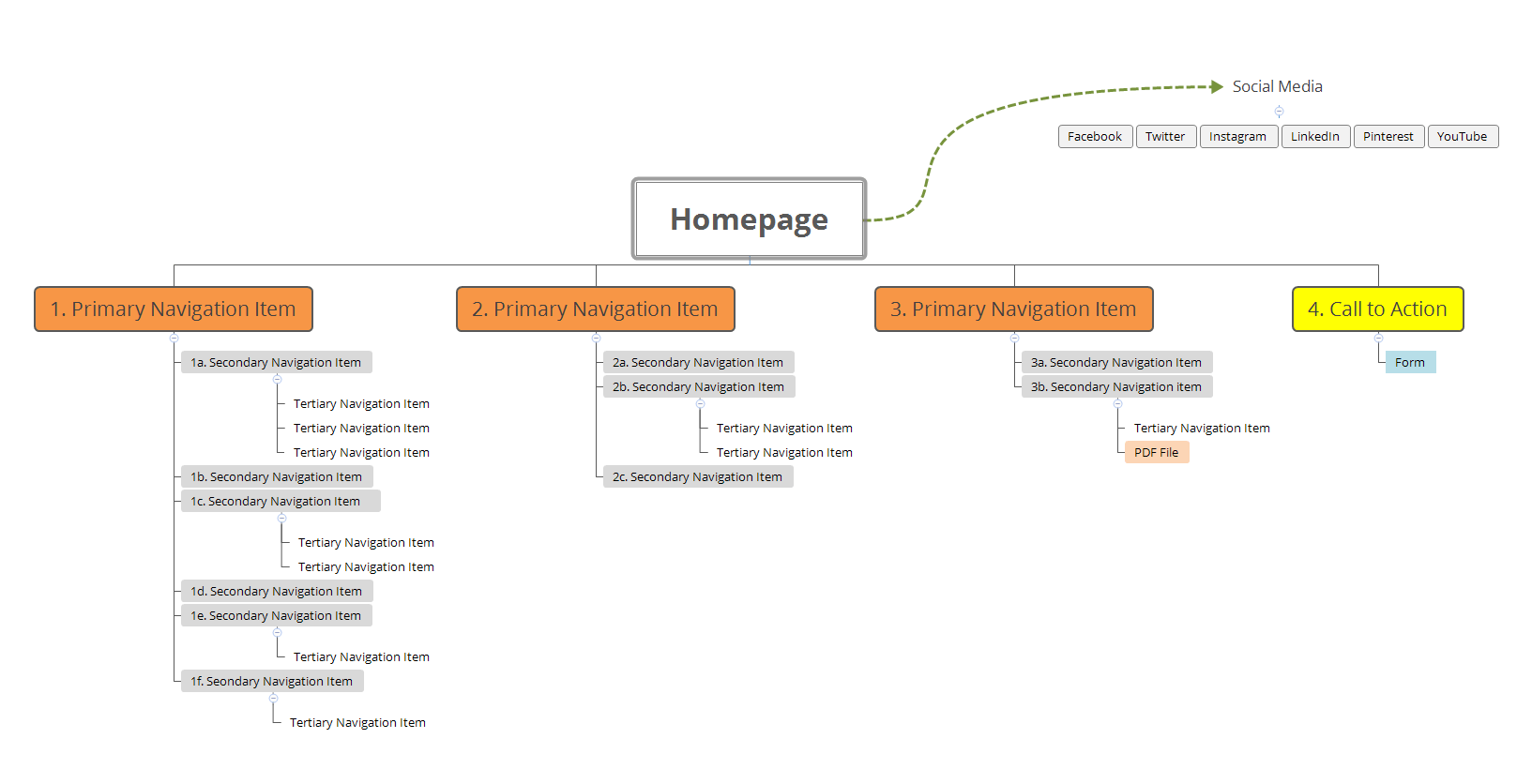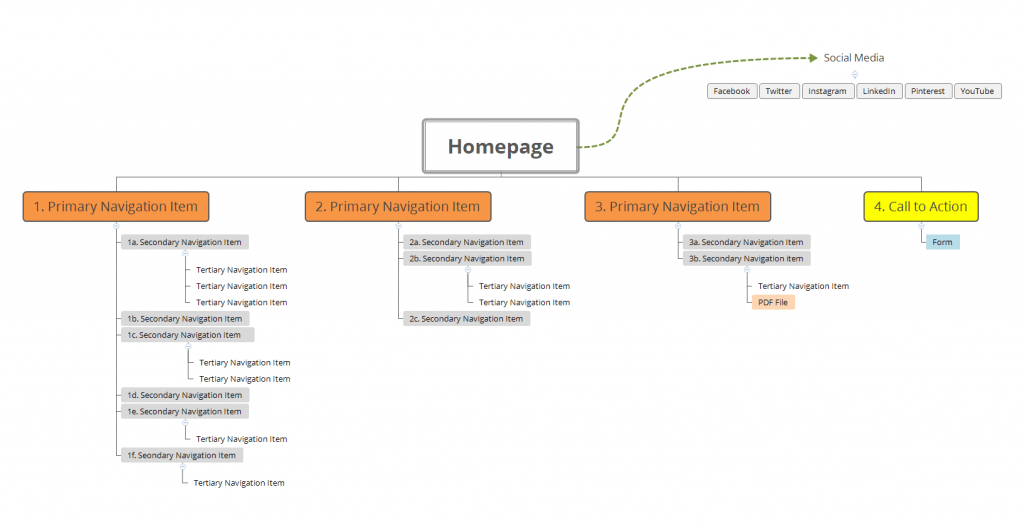 No matter how you're mapping out your site – old school with sticky notes and a pencil or more high tech with HTML and computer tools – there are a few components you might expect to show up on your sitemap. While these components are pretty standard, don't be alarmed if they don't all appear on your sitemap. And vice versa – if you have additional categories on your map, don't worry! This is your website we're talking about here.
As long as you're using your best judgment when it comes to organization and user accessibility, sitemaps can come in all shapes and sizes.
Getting started with digital marketing? Get access to online training through Learn with Oneupweb.
Let's break it down: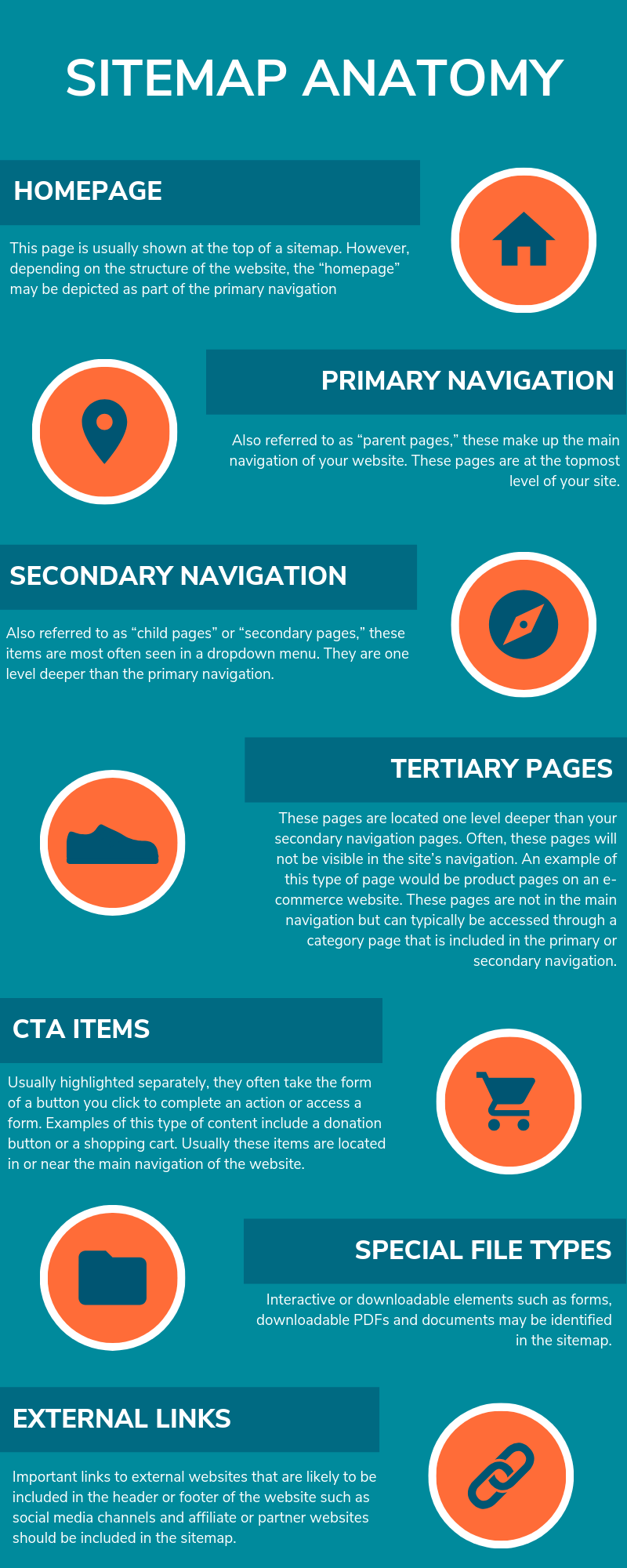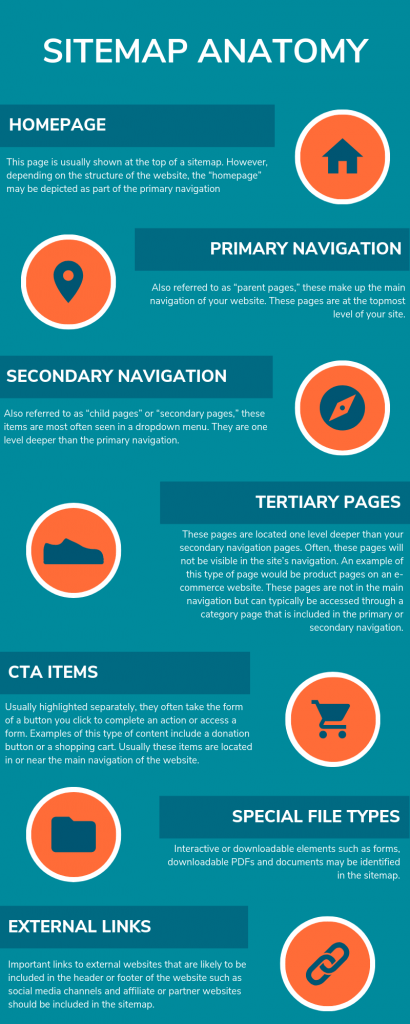 Homepage – This page is usually shown at the top of a sitemap. However, depending on the structure of the website, the "homepage" may be depicted as part of the primary navigation.
Primary navigation – Also referred to as "parent pages," these make up the main navigation of your website. These pages are at the topmost level of your site.
Secondary navigation – Also referred to as "child pages" or "secondary pages," these items are most often seen in a dropdown menu. They are one level deeper than the primary navigation.
Tertiary pages – These pages are located one level deeper than your secondary navigation pages. Often, these pages will not be visible in the site's navigation. An example of this type of page would be product pages on an e-commerce website.
Call-to-action items – Usually highlighted separately, they often take the form of a button you click to complete an action or access a form. Examples of this type of content include a donation button or a shopping cart. Usually these items are located in or near the main navigation of the website.
Special file types – Interactive or downloadable elements such as forms, downloadable PDFs and documents may be identified in the sitemap.
External links – Important links to external websites that are likely to be included in the header or footer of the website such as social media channels and affiliate or partner websites should be included..
What (and Who) You Need to Create a Sitemap
The actual physical tools used in sitemapping are pretty basic. A lot of times, people use flowcharts or mind mapping software such as XMind. (Curious about mind maps? Check out Venngage for some great mind map templates.) In a pinch, even PowerPoint can be used to create a sitemap.
We've put together two sitemap templates you can download. One is for XMind, the software we use and recommend (it's free to download!) or if you don't want to download a new product, we have a PowerPoint template as well.
The most powerful tool for sitemapping, however, is making sure you have the right person for the task. Good sitemaps take a lot of work and a certain level of expertise. As you know, the best sites have exceptional user experience at their core.
Here's what's never a good idea when it comes to the organization of your website: winging it.
Oneupweb is a full-service digital marketing agency well-versed in all things sitemap related. Please reach out to us for all your sitemap needs.