Key Takeaways from SMX Advanced 2019
Last month, two Oneupweb employees traveled across the country to attend SMX Advanced 2019 in Seattle, a premier search marketing conference that we were fortunate enough to have attended last year, too. At this momentous meeting of marketing minds (holy alliteration!), keynote speakers from marketing and tech giants like Google, Microsoft, Search Engine Land, and SEMrush shared their knowledge about trends in SEO and SEM, and tactics for staying on top of it all. Today we're sharing the love by outlining some key takeaways from our time in Seattle.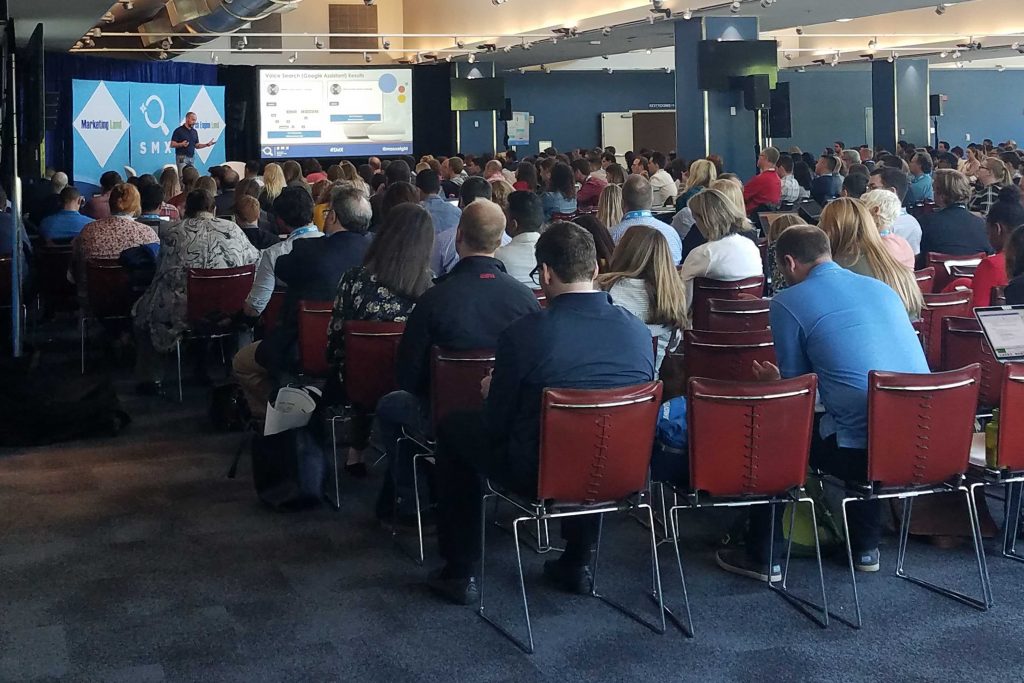 Takeaway 1: The SERP is changing fast.
Even if you're not a marketer, you've probably noticed that the Google search engine results page (SERP) looks a lot different lately – and has been changing gradually for a while. The SERP is catering more to mobile users who want a quick answer, so it's showing more features like Featured Snippets, Rich Snippets, Direct Answers, Knowledge Panels, People Also Ask accordions and Top Stories.
These 'SERP features' help users find the information they want quickly. But for businesses, changes on the SERP have their pros and cons. Let's start with the bad news: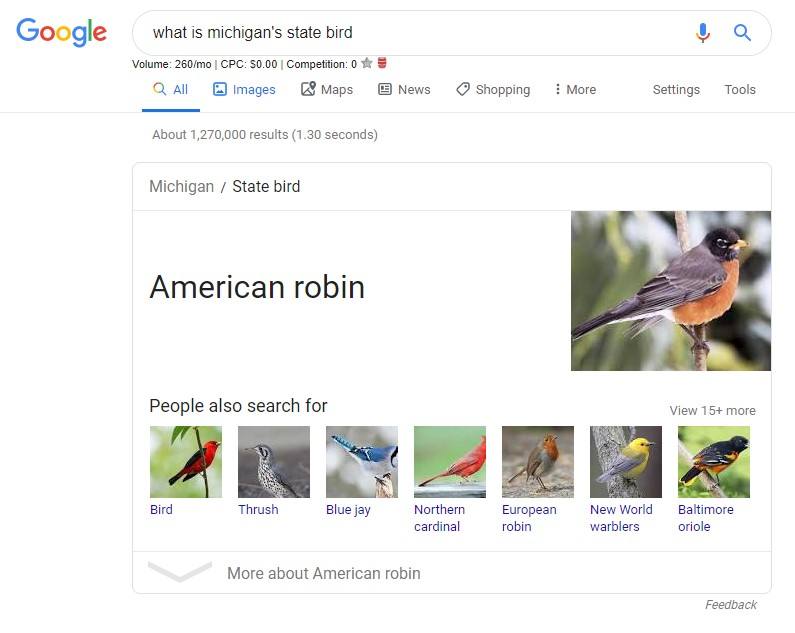 Cons:
A user may be more and more likely to find the answer to their query right on the SERP and never click into your website – all your hard work for little interaction.
Links in SERP features are likely to become harder to find, which may reduce your website sessions even more.
But there is hope!
Pros:
The playing field for making it into a SERP feature seems to be a lot more friendly than that of traditional organic search results. Even the "little guys" with low domain authority seem to be showing up at the top of the SERP more often because Google wants to give the absolute most relevant answer.
Getting your content in a highly visible SERP feature puts your brand in front of a lot of eyes. Even if someone fails to click into your site after getting their quick answer, they will see your name and connect it with credibility.
As always, there are ways for marketers to play to game to their favor. (Keep reading!)
Keeping up with the Google-ians
Straight from the mouths of SMX experts and the team at Oneupweb: Instead of getting discouraged by the changes in the SERP, take advantage of them! Here are a few ways to do that.
Keep up with Schema markup trends. Structured data is getting more complex. It's easy to do it wrong or overdo it, so make sure you only use the schema that's relevant to the main purpose of the page – not a slew of conflicting tags.
Provide really helpful content that people want to access in long form. That way, when you show up in a SERP feature, users are still tempted to click on your website.
Focus on good page speed. Speed is not just a mega ranking factor. According to Olga Andrienko from SEMrush, speed is crucial for claiming featured snippets. Do everything you can to have a fast load speed – without sacrificing a nice design.

We recommend using the Lighthouse browser extension from Google to test for speed.

Also, AMP (accelerated mobile pages) is good! Even though we use AMP already, our time at SMX drove this idea home even more.
Takeaway 2: Voice search is a big deal.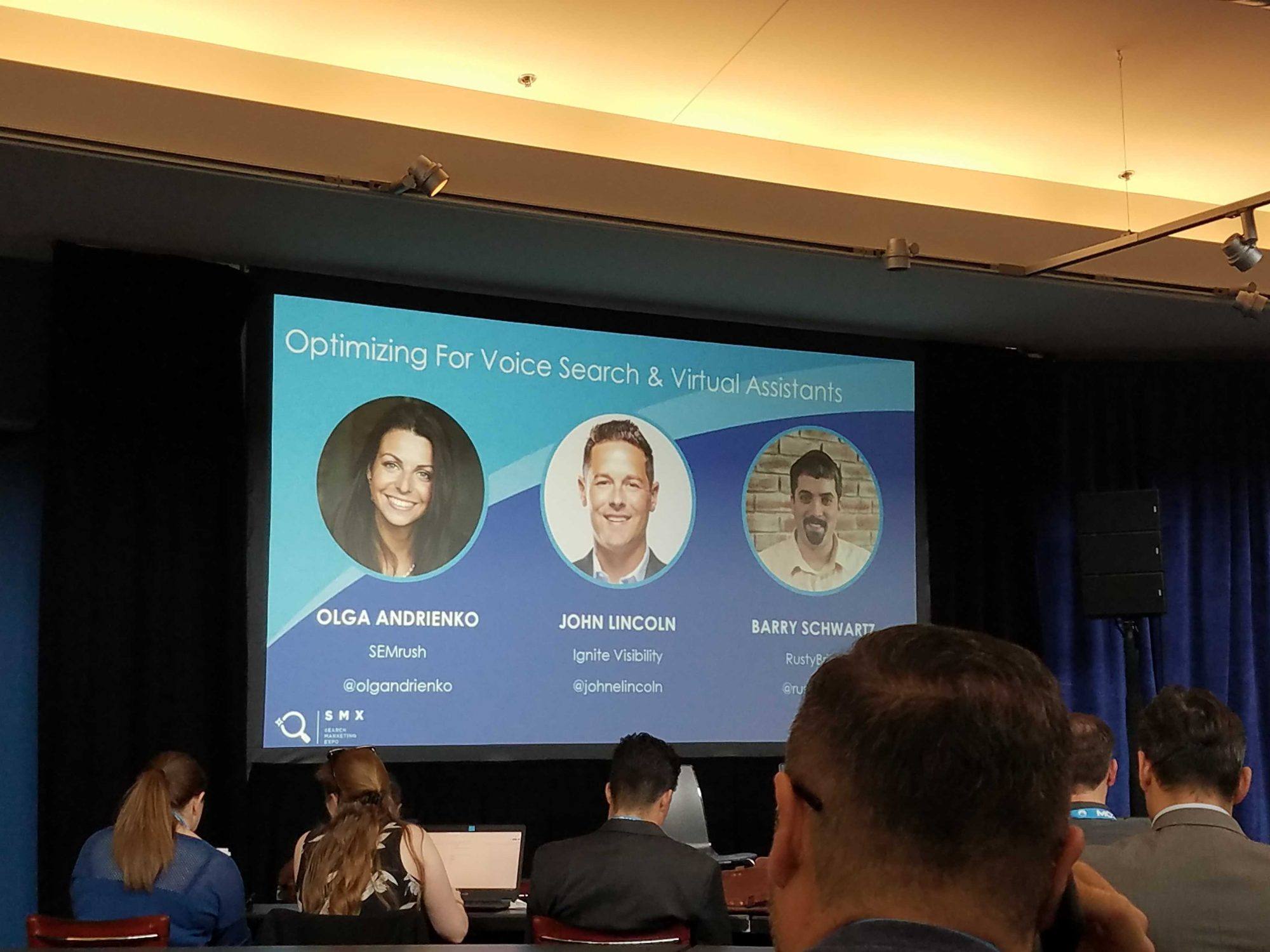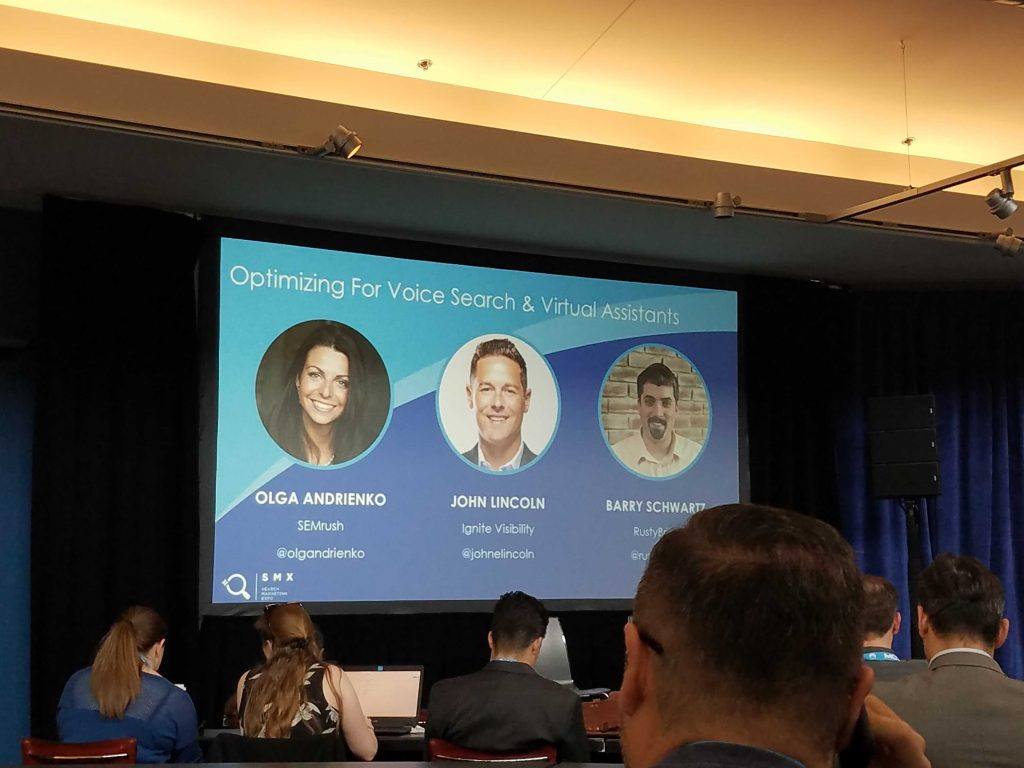 We've had voice search on our minds for a long time at Oneupweb, and our time at SMX showed us just how important it is to prepare for the advance of voice search technology. Here were the key messages of the sessions we attended:
You need to rank in featured snippets and "people also ask," as these locations are where voice answers are most often pulled.
You don't necessarily need to be in position 1 – 3 on the SERP to be in a voice answer; you only need to have a really specific answer to a really specific question.

So don't be afraid to build content around low-volume, long-tail keywords! Those efforts are likely to become more and more valuable in helping you dominate organic search as voice answers get more specific.

Speakable Schema is coming … (Cue the ominous clouds in the distance.)

But really, speakable Schema will be a good thing for marketers and businesses alike! Just stay informed about when it will roll out, and apply it on your website. If you have questions, Oneupweb is here for you! Reach out.
Takeaway 3: Content is still king.
Our old pal Good Content is still really, really important. You should still be creating a lot of relevant, helpful, well-written content to get domain authority and better ranking. The sessions at SMX specific to content creation were built around these main points:
Multimedia content is dominating plainer content. Multimedia tempts users to visit your website and stay there longer, which sends authority signals to search engines. It can improve your overall organic search performance.
Content freshness helps your site out – but you have to make sure you're really freshening it up. Don't just switch around your keywords and content organization in some old blogs; add Schema markup, images, video, more-accessible header styles and anything else useful to your audience.
Try out the new Topic Research tool from SEMrush – we've already tried it at Oneupweb and are finding it quite interesting and useful for deepening your keyword research and creating a content calendar.
Generating mainstream press – even if you're a little-guy company – can take your organic site performance to astronomical heights because of naturally built backlinks. Take risks in your content, and you may just be picked up by mainstream media.
Takeaway 4: SEOs, SEMs and developers should be on the same page.
SEO is more technical than ever, so everyone who's touching the code should know what they're doing. That was another big message from our overall SMX experience. If your work environment isn't highly collaborative or communicating during all steps of a project, errors can occur. For example, the SEO team could believe that the development team is taking care of a certain detail when the development team is thinking the opposite.
The more advanced digital marketing gets, the more important cross-team collaboration becomes. Have you heard of interactive Discovery ads and the Discover Feed? What about Google's new video bumper ads? These multimedia assets are strongest when creative and technical minds create them together.
Here are some other related tips:
Make sure that both developers and SEOs on your team watch out for SEO pitfalls that affect mobile performance – like paginating your blog incorrectly or bloating your page with unused CSS or slow JS.
Schema markup and schema QA are best made a team effort. Your content experts should be involved because they likely know the brand better, and the developers should oversee technicalities because they likely know the website framework better.
AMP should be applied in a way that doesn't skew data by inflating sessions. Make sure someone on your team is responsible for ensuring that the "client ID API" is in place so Google can unify AMP and web sessions in the analytics cache.
Another Fun Tidbit
We're excited about the possibility of creating a business account for Quora. As an agency that produces a ton of blog content for clients, we're looking at Quora as a secondary publishing platform. The business account is appealing because it allows us to publish on behalf of the brand – rather than on behalf of the CEO.
Business accounts will be in beta soon and we're anxious to test it out – along with some ad features.
In Summary
We're so glad we attended SMX Advanced 2019! It made us feel good about the ways we've been preparing for all the changes coming up in search marketing – and it prepared us for preparing even better. If you have questions about what we learned at SMX, reach out to us online or call (231) 922-9977.