Can I Stop Competitors Bidding on My Brand Terms?
No.
No, you can't stop someone from bidding on your brand keywords in search ads. But that does not mean you can't do something about it…
How to Approach Competitors Bidding on Branded Terms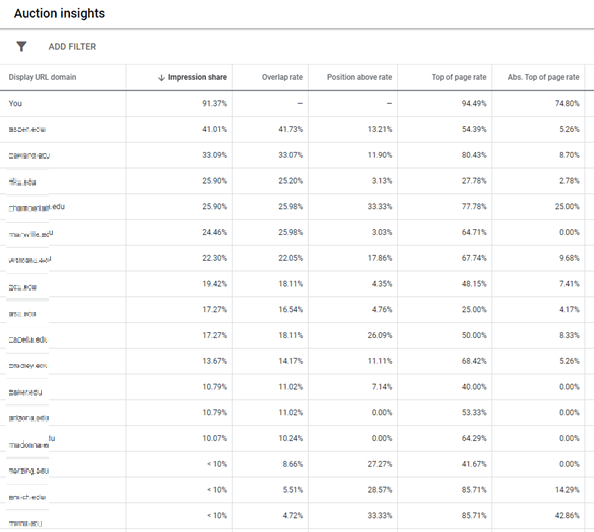 Let's say you did a search for your brand and saw your competitor listed first in the paid search results. Or you looked at Auction Insights in your ad platform and saw a competitor's name on the page.
What can you do? What should you do?
Your response will depend on your budget and your intentions toward the competitor. Options include:
If you're familiar with and acquainted with the competitor, you may simply be able to ask them to stop doing what they're doing.
Bid on the keywords yourself. You can and should be bidding on your own brand keywords in the search platform. Paid ads will increase the amount of space your brand has on the SERP (Search Engine Results Page) and make it more expensive for your competitor to try to get clicks from people looking for you. This is because keyword-ranking algorithms reward terms that are aligned with the landing page.
Return the favor. (See details below.)
Can You Bid on Competitor Brand Terms?
Yes.
Yes, you can. If a business is bidding on your brand name, then they view you as a competitor in the marketplace. Do you see them as a competitor to you? Be honest. Then consider the following factors before you bid on competitor brand terms.
If you launch a search ad campaign based on brand keywords that are not yours, you will raise the overall Cost per Click of these keywords. Can you afford that?
Your competitor is likely to see your ads at some point too, and they may increase their competitive marketing tactics. Are you ready for the fall-out from that?
At Oneupweb, we believe there is a time and place to bid on keywords for a competing brand – even if they are not bidding on your brand keywords. Opportune moments to bid on competitor keywords include these:
Your competitor is in the news.
You offer a superior product / proposition compared to your competitor.
You are new to your industry or vertical and want to create brand awareness.
You have specific content on your website that compares you with a competitor.
These are a few situations when a paid ad targeting competitor brand keywords may get your product or service noticed. Just be aware that bidding on competitor keywords will be expensive and is considered an aggressively territorial, though acceptable, tactic.
Elevate Your Paid Media Strategy
To bid or not to bid – that is not the question when it comes to your own brand keywords. Bid on them if you have the budget available. It creates authority, lets you own more of the available screen real estate on the SERP, and makes it more expensive for a competitor to bid on your brand keywords. Plus, your search ad will potentially push theirs to lower ranking positions, where they're less likely to be seen.
Whether you bid on your competitor's brand terms is up to you, and we hope these guidelines have helped you decide.
If you need someone to take counter-measures to protect your claim on search results, consider Oneupweb's paid media experts. We provide any level of support – from consulting to full-on campaign management – and have found success for our clients in diverse industries. Contact us here or call (231) 922-9977.
Psst… Check out our paid media FAQ blog if you have more questions.