Paid Search Territory: Why Bid on Brand Terms?
Many SEM experts advocate bidding on branded keywords because it increases the real estate your brand occupies on the search engine results page (SERP). Additionally, it makes it more expensive for your competitor to steal clicks from people who are looking for your brand. But there's more to it.
Check out the reasons that Oneupweb's paid media team typically recommends being territorial with your bidding strategy. (Don't worry – we'll also share reasons you might not need to bid on brand terms.)
4 Reasons for Bidding on Your Own Brand Name
#1 Control
Prospective customers who are searching for your brand name are already curious about you. Bidding on branded keywords is a way to show them exactly what you want them to see at the top of search results. Your search ads also offer a way to complement organic results by including information that most likely won't be shown in the organic listing or local pack.
Maybe you have an ecommerce site, and you want to promote gift cards during the holiday season. An ad allows you to push this specific message without messing with your SEO strategy, and you can land the user on the page where they can ultimately make a purchase.
For example, a lot of large auto insurance companies are currently utilizing search ads to provide supplemental information about deals, while the organic listing takes a less aggressive and more keyword-focused approach.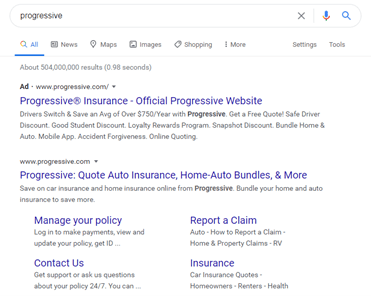 #2 Increased Credibility
Organic search results accompanied by ad results may increase brand credibility, which is a great way to earn incremental clicks. According to a study conducted by Nielson Research, high-ranking organic links receive just 60% of clicks in the SERP when shown without an ad, but this increases to 92% when a paid ad accompanies that same organic listing.
At Oneupweb, we did our own (more recent) research about the benefits of aligning PPC with organic – and we included a sexy swivel table tool you can use to improve your strategy.
#3 Competition
Aggressive competition has always been one of the primary reasons for bidding on your own brand name. When competitors are bidding on yourbrand terms but you aren't, you're missing out on clicks and opportunities. If competition is fierce, it's critical that you include value propositions in both an ad and organic listing, ensuring your product/service looks better than those of the other advertisers bidding in the same auctions. For example, your search ad may highlight promotional offers or free shipping codes to increase clicks and, ultimately, conversions.
#4 Optimal Landing Pages
Most paid media landing pages are designed to do one thing: convert prospects to customers. On the other hand, organic landing pages send users to engaging information they're interested in – and many of those users are top-of-funnel, just-curious people. When someone is searching for your brand name, they've heard about you and might be ready to convert. You have the opportunity to serve an ad that leads to a high-converting landing page that's more specific than your homepage or top-level service page. And because search algorithms reward landing pages that are most aligned with the keywords, your landing page has the advantage over competitors. Finally, that advantage will only get better as your ad is rewarded with high quality scores.
Choose Your Next Move Carefully
Arguments Against Bidding on Your Brand Keywords
There's no one-size-fits-all paid media strategy. Here are several reasons that some advertisers choose to hold off on bids for branded keywords:
Tight advertising budget
Limited or no competition
Extremely strong organic search presence
Playing nice with partners who are bidding on your brand
Unbiased Advice for Paid Media Strategy
Getting an unbiased party to review your SEM and other paid media campaigns can uncover weak points that your team is too close to see. Should you really be bidding on branded keywords? Are your branded ads hiding poor performance of more challenging campaigns?
These are the insights Oneupweb's paid media team lives for. We'd be glad to offer your business an account audit or no-nonsense consultation. Just contact us here or call (231) 922-9977.