Every Type of Display Ad (And Why They Work!)
Display advertising is one of the best ways to raise awareness of your brand, product or service. The Google display network includes digital tools that billions of people rely on every day, including Gmail and YouTube. Wondering what a mix of creative display ads can do for your next paid campaign?
Let us walk you through the seven types of display ads and how to leverage paid search tools for your organization.
Before we check out some of the best display ads on the 'net, let's define what is a display ad – and what isn't!
What Are Display Ads?
Display ads, sometimes called banner ads, are image-based advertisements served in fixed locations on millions of websites every day. These ads are personalized to the user so that different ad sets are served to each visitor based on past search patterns or other identifying information.
Display ads check one of more of the following boxes:
It's an image or is image-based (static or animated).
Ad placement is brokered directly or through a display network such as the Google Display Network.
The advertising is being used to promote a brand, service, product or offering.
It's not a search ad. (Keep reading to learn more about this.)
Identifying the Most Common Types of Display Ads
Banners, square images with text, animations – you've certainly seen your fair share of display ads on your favorite websites. The world's first display ad was a banner ad that appeared all the way back in 1994. It worked; an amazing 44% of people who saw it clicked on it! From the first generation of display ads, a convention developed of using self-contained images with a call-to-action in a variety of square and rectangle sizes.
Display advertising has matured into specialized types. These new iterations of ads offer more sophistication and placement in different locations within the display network.
Traditional Display Ads: Whether square or rectangular, traditional banner ads are immediately identifiable as display advertising. Reminiscent of print ads, layouts consist of landscape, square and skyscraper image sizes. These ads are primarily image-based with some text and are primarily placed on websites.
Responsive Display Ads: This type of display ad is based on multiple text headlines, descriptions and images that the ad-platform algorithm uses to place, size and orient in various combinations. The platform determines the best-performing format for the specified audience.

Retargeting Display Ads: Retargeting (or remarketing) is when a display ad is shown to people who have visited your web property – usually a specific page or set of pages – in a specified time frame but not yet completed the desired action. Retargeting display ads are a great vehicle for personalized content.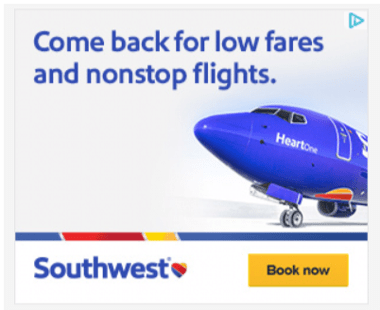 Native Ads: Native display ads are designed and placed in the same style as the content of the website, email, etc. You see native ads as promoted or recommended content on various sites, but they usually don't look like ads at all.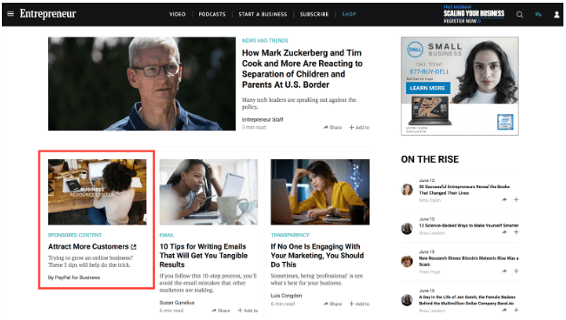 Social Ads: These are ads you see on social networks such as Facebook and LinkedIn. Like responsive display ads, they are a combination of text and images with a CTA.
Discovery Ads: Discovery ads are a form of native ads that use machine learning to showcase image assets in the most appropriate format for the user. Discovery ads appear on YouTube search results, Watch Next, Gmail social and promotion tabs, and the Google Discover results.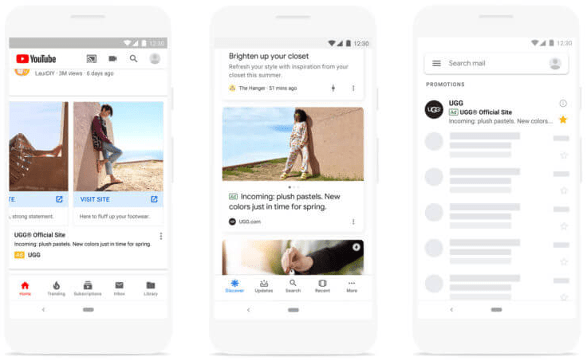 Read More: Paid Media FAQs
Google Display Ad Best Practices
The best display ads combine engaging imagery and copy, follow Google Ads best practices and adapt to changing consumer tastes. The key to effective display ads is to test, monitor and tweak campaigns so you're always spending budget efficiently.
Follow these banner ads best practices and get in touch for more guidance shaping your display ads strategy.
Scroll-stopping Display Ad Creative
When you're developing display ads, the way you design your creative asset (i.e., the image itself) should be determined by the channel, campaign type and placement. Things to consider include your call to action or CTA (e.g., "Learn More"), the value proposition, tagline, business name and logo. One of the most underrated display ads creative best practices? Expand your palette! Test a range of colors and other images to see what grabs your audience.
Get Your Ad Sizing Just Right
The most common and effective display ads come in several standard sizes. For example, Google's Display Network lists sizes for both mobile and desktop display ads.
The Oneupweb's paid media team typically uses these sizes the most, in pixels:
Google Display Network

1200×628 (1.9:1 ratio)
1200×1200

Meta

1080×1800 & 600×600 (minimum)

LinkedIn
Pinterest
Utilize the Biggest Display Networks
Different platforms may allow for slightly different audience targeting, budget limits or creative requirements. No matter where you advertise, you'll need effective ad design and a flexible budget to drive conversions.
Determine where to place your display ads based on available audience targeting, your budget or the demographics of a particular platform.
Google Display Network
YouTube
Programmatic
Social Media
Oneupweb can help you find the right sandbox to play in – get in touch.
Know All Your Display Ad Targeting Options
Next, choose who will see your ads. There are several targeting options based on specific behaviors that users have previously taken, including visiting your site recently or using particular keywords in a search. Remember to allocate a portion of spend to ongoing display ad optimization and testing. Depending on your industry and market, some of these display ad targeting strategies could generate surprising results with some fine-tuning!
These are the most common types of display targeting:
Affinity
Affinity targeting serves ads to users based on specific interests. Love sports or watching stocks? Affinity targeting will pull out the Detroit Lions memorabilia or an ad for a The Wall Street Journal subscription.
In-market
In-market ads are shown to users actively looking for specific products or services. As the name suggests, these users are "in the market" and have a high likelihood of converting.
Demographics, Interests and Behaviors
These ads seek to reach users based on factors like education, employment or professional expertise, previous purchase behavior and browsing behaviors.
Remarketing/Retargeting
Remarketing serves ads to users who have interacted with your web property or app within a specified time frame but without completing a desired action. A large variety of interactions can be used for retargeting – like users visiting a specific page (or combination of pages), spending a certain amount of time on site or viewing a certain number of pages.
Display Ads vs. Search Ads: How Are They Different?
Both display and search ads have their perks, but it's important to know what sets them apart.
Search ads are …
Based on the intent the user demonstrates via a search query
Text-based and appear as a top result in the search engine results page
Cannot be blocked by ad blockers
Display ads are …
Shown to users based on interest or past behavior
Served from an ad network
Easily blocked by ad-blocking software or extensions
Comparing Conversion Rates
Search ads are clearly the better option in terms of conversion rate. Across all industries, search ads average a CVR of 4.2% compared to just 0.55% for display ads. That's largely due to the strong intent associated with search ads; users are actively seeking out the specified search term.
Are Display Ads Cheaper Than Search Ads?
Search ads have higher average conversion rates than display ads, but they aren't always the best bet. Display ads are more budget-friendly, with an average cost-per-click of $0.59 compared to $2.41 for search ads.
Put Your Best Products and Services on Display
From search to social to programmatic, there's a lot of opportunity to be found in paid media.
Tap into Oneupweb's over two decades of institutional knowledge and experience with fully integrated teams of marketing experts. From paid media to design to development, we deliver results. Call (231) 922-9977 or get in touch to start the conversation!