How to Use Video in Email Marketing
Can you embed a video in an email?
You can try, but you really shouldn't. There are two main reasons for that:
Many email marketing solutions don't allow you to embed video. We use HubSpot, for example, which has a great drag-and-drop tool for building emails. To embed a video, we would have to switch to an HTML-based email tool.
Some major email providers do not display videos in email. Couple this with the fact that video capability varies by device, and you'll leave a portion of your list disappointed.
But sending an email promoting a well-produced video is a great way to engage your subscribers, so fear not – we have a workaround.
Better Ways to Promote a Video through Email Marketing
Here are two ways you can tease a video in your email without risking a bad user experience for some of your subscribers:
Embed a GIF instead. Embedding lightweight media in your email can improve email conversion rate by 103%. Two downsides of using GIFs in an email are:

Not all email providers support this media in email. However, most do, and significantly more providers accept GIFs than videos.
Using a GIF that isn't properly sized (as close to 1MB as possible) can cause loading speed issues for your subscribers.

Add a video thumbnail image with a Play button overlay and a link. This will signal to readers that clicking the thumbnail will take them to a video hosted elsewhere. Keep in mind:

This is Oneupweb's preferred method for email marketing with video, as it's more likely to result in positive UX and clickthroughs on our clients' emails (and our own).
Including a video thumbnail image in an email increases clicks by 50 percent.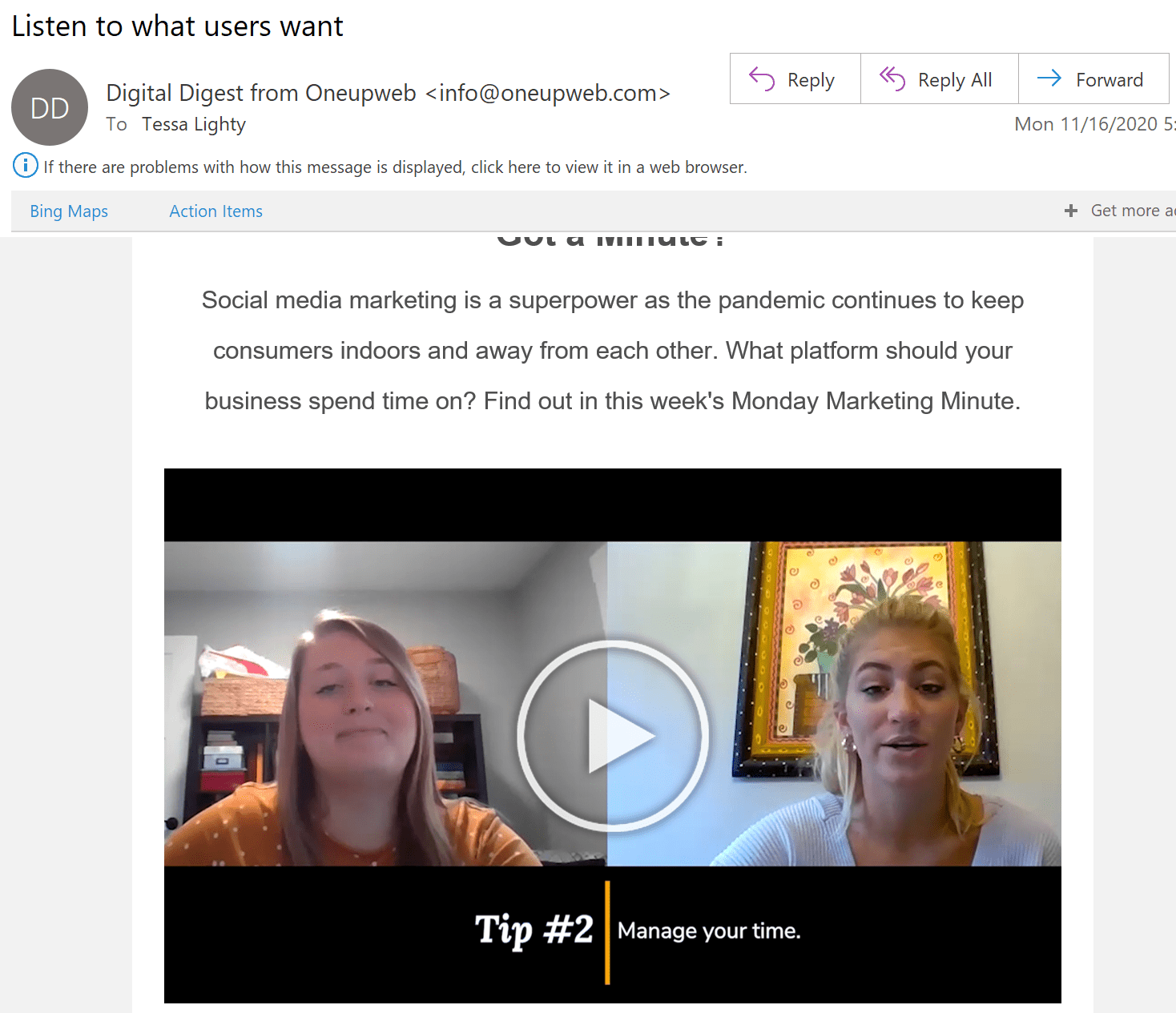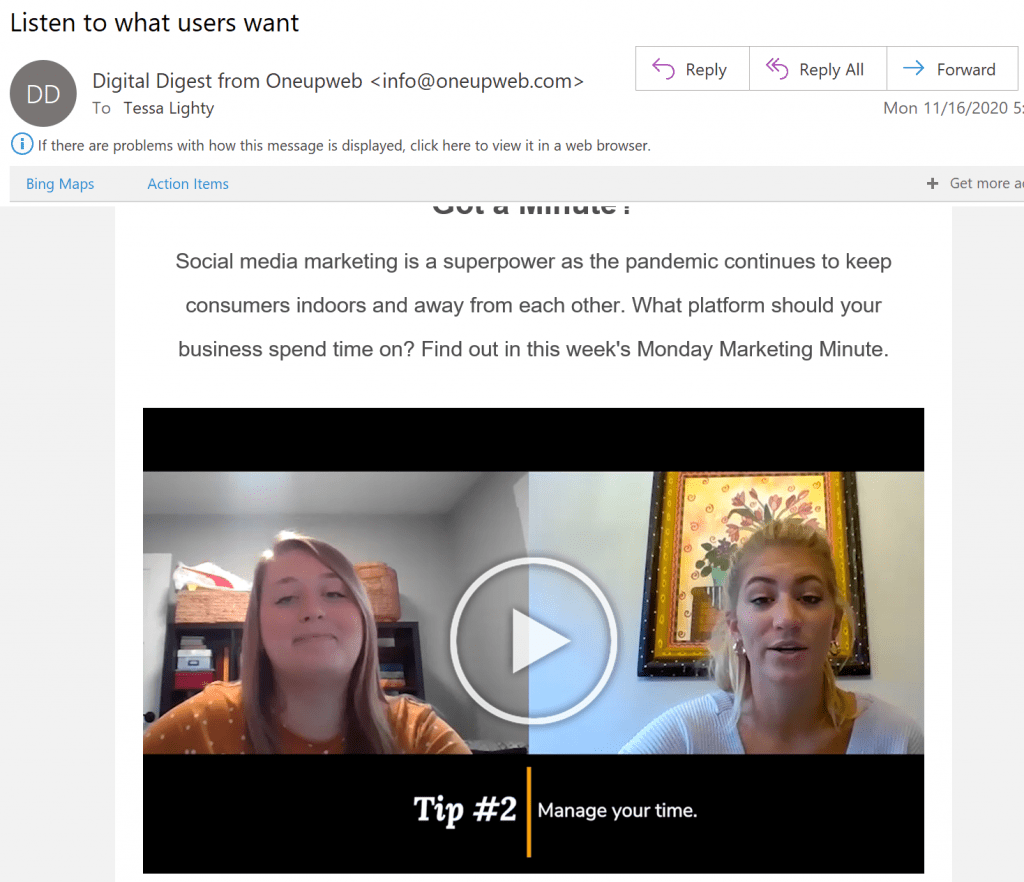 "I Still Want to Embed a Video in an Email"
Maybe you've determined that using a video in your email directly is the best way to reach your audience. If workarounds aren't doing what you need them to and you're willing to put in the work, you can make using video in emails work in some major email marketing solutions.
How to Embed a Video in a Constant Contact Email
To fully embed a video in Constant Contact, you'll need to use a video hosted on YouTube, Vimeo, or Wistia.
In your email template, use the "more" option in the Build tab to drag a video block into your email.
Click on the video block to open the toolbar and select "Edit."
Copy and paste your email link into the field provided.
Click the "Test Link" button to make sure it works properly.
Click "Insert."
You can insert a video across the width of an email or in a column. Change the video's alignment and size to match your email design.
To use videos hosted elsewhere, use an image link with an HTML video thumbnail to mimic a Constant Contact embed video.
How to Embed a Video in a Mailchimp Email
Need to use a video in email marketing through Mailchimp? It's more difficult with this solution than with Constant Contact. You'll need to use the classic builder instead of the newest version to embed a video, and it may not work with every email client.
Add a video content block. Use a video block to easily embed videos from YouTube or Vimeo. If your videos are being hosted by another service, you'll need to manually upload a thumbnail.
Use video merge tags. Mailchimp has an in-depth guide to their video merge tag process, and anyone with some coding experience should be able to follow along.
Insert an image link to a video. Trick the system by using a video thumbnail with a Play button to indicate a video; then use the image as the anchor for a link to the video on its host site. This is the safest way to add video content and will work in most email services.
Now that we've covered how to use video in email marketing, you may be interested in checking out some other answers to email marketing FAQs.
Maximize Email Deliverability with Oneupweb
With the right email marketing strategies, you can reinforce your other content marketing efforts and keep current customers engaged. To ensure your business's videos – and everything else you have to say – are seen by the right people, consider connecting with Oneupweb's full-service marketing experts.
Reach out online or call (231) 922-9977, and you'll be one step closer to tackling your marketing challenges.