Multi-Location Website Localization: A Case Study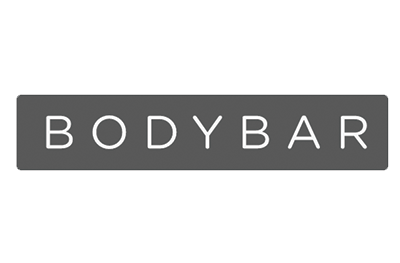 The days of using the same content on all your business locations' web pages to grow your local organic search performance are over.
Google's recent algorithm updates have aimed to serve more helpful information and less spam in search results, and the guidelines for being "not spammy" now include using truly localized content for location-specific pages. This includes location overview pages and location-specific versions of product and service pages.
When you use unique copy and local SEO tactics on your website, the results can be remarkable. Oneupweb's services for BODYBAR Pilates are a perfect case study for amplifying local SEO performance for a business with multiple locations – in this case, a rapidly growing boutique fitness franchise. 
The Goal and Master Plan
Oneupweb has worked with BODYBAR Pilates since 2021. We began by supporting their franchise development program before expanding into other marketing tactics that benefitted both their franchisees and their local audiences. BODYBAR has been rapidly growing since the company took root. As a result, the franchise location pages on their site – we'll refer to them as "studio pages" – used to rely on duplicate content for the sake of scalability. In 2022, BODYBAR came to us to improve local SEO performance on their website to drive leads for their franchisees and prevent overreliance on paid media advertising.
We established a few goals:
Double the traffic to local studio pages through organic search.
Drive leads through local studio page sessions to shorten the user journey. (Previously, most organic sessions began on the national homepage, and users searched for their studio to convert.)
Align with national brand standards while also capturing the unique local spirit of each franchise location.
Scope of work: This case study analyzes the 17 local studio pages that Oneupweb optimized for local search. We coordinated with franchise owners, performed keyword research, agreed on a layout, wrote the content, made franchisor- and franchisee-requested revisions and implemented the content updates on the existing web pages.
Timeline: The project was spread out to fit into our existing content marketing retainer agreement. The first studio page (Alpharetta, Georgia, location) was updated with its unique copy in August 2022. We implemented two more studio page optimizations in January 2023. Then, in April and early May 2023, we implemented 14 more.
Key Challenges
TL;DR: Lots of content needed. Lots of moving pieces and parts. Lots of stakeholders involved!
There's no cutting corners when it comes to establishing unique local content; just tokenizing pieces of the pages to use the location name is not enough to prevent a duplicate content "penalty" from search engines. So, localizing content for a multi-location business isn't easy, but we knew from experience that it would pay off.
We needed this franchise local SEO strategy to include enough unique content to satisfy search engine algorithms while also establishing a consistent layout and brand experience across studio pages.
Our plan included developing a template and workflow for future studio pages so we could prepare the corporate team to handle frequent launches of new franchise units; this included a boilerplate version of the copy, with a few localized pieces, that could be used in a pinch until further unique content was made. We also worked within existing website layouts and styles, upon request, so this project focused mainly on written copy.
Finally, we needed to incorporate each franchisee's local knowledge and preferred copy points. This was not only to add a unique local feel to the pages but also to establish local external links to support SEO performance. This led to a franchisee survey and laying out a plan for one-on-one communication as needed.
Our Strategy
To sum it up in a few words, we put unique, SEO-rich content on all 17 pages! Fresh, localized and engaging content built on the right keywords that matched user intent – it was a beautiful sight.
The major phases of our plan:
Franchisee survey – Gather location details, quotes, and external link recommendations.
Keyword research – Identify localized keyword targets (e.g., "Pilates classes Dallas, TX"); note common language patterns to replicate easily across locations, even when local search query data was unavailable.
Layout and messaging alignment – Align on layout and messaging guidelines with the corporate franchise team.
Content production – Write each new page, using the identified keyword targets and information from the survey.
Finishing up – Send content to the corporate team and local franchisees for approval. Make requested revisions and push the new content live.
Our Franchise Marketing Playbook explains some of the detailed best practices we followed when updating the studio page content for BODYBAR.
The Results
The last batch of optimizations went live in April 2023. Since it takes a few months for new SEO content to gain traction, we decided to use July 2023 for the performance analysis.
Here's how the optimized landing pages performed in the organic search traffic channel:*
+115.9% sessions YoY
+124.7% engaged sessions YoY
+5.3% engagement rate YoY
+198.1% conversions YoY
While organic sessions for all pages increased, the growth rate for the unique content was even stronger. The pages optimized 6+ months prior to the reporting period were performing the best out of the batch, while the pages optimized 3 months prior were only just beginning to hit their stride. This matches the expected impact of a robust SEO strategy.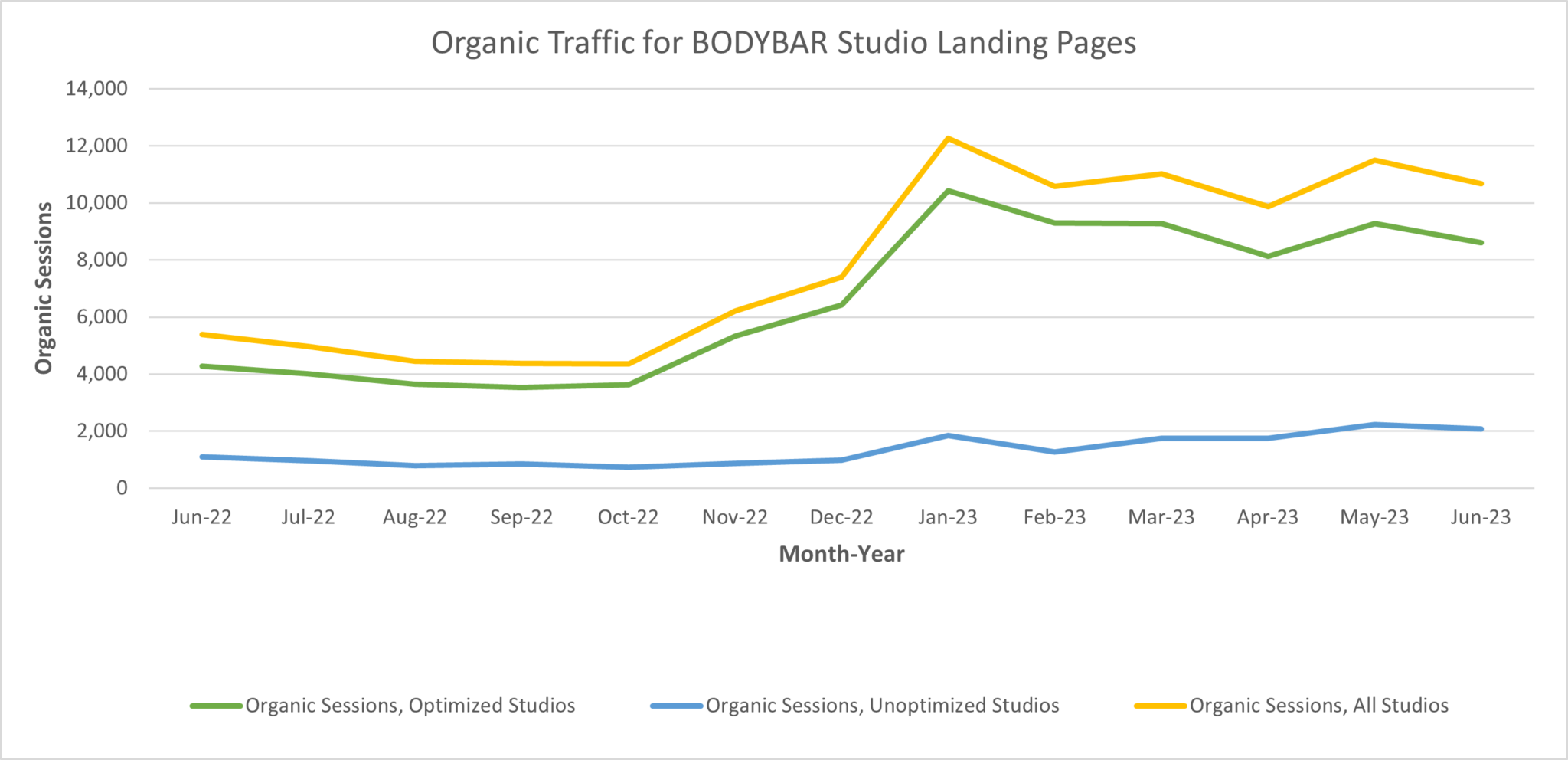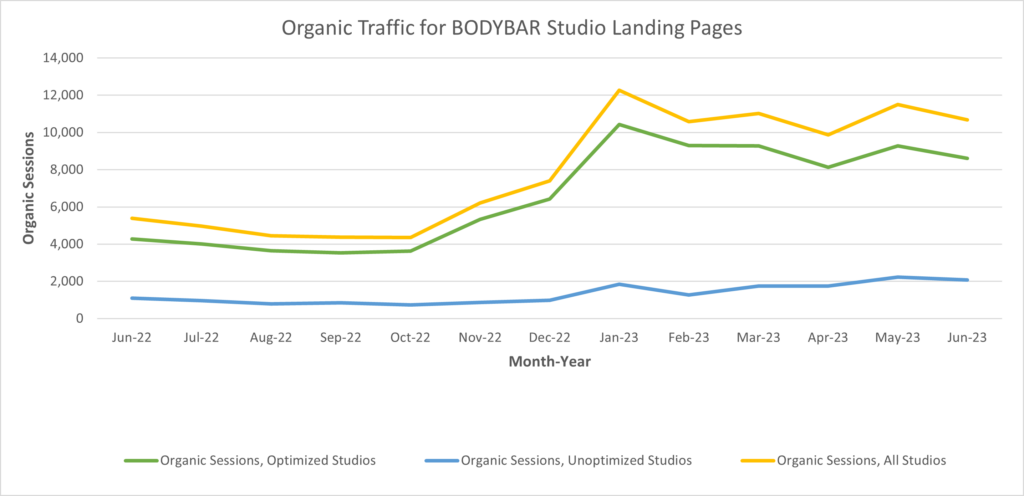 Additionally, the optimized pages had higher sessions per page, engagement rates, and conversion rates compared to non-optimized pages – with some complicating factors to note.**


Optimize for Multiple Locations and Endless Successes
See how your multi-location business will benefit from stronger local SEO that pairs with your national or global marketing strategy. Oneupweb is well-equipped for the job, with an integrated team of SEO strategists and writers, designers, web developers and other experts. Our strategies are never cookie-cutter; they're precision-cut to fit your business objectives. Get in touch or call (231) 922-9977 to start your project today.
*The exact date range analyzed in this local content case study was July 1-July 23, compared with the same period the previous year (YoY), as July was incomplete at the time of analysis.
**The age of these pages does play a role in organic sessions performance. At least half of the unoptimized studio pages were quite new when this data was pulled, some of them still in the process of opening. Additionally, more established studio locations may run more paid media, which can have a spillover benefit on organic search performance.