Your Content Marketing FAQs, Answered
Content marketing has always existed. Before the term picked up buzz in 2012, it was simply known as "marketing." So, what is content marketing? Is it a subset of SEO or does it encompass SEO, social media and much more? It's brand awareness. It's thought leadership. It's lead gen. Content marketing is marketing.
The purpose of this post is not only to answer some commonly asked questions about content marketing, but to help marketing managers answer the golden question: What can content marketing do for my business?

What Is the Difference Between Content Marketing and SEO?
While SEO and content marketing are very much related, we like to think of them as art and science. Content marketing is the art and SEO is the science.
Content marketing is delivering information to your target audience and leaving them with a favorable impression of your brand. The content itself can take many forms – and it helps to be artful!
SEO is much more technical and scientific. At Oneupweb, we start most engagements with a technical site audit to ensure the website has a solid foundation from which to grow. We look at meta data, robots.txt files, xml sitemaps and schematic markup. It's technical. We also look at search data to inform the keywords we target and, ultimately, the content we create (a la content marketing).
Need help understanding these terms?
Do I Need a Blog to Do Content Marketing?
No, you don't need a blog to do content marketing. Blogging is a popular channel for content marketing, as it allows you to publish information that's relevant to your industry and rank organically for keywords your target audience is querying.
Rather than a blog, though, gated content also works splendidly, as it allows you to build your owned audience and market to them later. We have found success by using blogs or resources (gated or ungated) as the original source of content and then distributing the content through other channels (like email, social media and PR). The content helps build your owned audience, which you continue to nurture with more content.
Content Marketing Is Great for Brand Awareness, But Does It Drive Sales?
Many people assume content marketing is an awareness play. That's not true. Like any marketing campaign, it depends on your goal. If your goal is to drive awareness, your content is going to address top of the funnel queries. If your goal is to drive sales, your content is going to address bottom of the funnel queries.
Let's use a home organization service as an example. For brand awareness, we may produce a video titled "How to Organize Your Purse." While it's interesting and highly searched, not many people will watch the video and proceed to book an appointment. For sales, we may produce a gated eGuide that illustrates the financial and emotional benefits of getting organized and maintaining an organized home. The eGuide addresses concerns the homeowner may have in the decision phase of the sales journey.
Is Content Marketing Only for Big National Brands?
Content marketing is not just for big brands. Most small brands engage in content marketing by virtue of a customer relationship management (CRM) strategy. Content marketing is how businesses entice users to either follow them on social media or subscribe to emails. When it comes to concepting content marketing campaigns, whether it be a blog post or a YouTube video, local brands should always be mindful that their audience is… local. Therefore, the content should also be hyperlocal. If you're an electrician in Detroit, don't publish a piece about energy consumption amongst MLB ballparks. Instead, write a piece about which Detroit sports stadium consumes the most energy. Think about topics that uniquely appeal to your market.
What Is Data-Driven Content Marketing? Just Buzzwords?
Data-driven content marketing is not just a buzz word. The issue with many content marketing campaigns is that the marketers try to think about topics they think are interesting. Every campaign needs to be validated by search data or market research. Many brands assume they have a dedicated audience, like they're a major news publication. The truth is, nobody is checking your blog daily for new content. And your news feed? Only a fraction of your followers ever see your latest posts.
Ideas to consider:
Check Google Trends to see when the topic is most relevant – or whether it's relevant at all!
Check search volume to see how many people are searching for the topic.
Check demographics to see who is searching for the content.
Check social analytics to see which types of content are most engaging.
Check Google Analytics to see which types of content convert at higher rates.
And so much more. Without data, you're flying blind and wasting a ton of resources on ideas you think are great. Data lets you see what your audience actually wants.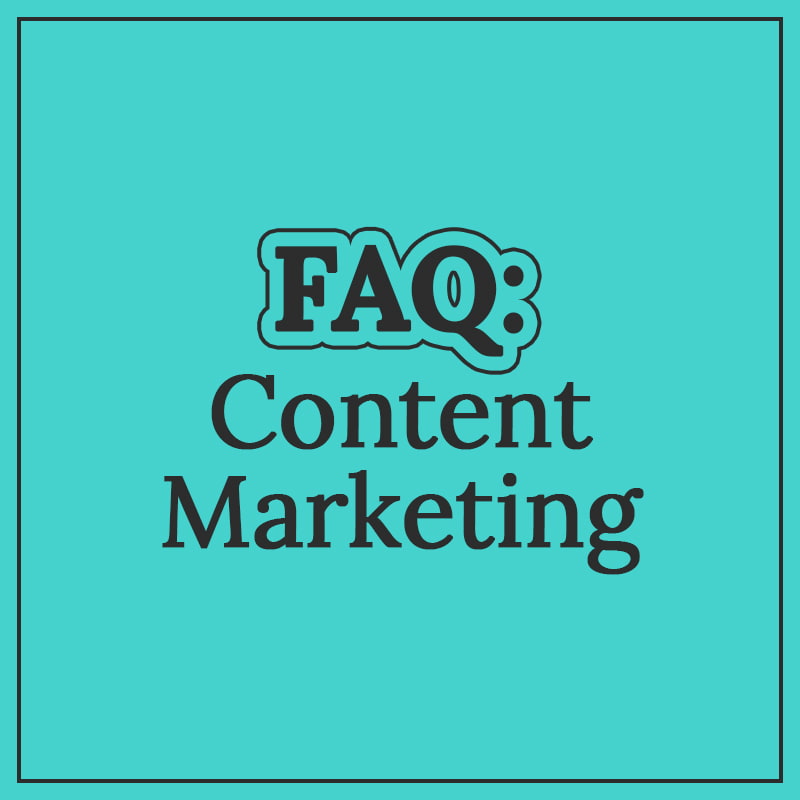 How Do You Measure the Success of Content Marketing?
Identifying key performance indicators (KPIs) should happen at the forefront of any content marketing campaign. The KPIs, of course, depend on the goal of the campaign. If the goal is to increase brand awareness through organic search, consider using organic sessions or organic pageviews as your primary KPI. If your goal is to drive leads, consider tracking form fills through all marketing channels. You can get even more granular than that. If you're promoting content on Facebook, look at Facebook referrals. If you're promoting the same piece of gated content via email and social, measure the impact of both. The important step is establishing a goal, which makes it much easier to develop a strategy. Only then can you identify KPIs that measure the success of that strategy.
Is Social Media Considered a Form of Content Marketing?
Yes. If your audience is on social media, use social media. If your audience is walking the mall at 5 a.m. every Thursday, put on your walking shoes and pass out pamphlets. Content marketing takes many forms. If you're giving away information, regardless of the medium, you're engaging in content marketing. Social media is an excellent channel for promoting content and engaging with your audience.
How Do I Start Content Marketing?
Start by identifying your goals. Why are you producing content? What do you want consumers of your content to ultimately do? Identifying the goal helps you determine the type of content you'll want to produce and the channels you'll want to use. This step is not easy. It's exactly why so many brands rely on experienced marketing partners to identify the campaigns and channels that fetch the greatest return on their investment.
If this describes your current situation, let's talk. Oneupweb has more than 20 years of SEO and content marketing experience. Not many agencies can make that claim. So, what are your marketing goals? We'll tell you exactly how we would achieve those goals and measure the success of our efforts.