Your Content Marketing FAQs, Answered
Content marketing isn't new. Before the term picked up buzz in 2012, it was simply known as "marketing." So, what is content marketing? Today, content marketing is a vital part of any robust digital marketing strategy – and you're probably already doing it.
It's brand awareness. It's thought leadership. It's lead gen. Content marketing is marketing.
Content Marketing FAQs
What is content marketing?
Content marketing is the ongoing process of creating useful, informative, entertaining and relevant videos, graphics, blogs, product pages or other digital assets. Great content is designed to meet the needs of a unique and engaged audience to build trust, authority and brand awareness.
Why is content marketing important?
Effective content marketing represents your brand in a wider conversation than simply conversions. Creating digital assets that appeal to the everyday needs of your customers inspires brand loyalty, establishes trust and addresses every part of the sales funnel.
What is a content marketing strategy?
Comprehensive content strategies address the overarching goals your brand hopes to achieve in the short and long terms. Content marketers identify, test and optimize different tactics to deliver content to the right audience at the right time, including blogs, emails, social media, podcasts and more.
What is the difference between content marketing and SEO?
While SEO and content marketing are very much related, we like to think of them as art and science. Content marketing is the art and SEO is the science. Content marketing is delivering information to your target audience through various channels and leaving them with a favorable impression of your brand. The content itself can take many forms – and it should be artful! SEO is much more technical and scientific, involving keyword targets, metadata, links, site speed, and more.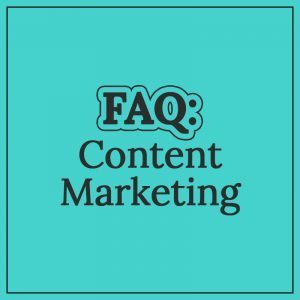 Does SEO come first, or does content marketing?
We usually start on the SEO side of things with a technical site audit to ensure the website has a solid foundation from which to grow. Search data informs target keywords and, ultimately, the content we create.
While SEO and content marketing are very much related, you need a strong foundation of SEO to use content marketing most effectively.
Related: What is Paid Media?
Do I need a blog for content marketing?
No, you don't need a blog for content marketing. Blogging is a popular channel for content marketing because it allows you to publish information that's relevant to your industry and rank organically for keywords your target audience is querying.
Gated content also works splendidly. This tactic allows you to build your owned audience and market to them later. We have found success by using blogs or resources (gated or ungated) as the source of content and then distributing the content through other channels (like email, social media and PR). The content helps build your owned audience, which you continue to nurture with more content.
Does content marketing drive sales?
Yes, if that's your goal. Like any marketing campaign, it depends on your aim. If your goal is to drive awareness, your content is going to address top-of-the-funnel queries. If your goal is to drive sales, your content is going to address bottom-of-funnel queries. Addressing every step in your customer journey is the best way to drive sales or conversions or to grow your online following.
Let's use a home organization service as an example.
For brand awareness, we may produce a video titled "How to Organize Your Purse." While it's interesting and highly searched, not many people proceed to book an appointment right after watching the video. (If their experience of the brand was good, however, they may come back later for information or a purchase.)
For sales, we may produce a gated eGuide that illustrates the financial and emotional benefits of getting organized and maintaining an organized home. The eGuide addresses any concerns the homeowner may have in the decision phase of the sales journey.
Is content marketing only for big national brands?
No, content marketing is not just for big brands. Both large and small brands engage in content marketing using a customer relationship management (CRM) strategy. Content marketing is how businesses entice users to either follow them on social media or subscribe to emails.
When it comes to concepting content marketing campaigns, whether it be a blog post or a YouTube video, smaller businesses should be mindful that their audience is… small. Therefore, the content should also be hyperlocal or regional. If you're an electrician in Detroit, don't publish a piece about energy consumption at MLB ballparks nationwide. Instead, write a piece about which Detroit sports stadium consumes the most energy. Think about topics that uniquely appeal to your market.
What is data-driven content marketing?
Data-driven content marketing uses collected data to build a persona representing your target audience. With the persona or audience description, you can better tailor your campaign to what customers or potential customers need to hear from you. After publishing the content, you can measure views and engagement metrics to refine from there.
Every campaign needs to be validated by search data or market research, not just use interesting topics in the hopes someone might read them. Many brands assume they have a dedicated audience like they're a major news publication. The truth is, nobody is checking your blog daily for new content. And your news feed? Only a fraction of your followers ever see your latest posts.
Researching tools and resources to consider:
There are plenty of free tools to help shape your content marketing strategy. Be sure to focus on data instead of gut feeling; the numbers don't lie!
Check Google Trends to see when the topic is most relevant – or whether it's relevant at all!
Check search volume to see how many people are searching for the topic.
Check demographics to see who is searching for the content.
Check social analytics to see which types of content are most engaging.
Check Google Analytics to see which types of content convert at higher rates.
And so much more. Without data, you're flying blind and wasting a ton of resources on ideas you think are great. Data lets you see what your audience actually wants.
How cost-effective is content marketing?
Digital content marketing costs approximately 60% less than traditional marketing alternatives like print ads or direct mail. This is only one benchmark, and there are considerable differences in both the costs associated with content marketing and the return on investment based on industries, markets and scale. We can help you calculate your current content marketing ROI to give you an accurate representation of where your money is going.
How much does organic content cost?
The cost of content marketing strategy, content creation and regular reporting typically accounts for 40% of the total digital marketing budget. Start by establishing a total marketing budget and breaking down expenses based on categories.
What Is the Cost of Website Content Writing? How Much Does a Blog Post Cost?
Content writing and blog creation costs vary based on the scope of the agreement, the number of pages or pieces of content requested and several other variables. At Oneupweb, we create a personalized estimate for every client as a part of our content calendar.
How to Measure Content Marketing Success
Identify key performance indicators (KPIs) at the forefront of any content marketing campaign, based on your campaign goals. Once you've identified your goals and how your KPIs show progress, you can track indicators throughout the campaign's duration.
How Does Social Media Support Content Marketing?
Social media is a form of content marketing, just like dedicated blogging or passing out pamphlets. If your audience consists of a lot of social media users, go to where they are. Using social media platforms that your audience uses allows you to put information in front of people who will probably be interested in it.
How to Get Started with Content Marketing
Start by identifying your goals. Why are you producing content? What do you want consumers of your content to ultimately do? Identifying the goal helps you determine the type of content you'll want to produce and the channels you'll want to use. This step is not easy. It's exactly why so many brands rely on experienced marketing partners to identify the campaigns and channels that fetch the greatest return on their investment.
Your Vertically Integrated Digital Marketing Agency
So, what are your marketing goals? Oneupweb has more than 20 years of SEO and content marketing experience. We can help you define, pursue and crush all your marketing goals – content or otherwise. Get in touch or call 231-922-9977 to chat!