How to Track Featured Snippets from Google
Featured snippets are one of the most valuable SERP features to rank for. They put your organization at the top of the search results in your own, lovely box. While that may not increase your organic traffic, it will vastly improve brand awareness and credibility. These snippets also increase your visibility through voice search answers. All these benefits became especially relevant post-2020 because now about 65% of searches result in zero clicks.
Are you aware of how many featured snippets your content has won so far? Want to increase that number? Start tracking featured snippets to benchmark your website's performance and measure progress.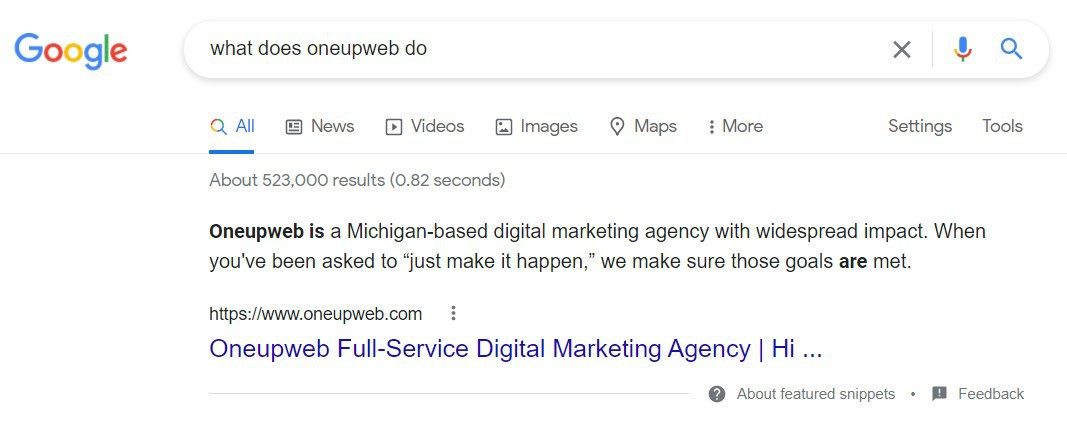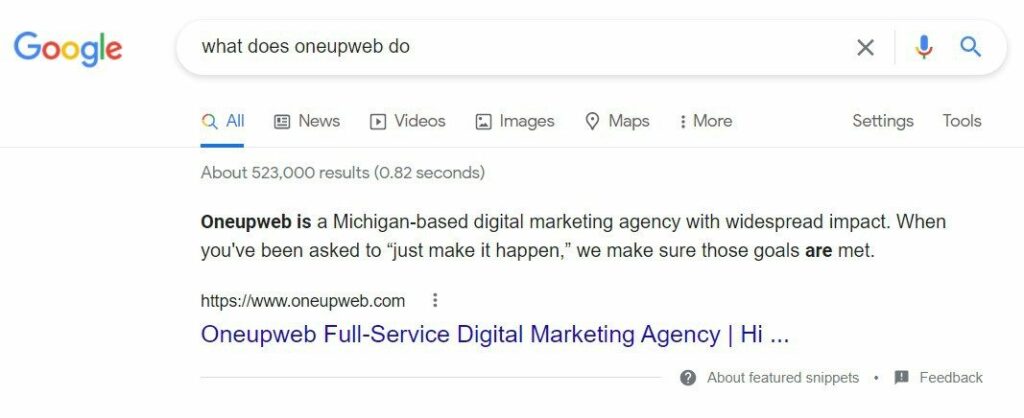 1. Use Featured Snippet Tracking Tools
A good featured snippet tool will allow you to monitor your ranking (in position 0 and otherwise) and find opportunities to improve your content strategy.
Here are some of the top solutions for featured snippet tracking:*
*Note: We haven't tried all the tools listed here.
At Oneupweb, our favorite solution is Semrush. We look at snippet ranking data in the Semrush Organic Research and Position Tracking tools, and we pull our featured snippet reports using the Semrush API. (Keep reading to learn more about that!)
2. Try a Manual (and Free) Approach
If you want to know more about your featured snippet rankings but you don't want to pay for an SEO tool, there are workarounds that may suffice for your business.
To identify keywords for which you might have a snippet, use Google Search Console as a starting point. Look at what you rank for in the top 10 positions, and narrow it down to the "snippet-y" ones – e.g., question and comparison keywords.
Then you can simply check the SERP in an incognito browser, using keywords you're ranking for that are likely serving featured snippets. Continue checking search results as you optimize your site, and hopefully, you'll see your own pages taking over relevant snippet spots – aka position #0. Moz has a good whiteboard video explaining this method, plus some more competitive ways of analyzing featured snippets right in the SERP.
However, if you want a zoomed-out view of total keywords for which you have featured snippets – and month-over-month progress – an SEO research tool is the way to go.
3. Create a Featured Snippet Report
So you've figured out your favorite way of finding your featured snippet performance within a tool. How do you report on that? An effective – and partially automated – way is using the Semrush API (paid) and Google Looker Studio (free) for featured snippet reporting.
Our SEO team reports on our clients' snippet rankings from two angles: month-over-month featured snippet totals and individual snippet keywords each month.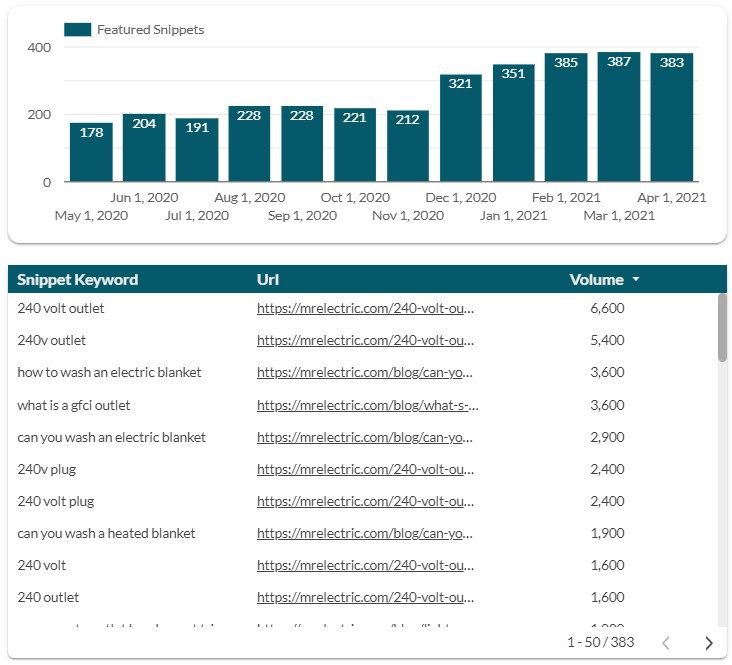 Setting Up the Snippet Keywords Table
Of the two types of snippet report charts we create, the table showing specific keywords is the most complicated to generate. Here are the basics!
Using the Semrush Analytics API documentation for Domain Organic Search Keywords (historical), we created a custom API key that pulls historical totals of "domain ranks for snippet" keywords.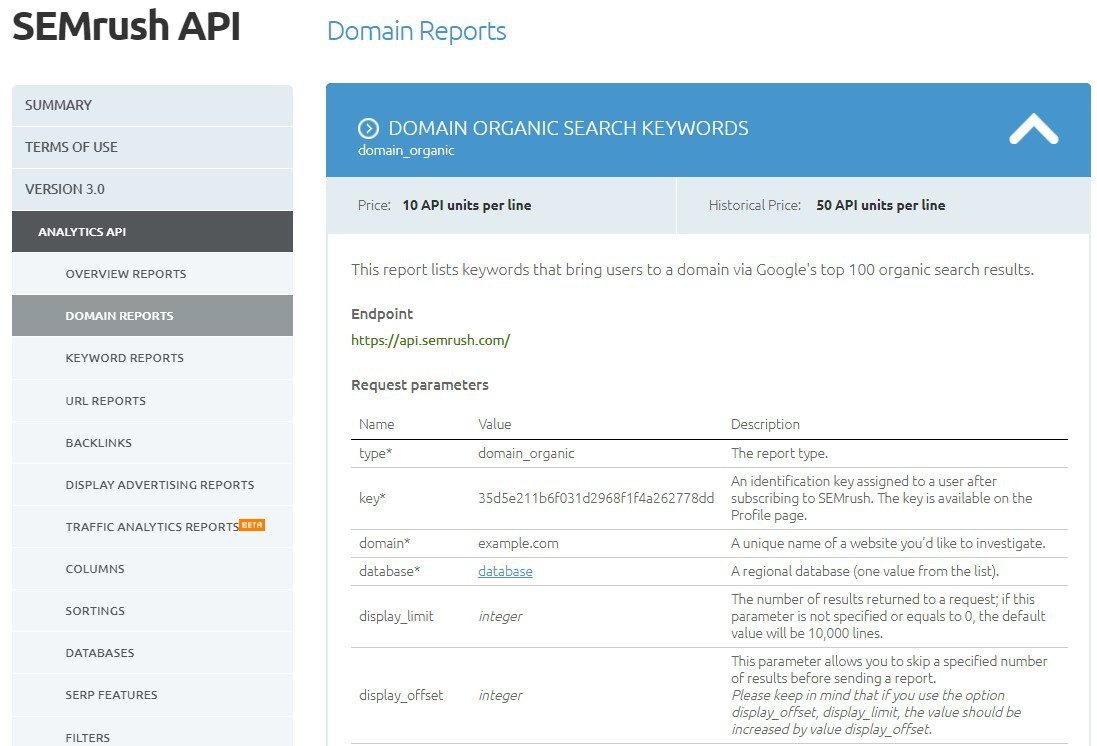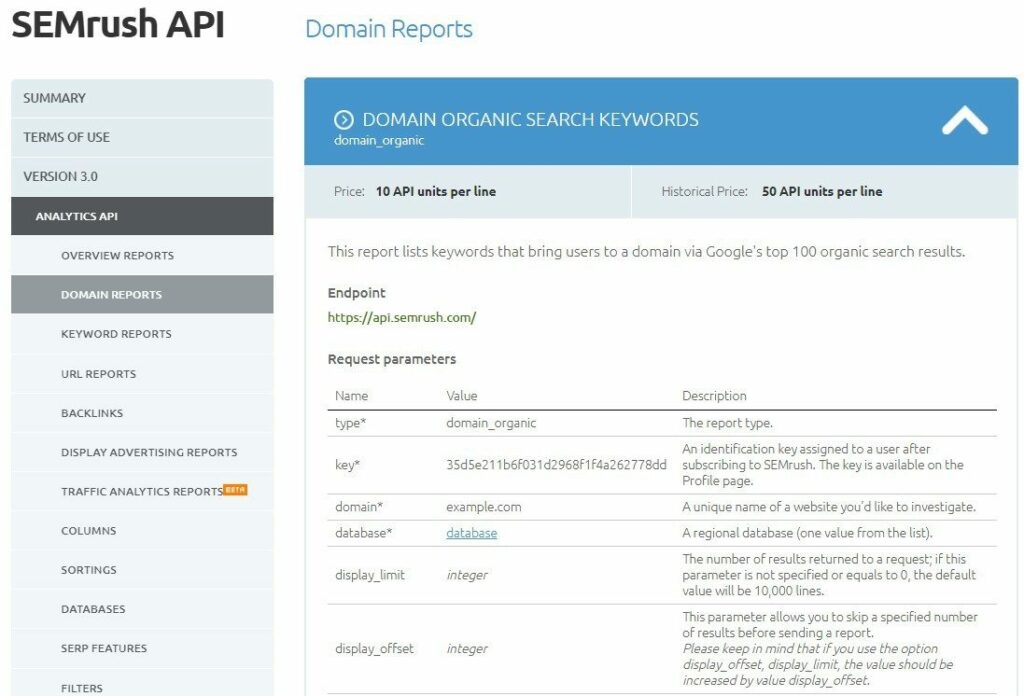 While testing this API key, we were sure to put a 1,000-row limit on it so we didn't rack up excess costs if something didn't work properly.
Next, we applied the API call to an Excel spreadsheet using an external data query. We know that process sounds annoying, but it works until the day Semrush provides a better way. And believe us: We've talked to them! (They're thinking about it!)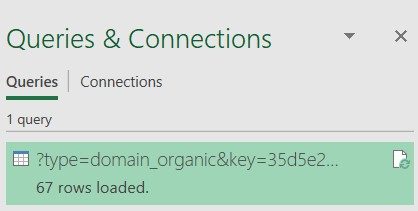 When it came time for monthly reporting, we used the same API key for all our SEO clients, only replacing the "domain" portion of the call.
Then:
We populated the data in an Excel Workbook for each domain.
We exported it as a CSV to prevent accidental API costs.**
We imported the CSV into Google Looker Studio to create the table in our monthly reports.
Each month thereafter, we simply refreshed the data in the original Workbook and started again at step 2.
**We used Excel instead of Google Sheets, as Excel allows you to easily control how frequently you refresh the data.
And that's it!
Are you also interested in creating the bar graph that shows snippet ranking totals each month?
More about Looker Studio
If you want to unify your SEO and content marketing reporting, Looker Studio is a free and highly useful choice. It has built-in data connectors with Semrush for many keyword reporting options – but snippet reporting, for the time being (in 2021), isn't available through those connectors. It has hundreds of connectors for other data sources too – like Ahrefs. And you can always go the custom API route if you can't find what you need. Options for design and visualizations are pretty decent if a little tedious to set up.
Featured Snippet FAQs
Now that we've covered the basics of featured snippet tracking and reporting, let's address a few other topics you may be wondering about:
How do featured snippets work in Google?
The search engine decides which content is most relevant for a featured snippet. Google looks for a short, helpful answer to a query and serves that answer at the top of the SERP. Usually, the snippet content is about 50 words long and answers a long-tail or specific query.
Do you have to be ranking well to get a snippet?
No. However, most featured snippets come from pages that ranked in the top 10 search results for the query. This is a beautiful thing: While it could take months for you to work your way from position 8 to position 1 for a relevant keyword, it could take just a day to go from position 8 to position 0 (the snippet).
Does schema help with featured snippets?
No, schematic markup does not influence ranking for featured snippets. Schema is not a direct ranking factor for any type of search result – but it does support better clickthrough rates for some organic results.
Why are featured snippets important?
They increase brand awareness.
They show that your content (and business) is highly credible.
They help you compete in today's zero-click SERP environment.
Featured snippets are used for voice search answers, leading to more impressions for you.
In certain scenarios, getting the featured snippet can increase organic traffic.
Want to see how featured snippets elevated our clients' businesses?
Does a featured snippet increase traffic?
It depends on how well you were previously ranking for the snippet keyword. If you were ranking worse than #1, traffic may increase after you get the snippet (position 0). But if you were ranking #1, winning the snippet may decrease sessions. Featured snippets get about 9% of clicks for a search, while position 1 results get about 19%.
Can you replace Wikipedia for a featured snippet?
Yes you can! Wikipedia claims thousands of featured snippets, as it systematically answers thousands of specific queries. But that doesn't mean you can't answer some of those queries better than Wikipedia does – and take over position 0.
In a few words, explain how to get a featured snippet.
Choose keywords that result in a featured snippet. Use an exact match of the keyword on your page. Answer the query thoroughly in 40 to 50 words. (You may elaborate afterward.) Make the rest of your page valuable too: e.g., target five or six related keywords to completely cover a topic.
Get More Strategic with SEO
Ranking higher for more relevant keywords requires grueling, consistent work. But it's worth it when, one day, organic search becomes your top channel for lead generation!
Does your business need support for planning and executing an SEO and content strategy? Oneupweb has 20+ years of experience in exactly that. Contact us here or call (231) 922-9977.