12 SEO Tips for Blogs
Blogs are an incredible tool for building brand awareness and even driving sales. The best way to get long-term benefits from your business's blog posts is to prioritize SEO and thorough topic planning. Here are the basics and the detailed logistics to know.
The Basics
1. Choose effective topics.
Successful content marketing requires creating content (e.g., blogs) that your audience would be interested in and publishing it at a relevant time. Topics you choose should fit into multiple stages of the marketing and sales funnel. Typically, blogs are meant to attract top- and mid-funnel users and build brand awareness – not to sell something right away. For example, create "how-to" blogs to attract organic traffic from top-of-funnel (awareness-stage) users, as shown in this case study.
Conduct topic research using multiple sources: keyword research tools, competitors' sites, forums, industry publishers, Answer the Public and more.
2. Plan a keyword group for each post.
SEO-friendly blogs target a group of related keywords, not just one key term. Using your favorite keyword research tool – and ideally some competitor keyword research – find two to five long-tail queries with clear user intent. Optimize the page and metadata for those queries, making sure you incorporate exact-match keywords only where it's natural to do so. No weird grammar or keyword stuffing. Remember that each keyword group needs to be unique! Don't directly target the same keyword on multiple blogs, or you'll cannibalize your ranking power.
Interested in improving your keyword research skills? There's a free Learn with Oneupweb course for that.
3. Enthusiastically respond to user intent.
If you want SEO in blogs to be effective, focus on user intent. Plug your target keywords into Google to observe the search engine results page (SERP). If the results you see are totally irrelevant to your business, that's a red flag; choose different keywords with search results you can see yourself ranking in and bringing value to.
When it comes to optimizing a blog for SEO, think deeply about a user's intent when they search for the target keyword, and respond as thoroughly as you can. This will help position you as a subject-matter expert, and it can naturally build backlinks.
4. Use internal and external links.
Using internal links – i.e., linking your blog posts to other pages on the same domain – helps search engines understand your content's meaning and importance, which can support stronger keyword ranking. Sprinkle, rather than dump, internal links in your blogs to guide users to related information they may be interested in.
Additionally, use external links pointing to other helpful content. While it's somewhat debated whether this tactic improves SEO in blogs and other content, including external links is just part of providing a good user experience.
In all links, make sure the anchor text explains what's on the other side of the link and uses natural language (not "CLICK HERE.")
5. Make content hubs.
Also known as "content clusters" or "hub-and-spoke content," content hubs are systems of cross-linked pages on a single domain that discuss related subjects. There's a hub page that covers a general topic, and that hub links off to multiple spoke pages that discuss subtopics. Many of the spokes also link to each other (and sometimes back to the main hub too). While using content hubs makes the keyword research process that much more difficult, it pays off in excellent user experiences that send engagement signals to search engines. Note: This isn't only a blog SEO tip – your core service and product content can also employ this tactic. It's quite helpful when you don't want to add 100 pages to your navigation menu but have many service/product topics to cover.
6. Optimize the title tag and meta description.
In the modern SERP, where the majority of searches are zero-click searches, you need a strong title tag and meta description to encourage clickthroughs. Make your words relevant, eye-catching, clear and authoritative. Try to incorporate at least one exact-match keyword in your title, but avoid unnatural language or keyword stuffing. If you want to avoid serving a truncated title in search results, keep it under 60 characters, including spaces.
Your meta description should be about 145 to 162 characters, including spaces. Similar to the title tag, it needs to pack a lot of engagement into a short span of words. Oneupweb recommends including a strong call-to-action in the meta too, if natural. Keywords in a meta description aren't a direct ranking factor, but they do encourage better clickthrough rates.
7. Optimize headings and body copy.
We've covered a lot of planning tips for blog SEO. Now we've arrived at how to write an SEO-friendly blog. The Oneupweb content and SEO team are masters of the well-optimized, featured-snippet-winning blog.
Here are a few drops of our secret sauce:
Use at least one instance of each target keyword, but keep keyword density low and natural – never annoying or repetitive.
Use plenty of headings to organize your blog in an accessible way. This will make it skim-able and easier to understand, upping the chances that readers will scroll to your calls-to-action.
Be better than the competing top search results. This one is left up to each writer's interpretation. It's all about answering a question better than others that are ranking for your keyword targets.
Be confident in your expertise, but avoid super-complex sentence structure and jargon. People want a quick and thorough answer to their question, not a dumbed-down summary or a "hey, I'm really smart" tone.
8. Apply schema markup.
Look at schema.org documentation for various types of Article schema, such as BlogPosting and NewsArticle. We recommend adding Article schema to your blog template (and other resource types) to mark up important elements like the headline, author, publish date, featured image and more.
If you're not very familiar with schema markup, check out our schema FAQ answers here.
9. Use multimedia.
Multimedia is awesome because it supports one of our blog SEO tips under #7: making your post better than other top search results. It also increases your chances of getting backlinks. So think outside the box for ways to present key information. Would your blog post benefit from a helpful infographic? What about step-by-step images or videos? What about an interactive tool that creatively guides the user to a specific answer to their query? Visually appealing and/or interactive media tends to keep users on the page longer, which helps with blog SEO performance spurred by good engagement metrics. For example, check out this interactive dryer troubleshooting tool we built for the Mr. Appliance® audience: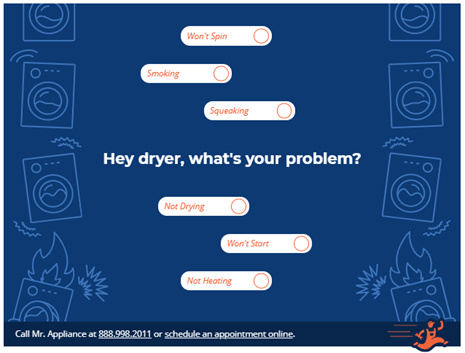 The Logistics of Incorporating SEO in Blogs
No matter how much you know about optimizing blogs, you won't get excellent results without the right processes and internal buy-in.
These final two tips should help you as you're developing your strategy:
10. Get various teams involved.
Do your web developers and designers care about SEO? What about your bosses, PR team, board of directors and digital vendors? Often, if one of these players doesn't understand the importance of blogs and other resource content, the final product (your blog as a whole) is weaker – or resources get redirected to different tasks altogether. Hold team-specific training sessions, share articles and spread the word about the necessity of content marketing so that all hands are on deck.
11. Use a content calendar and other tools.
If you're currently using a spreadsheet or another super-manual way of planning your blog content, consider upping your game. For example, the right content calendar product can help you plan blogs farther in advance, coordinate review processes and tie blog strategy to other content strategies (like social media and ad campaigns).
At the very least, make sure you make a template for blog posts that reminds writers of SEO best practices. For example, create an area in the template for an optimized title tag, meta description, target keyword list, goal, audience and correctly structured headings.
Need Help Planning or Writing SEO-Friendly Blogs?
Oneupweb has 20+ years of experience in the content marketing and SEO space. We've shared these blog SEO tips to help you grow your business through content. But of course, there's more to successful SEO than these 11 methods. If you want to get better results from content marketing, consider reaching out to us here or calling (231) 922-9977. We're totally flexible in the level of support we provide.