How to Measure Brand Awareness – and Why
One of the best-known and most-cited examples of B2B advertising is titled "The Man in the Chair" from The McGraw-Hill Business Publications Company. The ad first ran in 1958 and posed the challenge every marketer faces in black-and-white (or a kind of sepia): Brand awareness.
This decades-old example illustrates the importance of introducing your brand to the right audience to make conversions possible. Brand awareness answers the "I don't know" questions before your campaigns run and users are in a position to take action.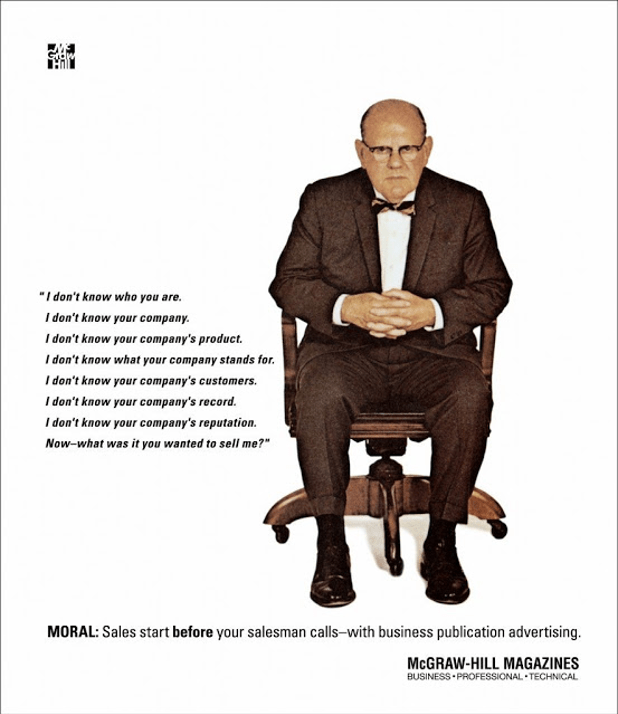 Strong brand awareness is what makes all your other marketing and sales efforts work. It plants a seed of trust before you engage with a prospect.
Some of your marketing may already focus on brand awareness, but how do you know if it's working? How do you prove it, and how do you improve it?
Below, we outline ways that Oneupweb works to measure brand awareness and make our clients' brands stronger than ever. If you like what you see and you're looking for an experienced marketing partner, consider reaching out to us.
Why Build Brand Awareness?
Strong brand awareness is what makes all your other marketing and sales efforts work. It plants a seed of trust before you engage with a prospect. The Man in the Chair is an effective ad because it makes viewers answer the question "why is brand awareness important?" themselves.
Brand awareness is important because consumers have many options for nearly any product. We buy a particular brand out of loyalty, perceived value or prestige, or out of habit. Brand awareness is a combination of informing consumers about what you make (the product) and who you are (the brand).
Some of your marketing may already focus on brand awareness, but how do you know if it's working? How do you measure brand awareness in marketing spaces?
Below, we outline ways that Oneupweb works to measure brand awareness and make our clients' brands stronger than ever. We also include the brand awareness measurement tools we use to gather data. If you like what you see and you're looking for an experienced marketing partner, consider reaching out to us.
Techniques for Measuring Brand Awareness
Our marketing agency stresses that, before you start any new brand awareness campaign, you first need to agree on what "brand awareness" means to your company. The CEO might assume it's a measurement of familiarity among many people. The sales team might assume it references familiarity within a certain industry niche, while the rest of your team might have other ideas. It's important to align on what "brand awareness" means. Once that's settled, start exploring ways to measure brand awareness!
Here's how to measure brand awareness:
1. Track search impressions for branded keywords.
Use Google Search Console to benchmark impressions for your pre-campaign branded search terms. Then monitor the data during and after your marketing campaign. Note whether impressions stay steady or significantly increase over time. Be sure to consider any other marketing or PR that may be affecting branded searches simultaneously. Measuring awareness in marketing campaigns is especially important if you decide to shift your goals or strategies mid-campaign.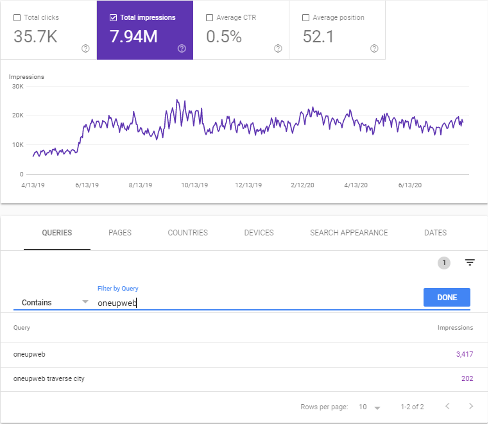 2. Track brand name or trademarked product name search popularity.
Need to know how to measure increased brand awareness at a glance? Using Google Trends is an easy way to show when fluctuations in brand awareness happen. By looking at historical data, you may notice seasonality in branded keyword interest (for example, a swimwear company whose impressions drop in winter) or if specific marketing campaigns provide a boost in branded search queries.
If there's an overall decline or plateau of interest in your brand or product name – and it's not just a seasonal slump – launch marketing campaigns targeting top-of-funnel new users.
3. Measure direct website traffic.
In Google Analytics (or your preferred website analytics platform), the Direct channel shows you website traffic that arrives when someone types an exact URL into a search engine, or when they click a bookmarked page. Direct sessions are a great measure of your brand recall. If a growing number of users type your URL versus conducting a general search, this is a good indicator that your brand awareness is increasing. Just be aware of sudden jumps in Direct sessions – Uncategorized sessions can also end up in this channel – so if you forget to tag your email links or display campaigns with proper UTM parameters, those Email sessions may count as Direct. We recommend conducting a tracking and analytics audit to ensure these KPIs are accurate before you get started.
4. Observe referral traffic to your website.
On-site impressions aren't the only KPI to measure brand awareness. If your quality referral traffic is growing, it's likely that other content creators have noticed your brand and are rewarding you with a mention and backlink. With each earned mention comes a potential new referral click to your website. If your organization has a large network of domains, rather than just one or two, be sure to filter out internal referrals and other irrelevant referral sources. If you're using Google Analytics 4, you can add these unwanted referral sources to a Data Stream filter to remove them from your results.    
5. Measure volume of earned media.
Whenever you see mentions of your brand that you didn't pay for or sponsor, it's considered earned media. Backlinks and unlinked mentions are both valuable earned media, and so are social media mentions. Here's how to measure brand awareness by looking at volume of earned media.
Check out your backlink profile using an SEO tool such as SEMrush. Then you can identify your unlinked mentions by doing a search for your brand name like this:
yourbrandname -site:yourdomain.com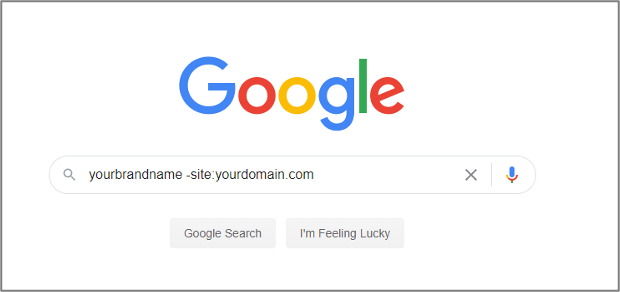 Note the total number of search results, and see if that number grows in the next few weeks.
Social media listening tools like Sprout Social or HootSuite will give you visibility of how often people talk about you, and what potential customers are saying about your brand. These tools are also great for measuring how your brand or product name is stacking up against competitor mentions during the same time. This information is helpful when you're trying to win more market share.
6. Track your social media reach.
Measuring brand awareness on social media is a bit of a different beast than measuring on search engines. Many social media platforms have their own tools for measuring brand awareness, and you'll need to learn the specifics of each one. Use social listening tools and social platform analytics to check out your social media reach. This is a bit different from social mentions, as it measures how many times a post about your brand name is viewed, not how many times your brand was mentioned. Growing social reach is a good indicator of a greater level of brand awareness.
7. Conduct market research.
Market research—such as Net Promotor Scores (NPS) or an online survey—is an excellent way to measure brand awareness because it shows you the depth of that awareness.
NPS surveys help measure the connection your customers have with your brand, quantified with a 1 – 10 score based on a single question: "How likely are you to recommend our brand to your friends and colleagues?"
Online surveys can ask targeted audiences (online, phone or focus groups) about brand recall, recognition and trust, product benefits or brand messaging familiarity. Every survey allows your team to explore how customers are hearing about you and what they think. Look into our market research services to get the ball rolling.
Explaining "Why Increase Brand Awareness?" to Internal Stakeholders
Before you implement a brand awareness strategy, you need to convince everyone involved that it's worth doing. Brand awareness may be thought of as fluffy, useless or even a vanity metric in the eyes of some executive teams. Too often, campaigns run without a clear way to measure specific brand awareness metrics, which means the campaigns never improve, and nobody can prove their value… The vicious cycle goes on and on.
Gather the numbers you need to recruit internal buy-in:
Point out areas for improvement in your benchmark data, such as a low number of branded keyword impressions.
Emphasize that each part of the inbound marketing funnel – including the tippy-top – supports the bottom line.
Be disciplined in tracking your success, and internal stakeholders will more likely be on board.
Now you know which metrics to watch and how to measure ROI of brand awareness efforts. With team alignment, clear goals, and ways to track progress, you can use brand awareness to build the holy grail of any successful business: brand equity. The more trust you build with your audience, the more customers act without assistance. This is an ideal way to reduce the costs of business.  
Confidently Boost Brand Visibility
Do you know your brand awareness could use a boost?
Does your sales team meet objections like "I don't know you or trust your brand"?
Start with three objectives:
Choose the main metric (KPI) you'll use to measure brand awareness growth. (This post has everything you need.)
Find out what makes your brand or product popular among your target audience. Otherwise, your marketing efforts will be a game of "pin the tail."
Build a careful strategy for growing brand awareness to make sure your team isn't the donkey.
Remember that widespread brand awareness doesn't happen overnight. Your favorite brands right now have put in the awareness work for years, and they still work on it every day. Just keep building marketing campaigns to lift up your name. Lately, we've found success in creating memorable video content and using those assets within paid media campaigns, social media marketing, and organic content strategies.
When You Need Help Boosting Brand Visibility, Just Ask!
If you need a partner to help you track and elevate brand awareness, consider bringing your business goals to the Oneupweb team. We'll tap into more than two decades of digital marketing experience to help you pursue your biggest ideas. Give us a call at (231) 922-9977 or reach out online.
---