A Look at Earned, Owned & Paid Media
An effective digital marketing strategy doesn't rely on one tactic. Generating quality traffic and efficient ROI requires advertisers to regularly publish content that's compelling, valuable and provides utility to the target audience.  There are different types of media that can be leveraged to deliver optimal performance; and knowing the difference between each type of media (earned, owned and paid), and how to combine them is critical to the success of your online marketing efforts.
The Difference Between Earned, Owned and Paid Media:
Think of earned, owned and paid media as a digital marketing tripod. Each piece is an important part of the broader strategy and all play a role in establishing the optimal marketing program. And while all 3 efforts are critical to the overall marketing strategy, there are still distinct differences that require individual attention.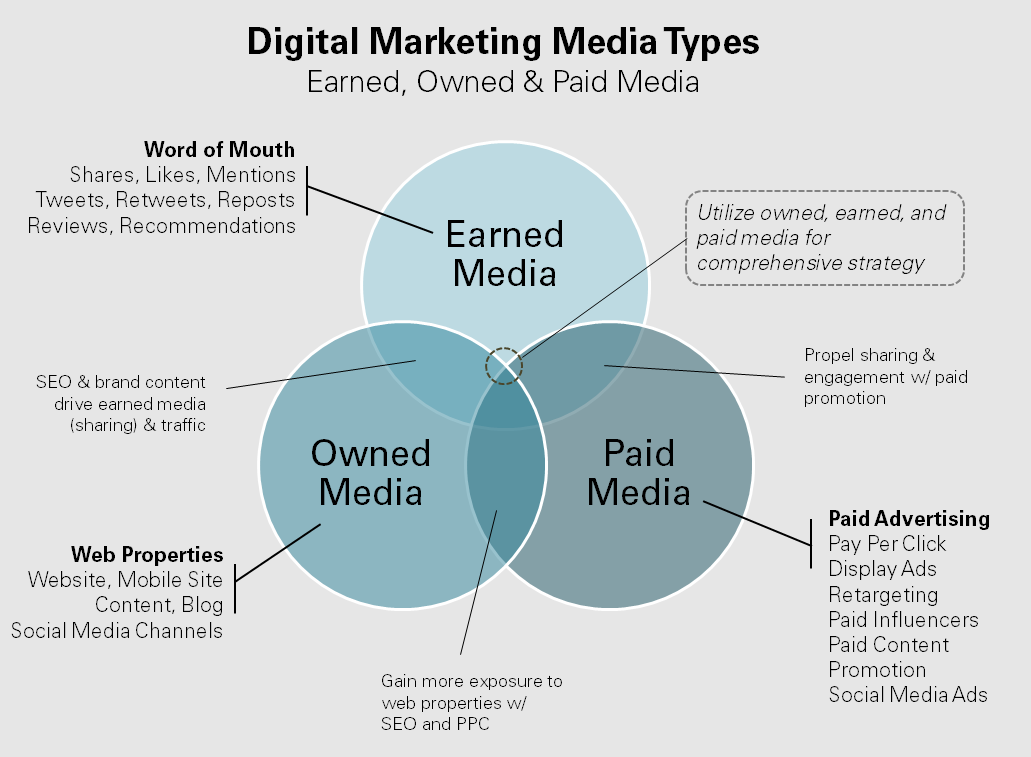 Earned Media:
Earned media refers to word-of-mouth exposure earned through SEO and content, as well as your website user-experience. Earned media is established through positive reviews, PR/press mentions, reposts/tweets, recommendations, etc.  It is facilitated by helping writers/journalists and content writers author articles, or contributing your own content to industry publications.
New social platforms like Twitter make it easier for content writers and journalists to reach out to businesses for quotes and insights to include in articles. This type of endorsement helps establish trust and credibility.
As brands begin earning mentions on external websites, it helps fuel top-funnel traffic/leads. 
Owned Media:
Owned media is the content and articles brands are in control of. This includes content for company websites, blogs, and social media accounts.
While owned media can take on a variety of forms (blogs, case studies, whitepapers, etc.), the primary goal of this content is to continue providing value to website visitors as they move down the funnel. These assets allow brands to control their messaging without being overly promotional.
Producing material that provides utility and value to the target audience is critical to the success of owned media efforts.
Paid Media:
Paid media offers advertisers a way to promote content and drive exposure. There are a variety of paid media outlets that can be used to amplify owned media and help win more earned media.
Social media platforms like Twitter, LinkedIn, Facebook and Pinterest offer advertisers options that can be leveraged to boost exposure. We've found that LinkedIn tends to be the most effective B2B platform, while Facebook and Twitter can be very effective for B2C advertisers. At the end of the day, it really depends on where the target audience is most active and engaged.

How to Leverage Paid Media to Amplify Owned Media:
Combining earned, owned and paid media can be a very powerful and effective means of generating traffic and qualified leads.  Here are some examples of ways to combine earned, owned and paid media.
Create content on your blog (owned). Share it on Facebook or LinkedIn to generate earned. Then extend your reach by making it a Sponsored Post/Update to get wider visibility (since you'll only reach a small percentage of your audience without paid).
Crowdsource advice and tips from customers or fans, for an eBook on your website (owned). Then share it on social channels like Slideshare. Then reach out to community members who weighed in (with advice/tips) with emails and send them a copy of the eBook.  Many will share with their social networks,
Pay "influencers" to create interesting and shareable content for the company blog, then amplify it through social media.
Create special Facebook-only discount where in order for people to take advantage of them, they must "Like" your page.
Up Next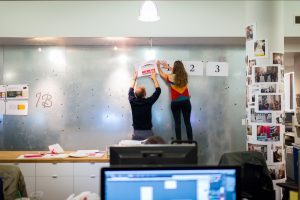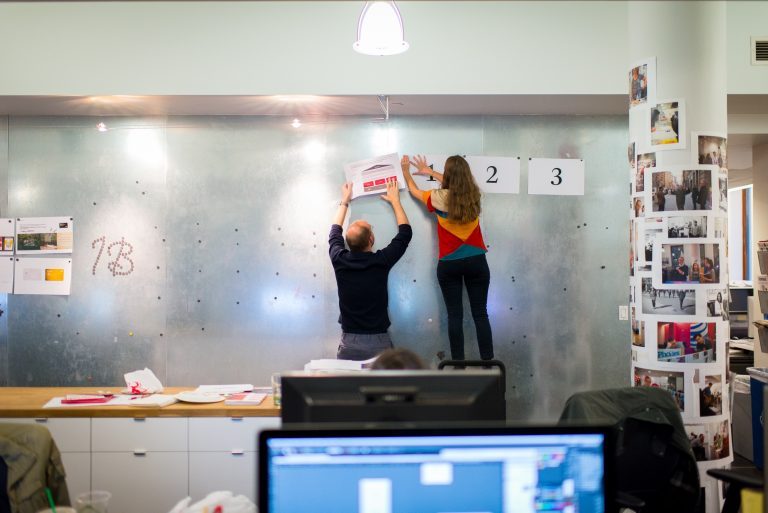 Audiences on LinkedIn are professional and have twice the buying power of the average online audience. Deciding to advertise your business on LinkedIn can be a great choice. This blog will cover LinkedIn advertising best practices, as well as LinkedIn ad types. Did you know? As of January 2020, 663.3 million people can be targeted...