Google Business Profile Case Study
How does a hospitality-based business drive organic traffic when a pandemic forces people to stay at home, avoid crowds and cancel vacations? Adapt – with help from their marketing partner, Oneupweb.
Our client, a resort and spa business, has three golf courses. Their golf pages usually drive a lot of organic traffic to the website in the spring. Our main challenge was recovering the traffic (and brand recall) they lost during the COVID-19 pandemic.
We noticed that social media was one of the few traffic channels showing year-over-year gains. We inferred that this was where people were going for the most up-to-date business information during the pandemic. Local listings had historically been a valuable channel for bringing traffic and conversions to this client. So why not leverage Google Business Profile, formerly known as Google My Business, to do the same thing social media was doing?
Using GBP posts for resort marketing can be time-consuming and tedious. Did our effort pay off? Find out in our Google Business Profile case study!
Resort Marketing Strategy with GBP Posts
This client's three golf courses have separate, optimized local listings on the platform. While we wrote posts for every property, this Google Business Profile case study looks at just one. The other two listings didn't exist in 2019 and therefore don't have year-over-year (YOY) data.
Note: Only businesses with a verified Google listing can use GBP posts. If your listing isn't verified, it's probably not optimized either. Check out our guide for optimizing your GBP listing so you can take advantage of traffic from the local SERP.
Plan and Execution
We started posting weekly GBP updates for the golf courses. Our goal was simply to inform customers that the courses were closed during the COVID-19 pandemic.
But why post on Google Business Profile?
Isn't social media enough? Well, we know Google uses GBP posts as a ranking signal in the local pack. And GBP posts are an effective way to address customers' concerns, keep the brand top of mind, and encourage them to stay in touch for the most up-to-date information.
In this case, we knew that keeping the resort's customers and prospects informed was a priority, even if we weren't sharing good news. Our posts also provided encouragement and reminded the audience to follow social distancing rules so everyone could be back on the golf course soon. The messages were an indication of thought leadership and empathy, helping shape the brand's image as responsible and caring.
Once our client's golf courses were open again, GBP posts provided the assurance the customers needed to safely play golf. Our messaging highlighted sanitation measures and unique rules on the green to help our client and their customers comply with local COVID-19 laws and regulations.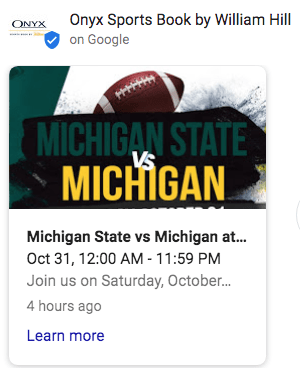 Google Business Profile Case Study Results?
To analyze the results of our strategy, we used Google Business Profile Insights to compare a two-month period in 2019 to the same period in 2020. No GBP posts were posted in 2019; we started posting there at the start of the 2020 period.
Results
We were pleased to see that total searches – i.e., the number of times customers found our client's listing in the local pack, or Maps – went up 15 percent overall.
Let's look at the different types of searches to see how the golf listing performed year-over-year:
Direct searches increased .78%

This is the number of times customers found the listing by searching for the exact golf course business name or address in Google Search or Maps.

Discovery searches increased 50%

This is the number of times customers found the listing by searching for the category, product or service on Google Search or Maps. Example: A customer typing in a general query such as "golf course near me" or simply "golf."

Search views increased 30%

This is the number of times the listing was viewed in the Google SERP. (Aka search impressions)

Map views increased 2%

This is the number of times the listing was viewed on Google Maps.
The value of optimizing your business listing and utilizing GBP posts became even clearer when we compared organic traffic from the SERP to traffic from the golf course GBP listing's website link.
From May 2020 to June 2020:
The GBP website link sent 2,900 sessions to the website.
Standard organic search results sent 1,538 (about half as much as GBP).
Understanding the Metrics
How did we attribute this organic traffic increase to GBP posts and not something else? First, we always tag the website link in a GBP listing with UTM parameters for the proper source. This listing already had those parameters in place.
We also looked at search data. The number of Direct searches, or branded searches (people looking specifically for this property), was about the same in each time frame we compared. So we knew the posts didn't help increase branded keyword searches, and it didn't help the property get more impressions from those searches.
The increased discovery search exposure, however, told us the GBP listing was performing much better for short-tail, non-branded search terms. Our conclusion: The GBP posts sent the necessary ranking signals to Google to help our client's Google Business Profile property rank better than it did the year before for category, product or service keywords related to golfing.
This is exactly what we wanted.
Branded search terms make a user's intent very clear. They already know what they want – and if they want you, you win. The real challenge is ranking better for keywords with general or wide user intent. If someone doesn't know where they want to play golf, they type the short-tail search query "golf." We have a much better chance of winning that person's business when our client outranks the competitors for the query in the local SERP.
The time and effort we spent creating GBP posts was an easy win for our client, and a version of this strategy still exists on their marketing agenda today.
Marketing Strategies That Work
Looking for a marketing strategy that goes above and beyond to support your business? Woah – that's what Oneupweb works on with our clients every day. Let's take a different marketing approach, driven and proven by data. Contact us online or call (231) 922-9977.