Oneupweb : QR Code QRaziness
You've probably seen one of these strange 2-D matrix bar codes by now, as they are increasingly popping up in everything from your favorite magazines and TV commercials to buses and billboards. These QR Codes (short for Quick Response Codes) have been around since 1994, but as the smartphone continues to integrate itself into the technological fabric of our daily lives, these QR Codes have found a new life for advertisers, and for the consumers they are targeting.
I recently scanned my first QR Code while reading the latest copy of This Old House magazine. The magazine ad for Sunbrella indoor/outdoor furniture products contained one of these codes with simple instructions that read "Use your smartphone QR Code reader to learn more". Two seconds after scanning the QR Code image, my smartphone's browser brought me to a targeted landing page for Sunbrella's upholstery products, complete with detailed information on their product line, and an easy link to find dealers in my local area. This process of linking the physical to the online world can also be described as mobile tagging, hardlinking or object hyperlinking.
Marketers view this QR Code technology as another means to measure user response rates with the available tracking information, thus providing another means of measuring their ROI. Colin Gibbs, a GIgaOm Pro analyst, had this to say about the technology: "Advertisers are regarding them as the hottest new tool of mobile advertising. They love QRs because they're cheap and easy to deploy, and you can put them anywhere from print ads to the back of stadium seats."
Many recognizable global companies, such as Ford, Gap, Home Depot, Kellogg's, Macy's, Miller Beer, Re/Max, Starbucks and Target have been embracing the potential of these scan-able QR Codes. They realize that they can reach their consumers at the point when their interest in their products or services are at their highest, and instantly return valuable information that can help lead consumers to a purchase.
While these QR Codes are free to generate and are license-free, a company called Digimarc Discover has patented a new and exciting digital watermarking technology that can serve many of the same QR Code functions, but the codes are invisible to the human eye. This watermarking technology could bring a fresh perspective to everyday print material as it doesn't take up valuable print space in publications, but can still be detected by computers and camera phones. And this offers advertisers the ability to place multiple watermarks within a single advertisement or photo that contains multiple items, with each watermark leading the user to different and relevant online content. What are the chances that every print or digital picture and word in the future will be hyperlinked to additional relevant online content?
I recently read about the new currency the Dutch made available earlier this week. In commemoration of the 100th anniversary of the Royal Dutch Mint, they released new silver and gold currency with a QR Code embedded right on the coins. This sounds like a great way to educate the masses as to who the people are on the face of the coins, served with relevant history. It seems like this would also be a great addition to our own US currency, to help educate our history ignorant youth in the United States, where many don't even know the names or the histories of the presidents on our coins and paper bills.
While research from Forrester says that only 5% of the total smartphone owners in the US have actually scanned one of these QR Codes, count me as one of this growing group that will most likely try this again in the near future, when an available code is associated with another physical object that I am interested in.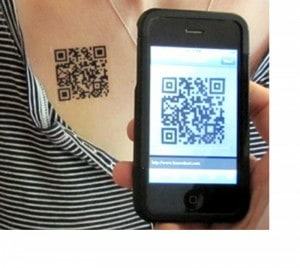 Perhaps some of the available and looking single ladies in my local area should wear these QR Codes on their persons? I have even read about the growing popularity of these codes at tattoo parlors, where the tattooed person can direct those interested to their Facebook profiles and websites to learn more about them.
For a really great infographic on QR Codes, I found this recent article by my favorite Mashable writer, Jolie O'Dell. She also provided information about seven free QR Code readers available for Android smartphones. The ScanLife barcode reader is the one that I am currently using, although some of the others also have QR Code generation functionality, as well as a little more functionality.
So you want to begin incorporating these QR Codes into your marketing mix? Well you'll want to make sure that you are returning relevant product or service information and/or directing your eager consumer traffic to an attractive landing page where they will be greeted with the information they were seeking, along with an easy path for them to purchase the desired product they were after.
What about the analytics to see how well this technology is working for your business? Well Oneupweb can help you there too. We're all about analytical data with our proprietary ROI trax analytical technology, and love to show you how much you are getting in return for your investment with us.
We're all about growing the business of our clients, and we'd love to add yours to the mix. The sky is the limit, and we'd love to take you along for the ride!