Oneupweb : Best Monday Morning—Delicious, Colorful and Rewarding
All of us at Oneupweb started the week off right! How? Well, we did have donuts and coffee, but that's not all I'm referring to. This morning the entire Oneupweb staff helped Third Level Crisis Intervention Center with their Project S.N.A.P. mural. We all drew individual pictures—all 42 of us—not just our design team.
What's the purpose of the mural? 2011 marks the 40th anniversary for Third Level's community involvement, and they've decided to construct a huge mosaic mural to include everyone in the big celebration. And I mean it when I say "huge", because their goal is to incorporate more than 1,000 drawings.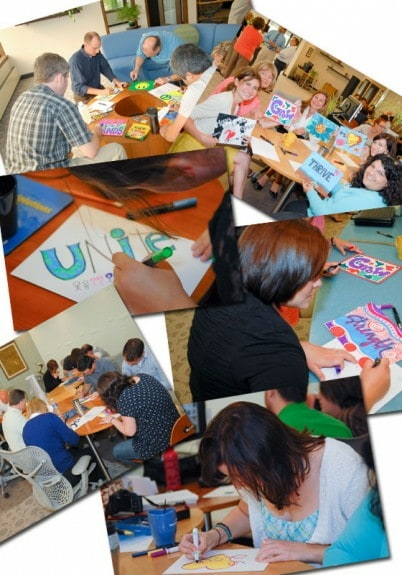 It was an amazing feeling to create artwork that will aid in the challenge of spreading awareness for Third Level and their services, which include: crisis services, youth and family services, street outreach, suicide prevention, transitional living programs, and Northern Lower Michigan's only youth shelter, Pete's Place.
Not only did we make a difference as we made pictures today, but we also presented Pete's Place with a donation. As a thank you to the community for their support for our award winning music education documentary, Step & Close, we want to give back to a local organization in need. Over the years Oneupweb has supported our local schools, teachers and students. This time we wanted to give back to our youth who are in a greater need.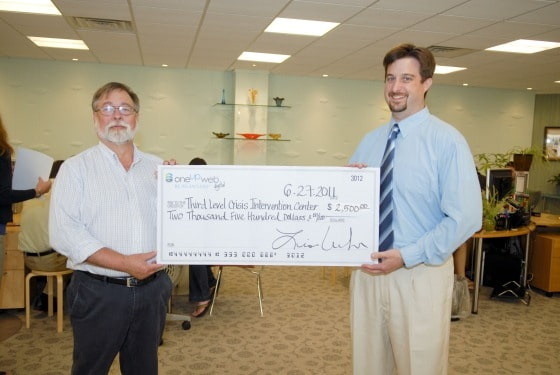 The energy was certainly buzzing in our office this morning. I think we all felt fortunate to be part of a team who realizes the importance of supporting the community. Be sure to watch the news tonight, because 9 & 10 News also came to play (cover our event) at our office this morning!
If you want to contribute artwork to Third Level's mural, please visit: www.projectsnap.org/thirdlevel.