Oneupweb Reviews: Google+
Google releases its first social network (besides Orkut and sort of Google Buzz) Google+! Wait… wait… nope. Hold the phones. Never mind…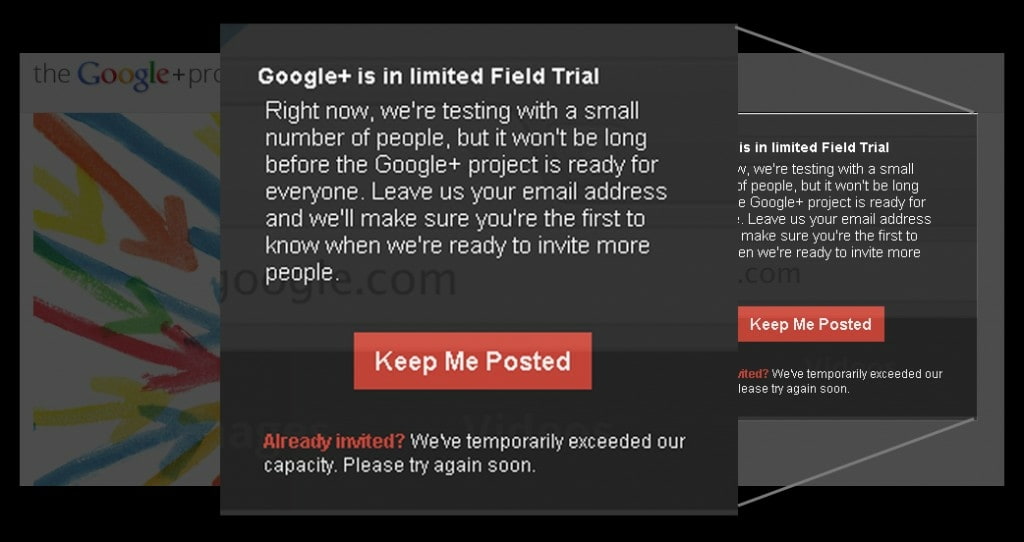 Looks like just a few folks have been privileged with an invite, so let's start this over.
The Google+ invitational social network has been released to someone out there! How exciting (for them)! As for me, I'm going to be kept posted. Whenever anyone says, "Keep me posted," be aware that this is another way of politely saying, "I'm not really interested, and I want to get out of this conversation."
Without being able to officially test the product myself, this is what I was able gather from the NEW Google+ (invitational) social network for this review.
First and foremost the stream (never cross the stream)!:
Google+ Stream:
The stream is very similar to the Facebook News Feed in that it allows users to share photos, videos, links, or their location with friends.
One of the gripes about the stream so far (as PCMag.com stated):
"Considering all of the options available to all of your friends, expect the Stream to clog pretty quickly."
Not unlike Facebook; however, there are options to clean up the stream (as PCMag.com later mentioned):
"Fortunately, you can also choose to see which version of the Stream you wish (Family, for example, or Acquaintances). This trims the clutter somewhat."
Next we have:
Google+ Circles!
Facebook being the gold standard of social networks today, and most likely what you are familiar with, I'll compare Circles to Facebook Lists—which I found to be very useful. For Circles in Google +, you simply make a circle, drag and drop, and share selectively with your chosen circle (of trust).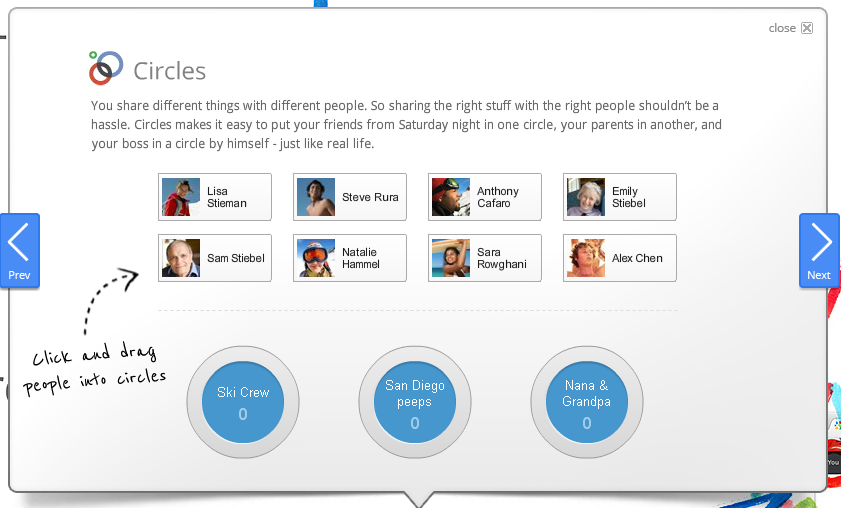 After Circles we have:
Google+ Hangouts
Google claims it's the next best thing to teleportation. I agree, with one exception: Sweet Spicy Chili flavored Doritos! So it would go: Sweet Spicy Chili flavored Doritos, teleportation, and then Hangouts. Gathering a group of your friends for a video chat sounds awesome. I personally can't wait to try this: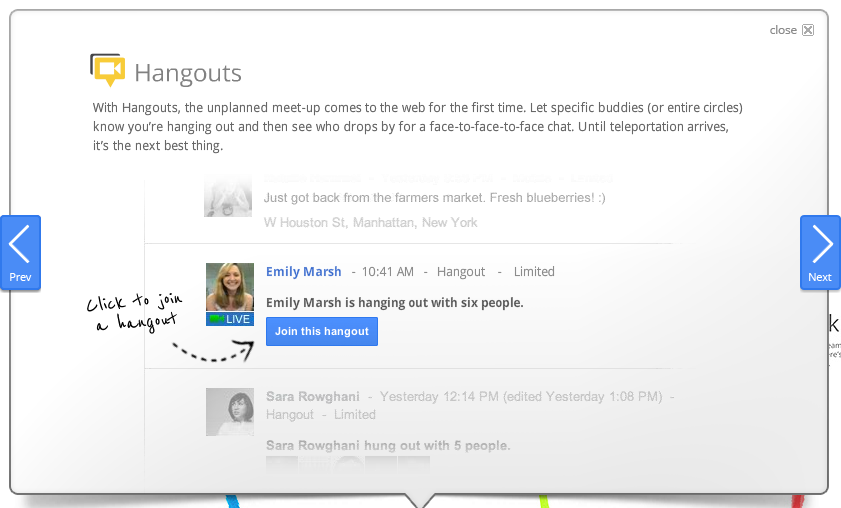 There are a few more features that Google+ boasts, but these are the ones I found most interesting. You can view the rest of the features here:  Google+ Tour.
If you were lucky enough to be invited, let me know what your first impressions of Google+ are in the comments below. Or if you are like me, on the outside looking in, empathize with me below. We can make each other feel special and important (we don't need no stinking invite). But if you do happen to have an invite, ignore that last part and share!
UPDATE: I have received access to Google+. Look forward to a complete review soon!