Oneupweb : Home, Sweet Home
Here in beautiful Northern Michigan is where I grew up and raised my daughter. I love it here, we have it all. Living in Leelanau County, one might say that we are spoiled. See for yourself by checking out this map of our area and also take a peak at this little video.
We have nearly a hundred miles of beautiful sandy beaches along the Lake Michigan shoreline, with the prettiest beach stones you'll ever find. Plus we have lush wooded forest and sand dunes with hiking trails galore. For people that like pretty scenery and the outdoors, this is one of the top places to live, or at least a must place to visit. We have a perfect mix of each season, with each one as pretty as the next. I really can't imagine living anywhere else.
Although, I do like to travel, and I'd like to see a lot more of this beautiful country, I'm quite content with where I reside. Speaking of traveling, I'm currently planning a trip to Yellowstone this late summer. I've always wanted to go and am very excited about it.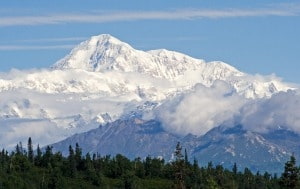 A few years ago I made a trip to Alaska and spent most of the summer there traveling quite a bit of it. On one of my adventures I was taking a train trip to Mt. McKinley, the highest mountain in North America, located in Denali National Park.
During the train ride, I overheard a group of people talking and sensed that they were from Michigan as well. So I asked, "Are you from Michigan?" The man replied, "Well yes, we are! We are from the Battle Creek area." I explained I was also from Michigan. The man then asked where in Michigan I'm from. I said, I live by Maple City, Glen Lake area, close to Traverse City. The man smiled and said, "I've always wondered where people that lived in paradise vacationed." I laughed and said, "I feel like that too!"
Although I think Alaska is grand and so majestic, I love being here at home, in beautiful Leelanau County, where we have it all: festivals, quiet places, friendly neighbors and the Global Headquarters of Oneupweb, where we specialize in search marketing, social media and design, and where our motto is "Be Relentless." Come and check us out, a place that has it all, and where we can do it all. It's all about perfect!