Oneupweb : Facebook Now Utilizing Zip Codes for Ad Targeting
Do you have businesses in different locations throughout town? Want a geotargeted Facebook advertising campaign just for certain zip codes?
Well you're in luck! Facebook recently rolled out a new targeting feature allowing advertisers to target specific zip codes.
Politico was one of the first outlets to report about the addition and took an interesting spin on it:
"In an election cycle when social networking is expected to play such a big role, Facebook's new program signals its intention to be a major player in the sprawling, and lucrative, market of local campaigns."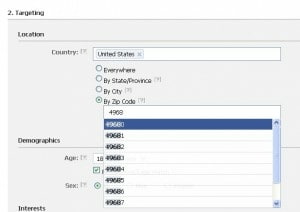 Targeting by zip codes will allow advertisers to run multiple campaigns to see which zip code or specific location performs best.
Are you a Facebook advertiser? Will you be using this new targeting feature? Please leave your thoughts in the comments section below.