Oneupweb : We've Got Our Mittens Up at Oneup
Mittens up? Welcome to a new YouTube music video that promotes working and living in Michigan. Brace yourself, because Ryan Scott of Grand Rapids, MI has some powerful lyrics.
My co-workers and I are proud to call Traverse City, MI our home. And we're certainly thankful the Oneupweb headquarters continues to thrive in the pinky region of the mitten. Not only are we happy to do business based in Michigan, but we also enjoy helping others successfully make it in this state. How?
Well a couple of years ago we headed up the adventurous "One for the Road: Operation Michigan" where a number of Oneupwebbers piled into a 1970's RV to aid Michigan based businesses and entrepreneurs with their digital marketing strategies for free! During this tech tutorial tour the Oneupweb crew visited Ann Arbor, Lansing, Grand Rapids and Traverse City. And it was this extravaganza that inspired us to create our monthly webinar series, the Digital Roadshow, where we enjoy presenting free online marketing advice. In fact our September 2011 episode is next week, so be sure to register today!
And just so you know, we have an event (a BIG event) in the works that is going to help Michigan businesses with their networking, branding, growth and overall success. To get released details just follow me on Oneupweb's PR Twitter @OneUpNewsie. Cheers to Michigan!
Up Next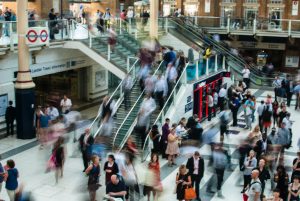 When you've worked in marketing for a couple of decades, you've surfed hundreds of waves of change in digital marketing. Through it all, these have been the top digital marketing FAQs we hear at Oneupweb. Cruise our answers to these marketing questions, and feel free to ask us something directly. Who should I be marketing...