Oneupweb : A Thanksgiving Recipe for Social Engagement
Having logged more than 50 hours at the Thanksgiving table now (at the conservative estimate of 2 hours per meal), I've acquired some significant food for thought – and more than a few pounds. And so, in preparation for this week's big meal, I offer up 5 Lessons Every Online Marketer Can Learn from Thanksgiving dinner:
1. Less is can be more. I know, I know. It's hard not to load up on third and fourth helpings of turkey, mashed potatoes and green bean casserole. But let's be honest: these obligatory Thanksgiving classics never generate the same amount of buzz as, say, Bacon & Bourbon Thanksgiving Stuffing or Pecan Sweet Potato Casserole. The same is true in social media. Aim for quality, not necessarily quantity. Give your followers something new and different and they'll be back for seconds.
2. Listening to your crazy uncle is surprisingly more productive than talking to your boring aunt. Social media, like polite Thanksgiving conversation, is more about listening than anything – and listening to your followers (yes, even the crazies) is the best way to keep your brand engaged and your products / services fresh.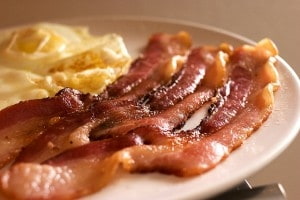 3. Think about what's on your plate. It turns out, your mother really did know best. Sorry about that. So when you think about what kind of content you're sharing via social media, think about what your mother told you at Thanksgiving Dinner. Be sure you're getting all your social food groups in the mix. Like turkey, too much bland text and even links will put people to sleep. And like pumpkin or apple pie, too much sugary video will generate buzz, but may not be the kind of sustainable diet your brand needs for long-term success.
4. Have a vegetarian option. There's not much worse than realizing last-minute that there's a vegetarian at your Meatapalooza-themed Thanksgiving Dinner. One can only eat so much cranberry relish, after all. So plan ahead – and that goes for social media, too.  Believe it or not, not everyone is into Facebook. Understand your target demographics and choose a variety of social networks based on their tastes.
5. Bacon is good. No, really. Minus the vegetarian mentioned above, everyone loves bacon – it's so hot right now.  And so, just like Thanksgiving, the more bacon you serve up on your social media channels, the more excited people get. Honestly, this is really true. Let's face it, you can practically smell the #bacon through the monitor. Bacon. Use where appropriate.
Ready to cook up some serious social? At Oneupweb, we're relentless in pursuing the best in search, social, and design for our clients. Contact our social media team to get started.