5 Criteria for Modern Content Marketing (and 1 Shameless Plug)
We're creating more, but is it working? SEO and content marketing are getting harder. Check your efforts against the current trends.
 Ten years ago, when content marketing was known only as search engine optimization (or "SEO"), it was technical, but relatively simple. Today, it is a very different ball of wax.
Quick Takeaways:
The "SEO" landscape has dramatically changed in 10 years
To rank, modern content must be uniquely valuable and helpful, relevant and available across all user devices
Digital marketing budgets are up, traditional ones are down, and content marketing accounts for at least a quarter of most
Shameless plug: Oneupweb has a content marketing publication available: Content Marketing Quest
The Changing SEO Landscape
Rand Fishkin, the self-proclaimed "Wizard" of SEO consulting company Moz, published in August 2014 the following SlideShare: SEO Tactics to Love vs. Leave. It's full of practical advice on what tactics to drop and which ones remain relevant. Check it out after you're finished here.
Meanwhile, I want to call out a few specificss of Fishkin's presentation.
According to Fishkin, what mattered most to SEO success in 2004 were links, robots, keywords, and rank.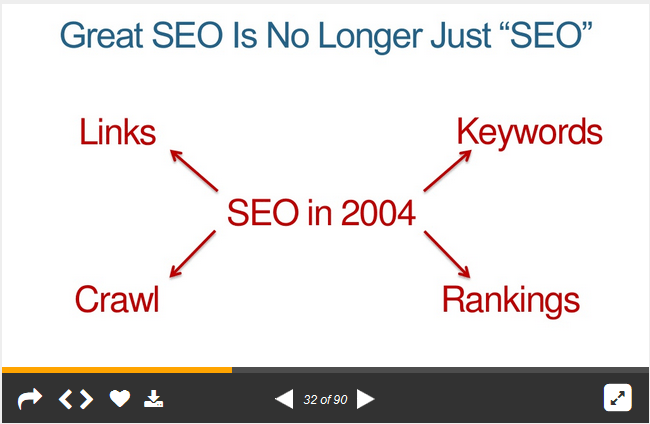 Today, he notes, it's much more than that. Now, throw in:
webspam
mobile optimization
PR
email
site speed
design and user experience
social presence
content quality
internationalization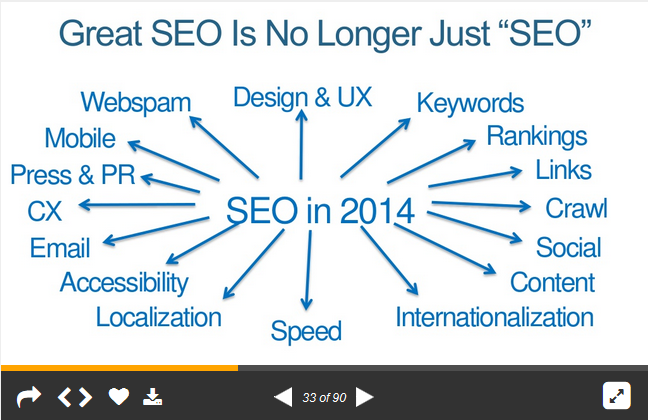 But wait, there's more: SEO experts like Brian Dean of SEO firm Backlinko believe that Google's search algorithm uses over 200 ranking factors that cover the gamut of your digital presence, including:
domain factors (history, registration length, public vs. private WhoIs data)
page-level factors (title tags, H1s, content length, duplicate content, outbound links, spelling and grammar, broken links, and more)
site-level factors (site architecture, site size, server location, mobile/responsive design, etc.)
backlink factors (the number of linking root domains, alt tags for images, authority of linking pages and beyond)
user interaction (bounce rate, Chrome bookmarks, direct and repeat traffic, among others)
special algorithm rules (local search and geo-targeting, including user search history and domain diversity)
social signals and brand signals (number of shares/engagement on social media, number of followers/activity on branded social media sites)
on-site webspam factors (blackhat tactics and efforts meant to game the results that have nothing to do with site quality)
Here at Oneupweb, we've kept pace with all the changes. Our content marketing team is well-versed in "foundational" SEO (the technical aspects of search engine optimization), but our focus is (and has been for years) on content marketing—a term that encompasses accounting not only for the factors described above, but also the creation of "modern content."
Which brings us to our next point—just what is "modern" content?
Fishkin's 5 Criteria for Modern Content Marketing

Let's stick with Fishkin and examine his criteria for creating modern content.
To meet his standard, content must be:
one-of-a-kind—it can't appear anywhere else on the web, and can't be repeated elsewhere on your own site
relevant—search spiders interpret the content as being "on topic"
helpful
uniquely valuable
responsive—it's easy to experience on any device
Whenever creating content, this is a great place to start.
Most of Fishkin's list is clear; his advice becomes murkier with regard to the "helpful" and "uniquely valuable" criteria. Fishkin describes "helpful" as content that "resolves the searcher's query in a useful, efficient manner." And he defines "uniquely valuable" as content that "provides information that's unavailable (or hard to get) elsewhere."
To that, I'd add that helpful and uniquely valuable content are part-and-parcel—rather than scratch your head over whether your content "resolves the searcher's query" or that you're producing content "unavailable elsewhere," focus on who you want to consume your content and ultimately what action you'd like that person to take upon reading that content—then put it through the paces of whether it's helpful or uniquely valuable.
But you don't have to take our or Rand's word for it…
In the article Publishers, Agencies Must Shift Their Focus From Big Data to Big Content, Randall Rothenberg, president and CEO of the Interactive Advertising Bureau echoed the need for authentic, engaging content that's valued by others:
"It has also become clear that companies need to let go of their decade-long obsession with SEO and gaming the rankings, which has content implications. Google, for one, has made it clear that its new algorithms will reward those who produce authentic, engaging content that is also valued by others."
More Writing on the Wall: Traditional Budgets Dip; Digital Budgets Rise
It's one thing for experts to signal the call for content creation and another to see it in real life. The simple facts are this: business are focusing more dollars on digital marketing and content marketing, efforts are becoming a significant tactic overall.
Consider the CMO survey published by Duke University's Fuqua School of Business. In it, CMOs forecast a 10.8% increase in digital marketing spend into 2015 and beyond—the highest forecast growth rate in two years. Meanwhile, CMOs said they are expecting to decrease traditional spending 3.6%—the biggest forecast decrease in three years.
And, according to the Content Marketing Institute's 2015 B2B and B2C content marketing study:
70% of B2B and B2C marketers report creating more content in 2015 than a year ago
B2B marketers report benchmarking nearly 30% of their total marketing budget to content creation, and B2C marketers benchmark 25%
How do your efforts stack up? Are you creating more content than you were a year ago? How much of your budget is behind your cotent efforts?
What Content Should I Create?
All right, time for a shameless plug. In "Content Marketing Quest," we put you through the paces of creating a content marketing strategy and provide our best practices for creating content like blogs, emails, infographics and more. It's written in a way that puts you in control of your own destiny, with best practices in the form of one-sheeters in the back.
Check it out—click here.