Marketing with Instagram Stories
Instagram is a unique social platform with many features that businesses often overlook. Specifically, Instagram Stories is great for running ads.
500 million people use Instagram Stories every day, and 58% of people say they have become more interested in a brand or product after seeing it in Stories. And, even better, there is still some ad inventory available on Instagram Stories because many brands haven't taken full advantage of it just yet. The space is primarily filled with organic content.
These tips for creating effective ads in Instagram Stories will get you a stellar return on your social media investment.
How to Create Instagram Story Ads
Use these Instagram Stories marketing tips to create story ads that convert:
Use videos to tell your story.
Use consistent branding.
Include a clear call-to-action.
Make story templates.
Use short and clear messaging.
Use proper design elements.
It's easy to tell which brands know what they're doing on Instagram. And the ones who know what they're doing get the customer! See the details below to improve the way you use story ads.
Think you'll need support to make Instagram work for you?
Tip #1: Use Video
We like to think of Instagram Stories as – quite literally – stories. Arguably, the best way to tell a story digitally is with video. Story ads with videos have a higher CTR than story ads with images: 0.59% vs. 0.29%. Your goals are to:
So, how do you get people to engage with your content? One way is including human faces in your video. Also, make your videos accessible with closed captioning, which leads to higher engagement rates and a more attentive audience. You can also include hashtags on your story videos to increase visibility and reach – but hashtags are most relevant in organic videos, not ads.
Now for the technical specs: Instagram Story videos can be 1 to 15 seconds per slide. Instagram recommends an aspect ratio of 4:5 and 9:16 for the best user experience.
Tip #2: Use Consistent Branding
While Instagram Stories ads may seem more informal than feed ads – and they should at least seem that way – it's still crucial to keep your branding consistent wherever your audience may encounter your brand. This ensures a clean user experience and improves your brand's reputation. The definition of consistent branding can vary, depending on your style. At minimum, it's important to include your brand's colors and font on your stories if you can. Including a logo is ideal too. Our team enjoys Hubspot's Instagram Stories, especially because they're always recognizable as Hubspot posts.
Tip #3: Include a CTA
You don't want your viewer to watch your story and simply tap through to the next one, right? To ensure your audience has a place to go after viewing your story, include a clear call-to-action (CTA) on your Instagram Stories ads. If you have a large enough Instagram account, you can use the swipe up feature to direct viewers to a specific link.
Consider using the "link in bio" strategy to drive traffic to a specific link in your Instagram profile bio. We tested out this strategy on our own Instagram profile and saw a 1,071% increase in website traffic month-over-month. Simply write out or have your talent say something like, "Click the link in our bio for more!"
A CTA doesn't necessarily have to be a link to your website. Instagram has lots of features to drive engagement on Stories, like the poll, question and quiz stickers. Stories can be a great place to start conversations with your audience.
Tip #4: Create Templates
Creating templates ensures your branding remains consistent in all your Instagram Stories ads. It also streamlines your story creation process to save you time and money.
Instagram Stories templates are editable image layouts that you can adjust or add elements to, like text and images, while maintaining a consistent format. There are several free-to-use tools for creating these story templates. For example, you can try out Canva. It's intuitive to use and stores your assets in one place so you never lose your work.
Tip #5: Use Concise Messaging
Keep your social messaging short, sweet and on-brand. No one is going to spend the time reading a huge paragraph of text on social media – especially not on your Instagram Story. If you need text on your story ad, just tell your audience exactly what they need to know, without embellishment. They will be more likely to engage with your CTA if you don't wear them out with lots of text.
Be mindful of your brand voice – as well as other active marketing campaigns – when creating Stories messaging. Consistency (not tedious repetition!) establishes trust among your audience members. Choosing the right social media marketing agency will help you align your Instagram marketing strategy with other marketing efforts.
Tip #6: Practice Good Design
Instagram is a visual platform – your stories are no exception. Your Instagram Story ads should be well designed to both capture your audience's attention and communicate your professionalism to others in your industry. Focus on your dimensions, imagery choices and fonts to ensure your story ads are looking their best. Instagram Story dimensions are recommended to be 9:16 with a vertical orientation.
If your brand has a brand style guide, consult that when choosing imagery and fonts for your story ads. If you don't have a brand guide, look at your website with brand cohesion in mind. Do you use illustration or mostly photography? What are the primary and secondary colors? What are your brand fonts, and how are they used to communicate information hierarchy? Make sure these styles carry over to your social media content.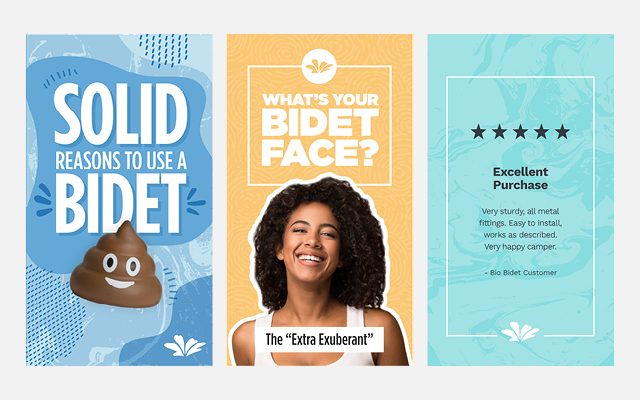 Benefits of Instagram Stories Marketing
Incorporating Instagram Story ads in your marketing strategy can help your business reach a more diverse audience. Once you've reached more people, posting to your story regularly keeps that new audience hooked. In fact, posting up to 5 stories per day keeps retention rates over 70%.
Want to amplify your brand on the Gram the right way? Get support from the social media team at Oneupweb – from video to copywriting to Instagram management. Call us today at (231) 922-9977 or reach out online.