Mary Meeker's 2019 Internet Trends – 8 Things You Need to Know
We read the entire 333-slide presentation that Mary Meeker released last week on 2019's internet trends, so you don't have to.
Here are the eight key takeaways you need to know:
1. Global Internet Growth Is High, but Slowing
The Short of It: Global internet usage grew by 6 percent YOY and internet users make up more than 50 percent of the global population, for the first time. But that other 50 percent is hard to reach. They're people living in poorer countries in Asia, Africa and the Middle East who don't have access to internet.
There are now 3.8 billion users – the first time more than half of the world's population is online.
Additionally, China makes up 21 percent of total users, with India at 12 percent and the United States at 8 percent. But China and India have nearly half of their audience un-tapped while the United States' reach is nearly maxed-out.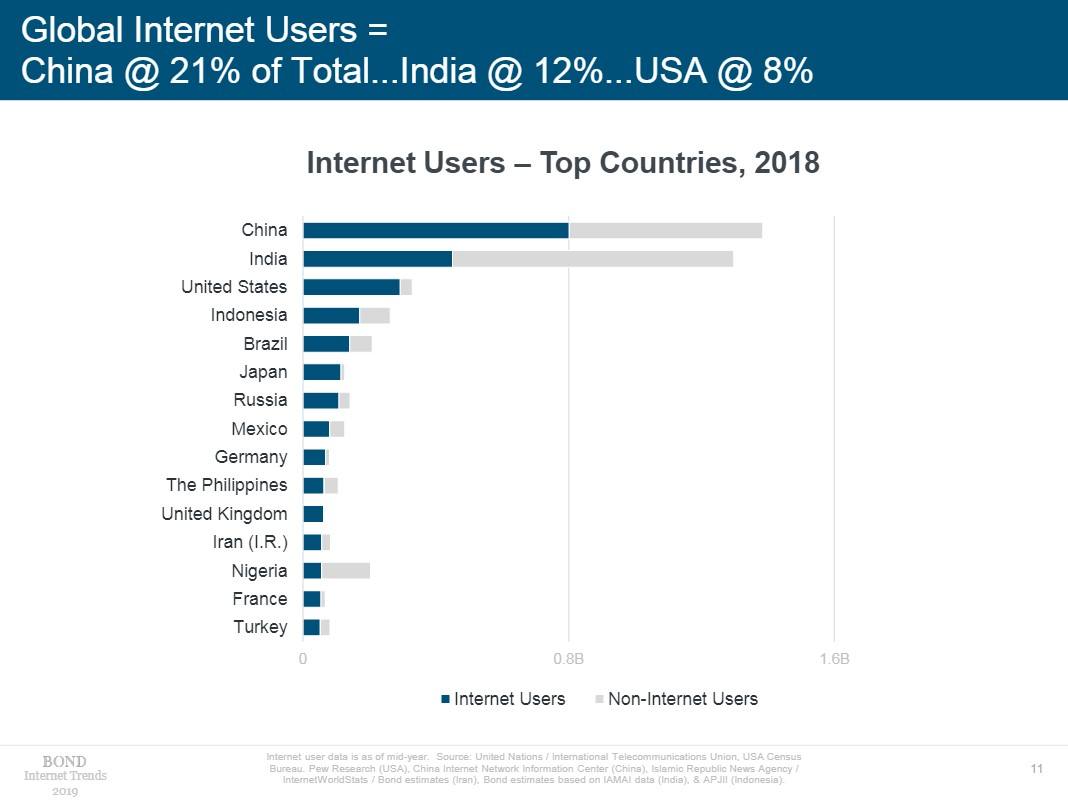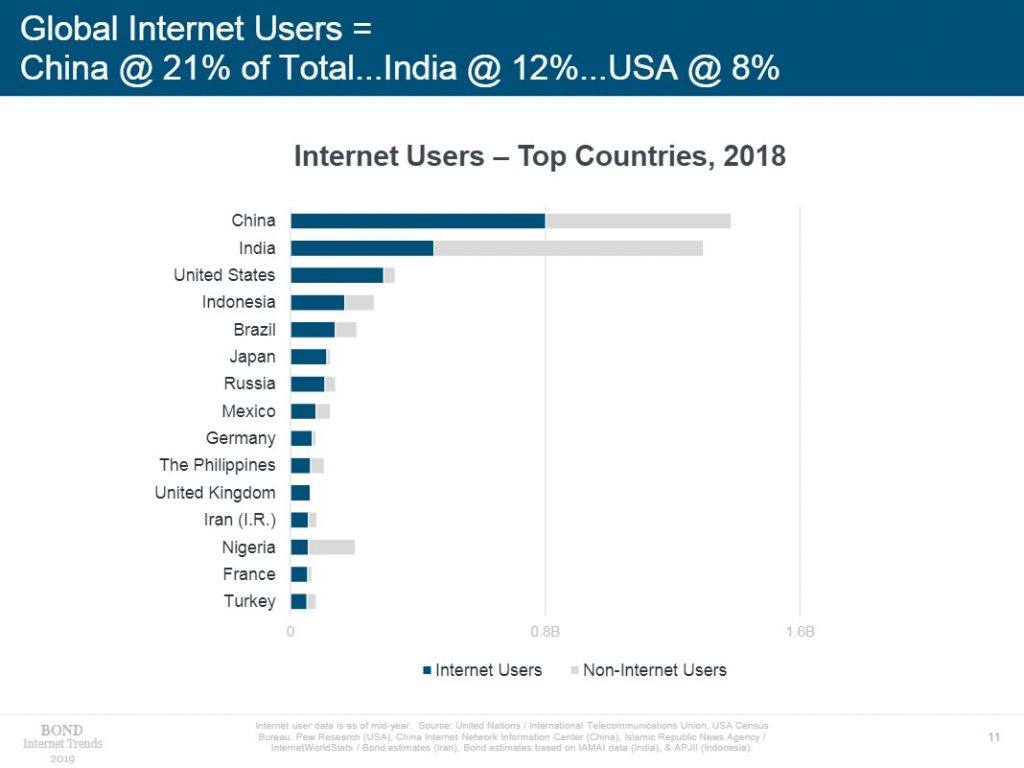 2. Free Trial Marketing Drives Conversions
The Short of It: Services that use free trials and / or free tiers that allow users to experience the service for free (think Spotify, Netflix) are winning paid subscribers. Users are willing to ultimately pay for a subscription when the free trial ends. Personal or online recommendations are driving purchases, as well.
3. Social Media Overview
The Short of It: YouTube and Instagram are growing the most users, though there is no mention of TikTok in those findings. Astoundingly, 26 percent of adults globally are online "almost constantly" while users simultaneously are trying to spend less time online, be it himself or herself or actively seeking to limit their children's online time. The report also has several slides dedicated to perceived or actual negatives from social media use, ranging from privacy concerns to online bullying.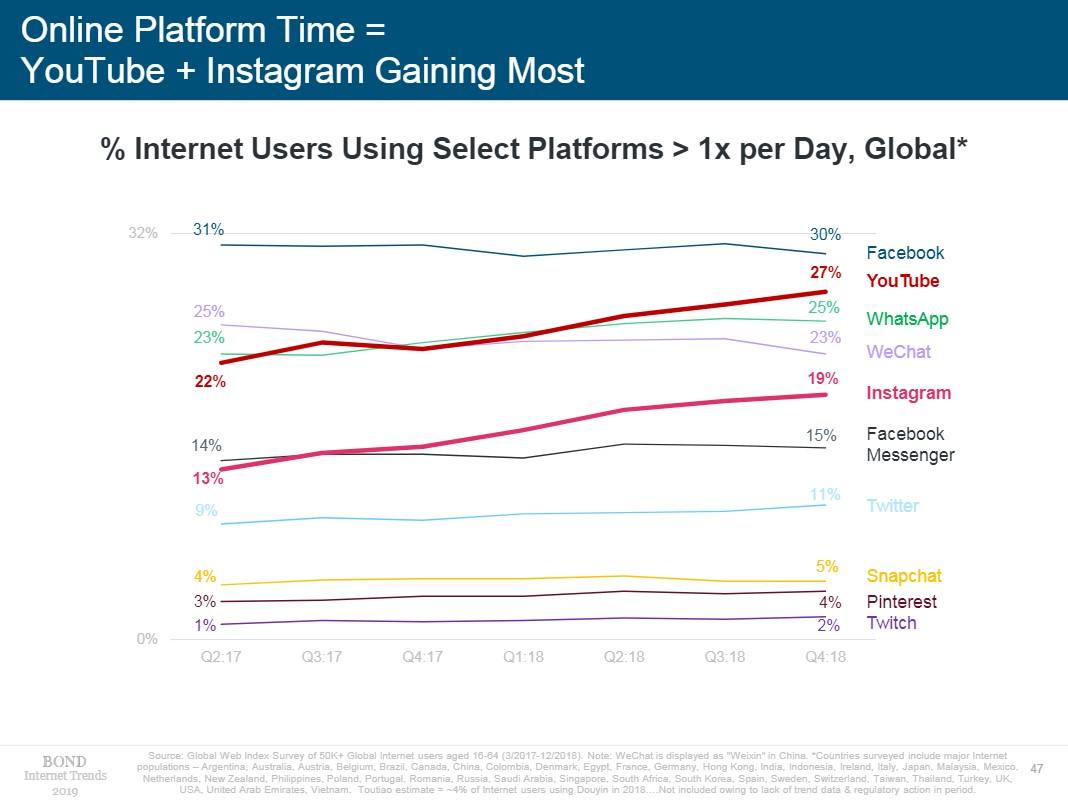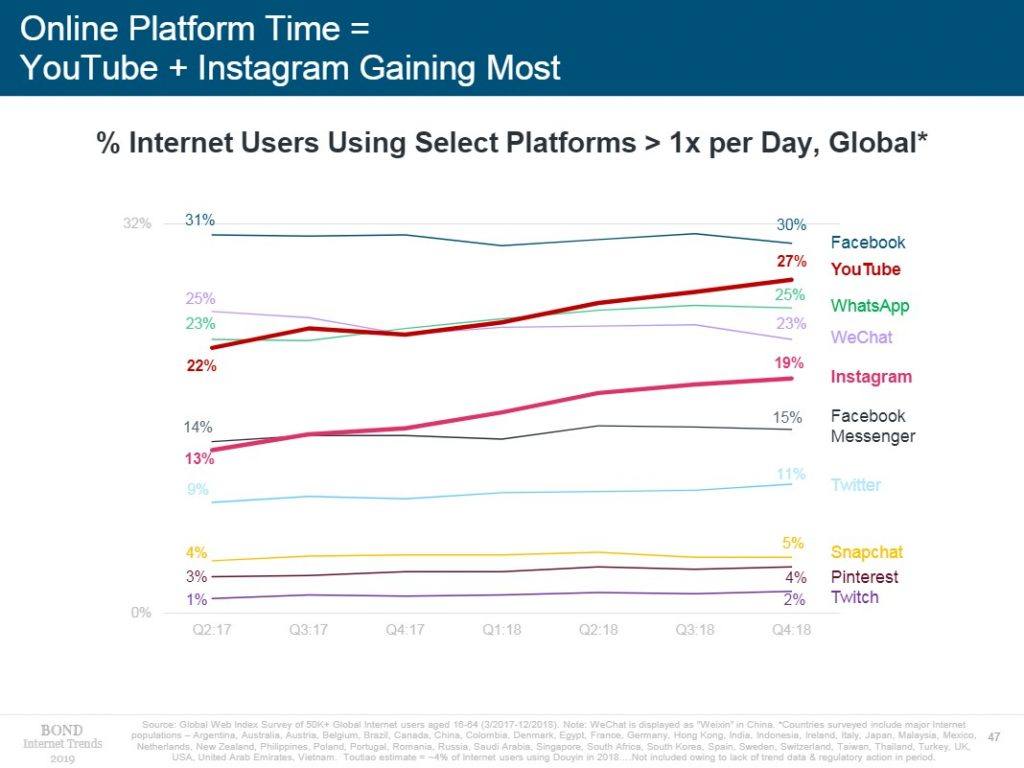 4. Mobile Overtakes Television
The Short of It: Daily time spent watching TV is on the decline while time spent on mobile is growing rapidly. This year, minutes spent on mobile exceeded minutes spent watching TV 226 to 216 – the first time this has happened. People are viewing videos more and more online, with 28 percent of their time spent viewing videos on mobile instead of TV, with this trend growing steadily each year.
When looking at digital media usage, mobile continues to consume more and more hours of the day while Desktop / Laptop retreats to the lowest level (two hours per day) recorded in the last decade. What's interesting is the surge of Other Connected Devices, which claimed 0.7 hours a day in 2018. This figure was steady at 0.2-0.4 hours since 2008 but is now growing at 0.1 hours a year (up from 0.6 in 2017). If you aren't thinking about smart speakers in your digital marketing strategy, here's your wakeup call. How many years until Other Connected Devices surpass Desktop / Laptop?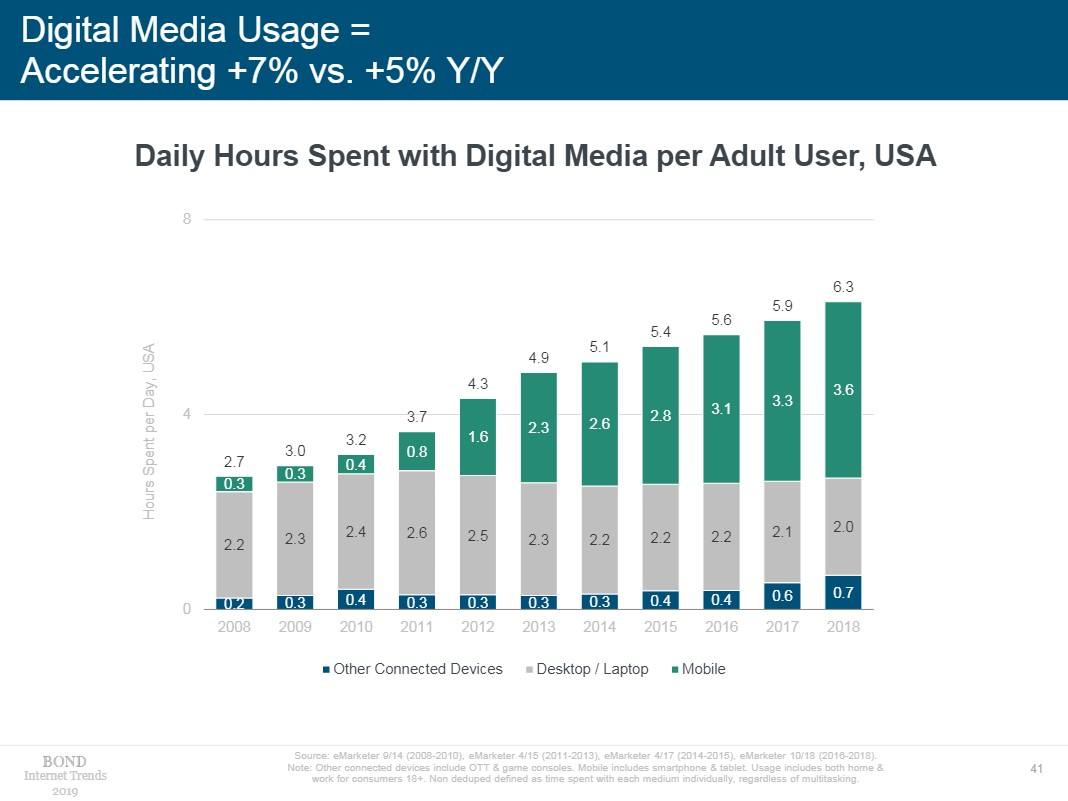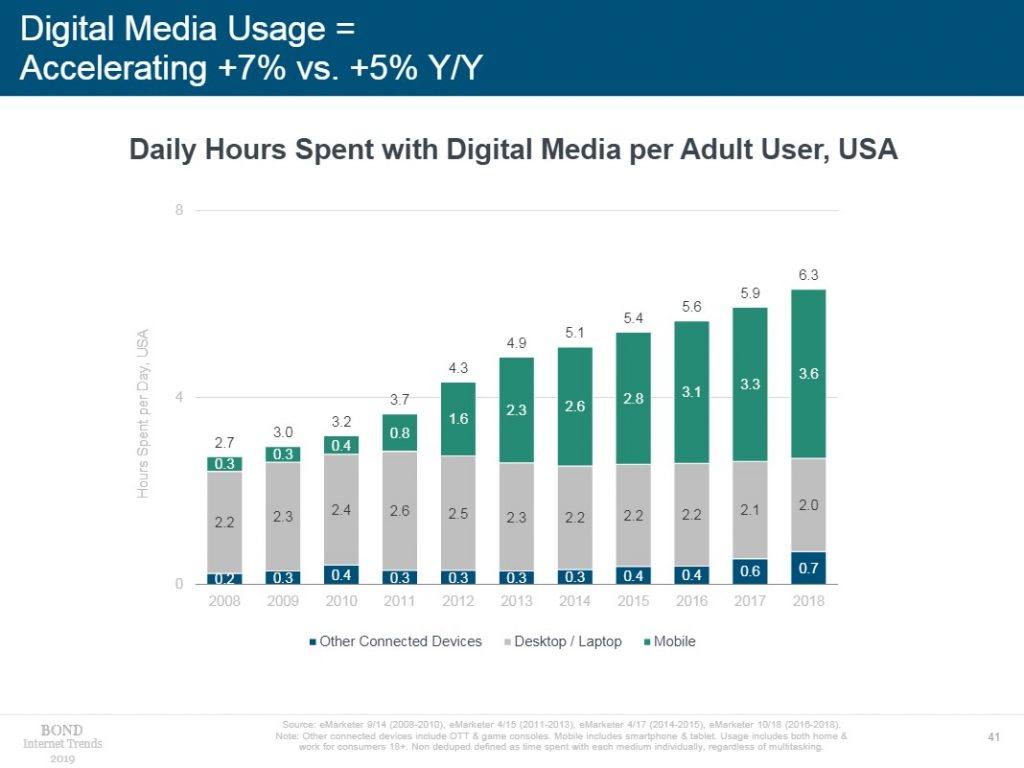 5. Visual Sharing Is a Glimpse of the Future
The Short of It: For a while, text was the easiest way to communicate (think letters, emails, etc.) but images are gaining importance as an effective mode of communication. Instagram, an application meant for sharing images, has reached 1 billion global monthly active users. Facebook released new guidelines for creating the best visual experience for the mobile viewer with specific tips for creating vertically optimized video.
"People have always been visual – our brains are wired for images. Writing was a hack, a detour. Pictorial languages are how we all started to communicate – we are coming full circle."

Kevin Systrom, Instagram Co-Founder
as quoted in Mary Meeker's 2019 Internet Trends report.
6. For Education, Look to Online Learning
The Short of It: As education costs climb, so does student debt, and with it, the surge of people seeking online education. An increasing number of top institutions (University of Michigan, University of Pennsylvania, Arizona State University) are offering online learning at a lower cost. These are four-year degrees completed entirely online. Most schools have at least some online courses. Also, many internet users continue to turn to YouTube as a learning tool, with 59 percent of Generation Z users citing it as a preferred learning tool.
7. For Healthcare, Adapt Now to Online Information
The Short of It: Consumers expect to be able to view their health information online. Already 80 percent of users look online to find health information, doctor reviews and more. If your healthcare website needs some help, we've got tips on ADA compliance for healthcare websites. The Meeker report also showed that users expect to find relevant information / reviews about a healthcare practice online.
8. Local Online Communities Are Thriving
The Short of It: While it's a popular belief that the internet makes people less personable, some platforms (Front Porch Forum or MyCoop) are restoring a sense of community. Nextdoor allows consumers to review local service providers in their area. Unlike Yelp or Facebook, Nextdoor is a private network. Nextdoor's growing popularity may indicate a shift in consumer preference. Rather than sifting through hundreds of mixed reviews on any of the major review platforms, perhaps consumers just want a couple of solid reviews from members of their community?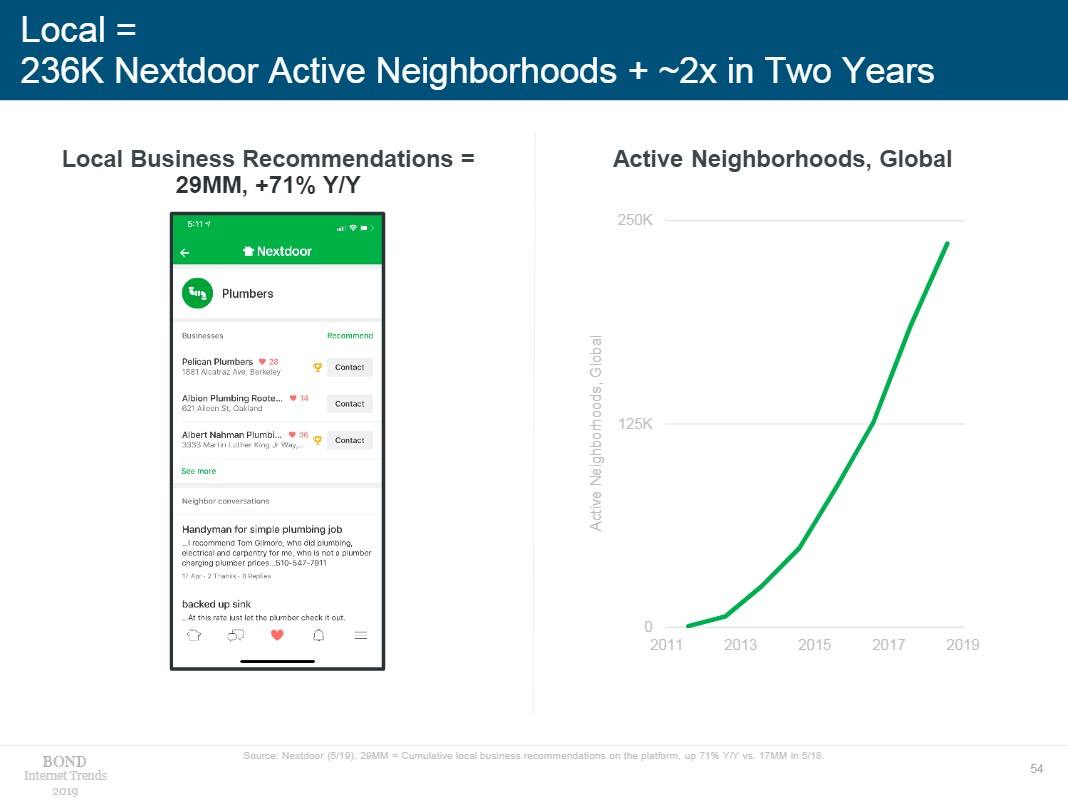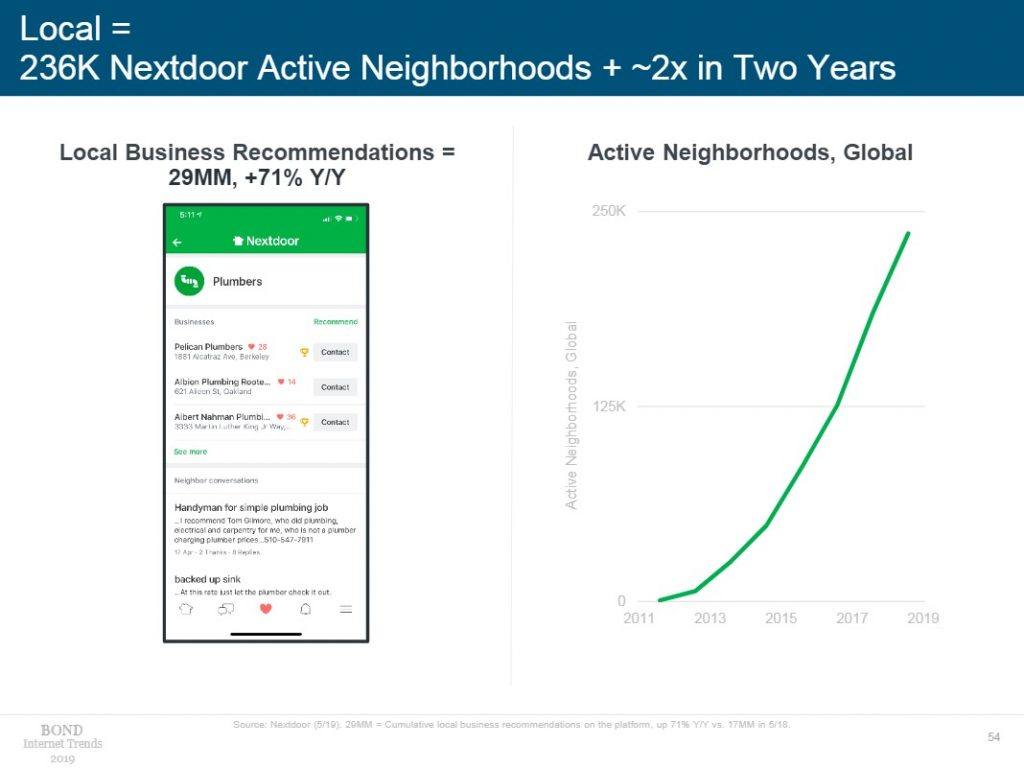 Mary Meeker's Trends Should Inform Your Marketing
Marketing experts always look forward to Mary Meeker's annual report with great anticipation. But as a marketer, what matters most is what you do with the information. Industries of all kinds – from healthcare to higher education – can use this report to bolster marketing efforts. Reach out when you're ready for our help.