Oneupweb: Users' Expectations for Travel & Hospitality Websites
When beginning the pre-production of any website, one of the key steps that needs to be done before any design or development takes place is addressing what the users' expectations will be when using a site. One market in which this is truly important is the Travel & Hospitality industry.
Over 40% of all leisure travel bookings take place online, which makes it essential to deliver a solid user experience for a Travel & Hospitality website. Creating a user-friendly website will drive success for a hotel, resort or travel destination in today's highly competitive travel market.
When creating a Travel & Hospitality website, you should avoid dwelling on establishing an "online presence" for the business, but rather focus on the principle of driving a substantial portion of revenue. A site can look great, but is it going to properly function and allow users to easily navigate, and most importantly, make purchases?
With that in mind, I'd like to take the opportunity to review three key expectations users have when interacting with a website in this market:
1. Leisure is Luxury – Your website's flow and overall user experience delivers an almost subconscious message about the kind of experience your customer can expect. Information should be easily available and effortless to find. People vacation to relax and unwind, and a website that is frustrating to interact with will not appeal to someone who wants to "just get away".
2. Picture This – When trying to engage a customer, the visual aspect is a key component of converting a potential customer to a paying guest. Moving imagery of the destination as well as an elegant and cleanly laid out user interface is a must. Don't forget to provide clearly understood and accessible information regarding rates and amenities, which communicates a feel of "accessibility"—allowing your customers to feel comfortable with their experience.
3. 1, 2, 3… Book – Once a potential customer is ready to make the jump to being a paying guest, the transition needs to have few steps and be as seamless as possible. Having too many "action paths" throughout your site prevents you from getting the single opportunity to get that conversion of turning a visitor into a paying customer. Also, as in the e-Commerce world, completing transactions safely and securely will keep your customers' minds at ease and potentially drive word-of-mouth promotion about your own site.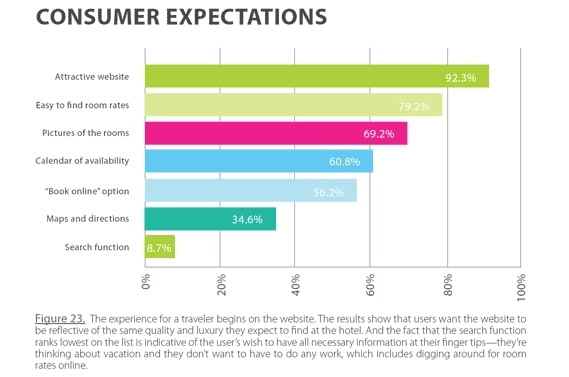 Please note that you can use these techniques for your own website (even if it isn't related to the Travel & Hospitality industry) or for a client's website as well.
For more information about web design for the Travel & Hospitality, Business-to-Business, Higher Education and e-Commerce industries, check out our new study, Revolutionizing Website Design: The New Rules of Usability. This blog post only scratches the surface of the wealth of information contained within our report, so download your copy today!