Local SEO for Franchises
The first thing to know about local SEO for franchises is that it's not hard, but it can be time-consuming.
The second thing to know is that before investing in local SEO (whether through your own time or by hiring someone), you should take stock of how you and your competitors currently appear in local search to assess the opportunities and challenges in attempting to rank higher there.
Is Local SEO Right for Me?
Do you need to focus on local SEO for franchises if there are thousands of locations? Ask yourself these seven questions:
How crowded is the local organic landscape? If you're in a major metro with a number of competing franchises or other local businesses, it's going to be that much harder to gain one of the top spots.
How new is your business compared to your competitors? More established businesses in real life are also more established in the eyes of search engines.
How is your competitors' SEO game? If they all have a high Domain Authority compared to your site, it'll be more difficult to outrank them for your core keywords.
How much time (or how much of your marketing budget) are you able to invest? You should start to see some results after putting in a solid 50-100 hours' worth of work.
How patient are you? Local SEO takes time, and there is no such thing as immediate results.
How much have you already done? If you've already hired an agency and your website and other properties are optimized for local SEO, but you still aren't seeing the results you want, there probably isn't an SEO magic bullet that's just been overlooked.
What are your goals? If your goal is to rank #1 overall for "handyman Los Angeles," there is very little chance you'll be able to accomplish that without a good deal of professional help. Search results are not a democracy or a meritocracy no matter how much we'd like them to be.  
Want to know your and your competitors' Domain Authority? Just shoot us a note – we'll be happy to look them up for you.
If you have realistic goals, are able to put in the work required, and feel good about what your competition is doing from an organic search perspective, then local SEO might be your best bet.
If you're not so sure, you might be better off going with local paid ads.
Great, Let's Keep Going
If local search might be the right tactic for your franchise and you'd like to learn more, then let's roll up our sleeves and get to work. Here is the blueprint for success:
An A+ Website
This should be corporate's responsibility. If the website hosting your franchise page isn't fast (you can check the speed with this tool), optimized for mobile, and delivering a supreme user experience, you need to take those issues up the chain.
Google Business Profile
Formally known as Google My Business, this is a great opportunity to improve your digital presence. Take control and optimize some of the most important SERP real estate with an enviable Google Business Profile. If you operate your franchise out of your home and are confused about whether to show your address, read this GBP study.
Local Links
Did your franchise sponsor the local softball team? Did it donate 10 gallons of frozen yogurt to a charity event? Did it fix the plumbing for a marketing agency in your area? Ask these businesses for a shout-out and a link back to your site!
On-page Optimization
This is the cornerstone of ranking locally for the keywords relevant to your franchise. Moz has a series of great guides on the subject. Be sure, too, to check out what an over-optimized page looks like when it comes to local SEO (not something you want).
Local Listings
Back in the day, you paid to have your business listed in that big fat yellow phone book. Today, you need to make sure your business appears on Google Maps, Apple Maps, Facebook, Foursquare, Yelp and dozens of others, and is easily findable by Siri, Cortana, Alexa and other voice assistants.
The easiest way to manage all these local listings is with a third-party platform like Yext, Moz Local, Whitespark, Brandify or Bright Local.
Own a healthcare franchise? Check out this comprehensive guide to local listings for healthcare.
Online Reviews
There are many creative ways to solicit positive reviews. You can work with a review and reputation management company like Podium or Bird Eye. Companies like these streamline the review solicitation process, offering everything from text- and email-based campaigns targeting your customers to supplying tablets for customers to use at the point of service.
You can also get creative when you ask for reviews. One example we've seen from a home services franchise is for the tech to explain to the customer that if they leave a positive review, he'll get a small bonus from his boss. It's an excellent way for the customer to leave a "tip" and for the business to get a great review. Win-win!
Content Marketing
Still unsure what content marketing is? Impress your audience with content that elevates you above the competition and is hyper-relevant to your particular area.
Some ideas:
A plumbing franchise owner could create a funny piece called, "The 6 Weirdest Things We've Ever Found in Someone's Pipes."
A frozen yogurt franchise owner could create a visual guide on how to make the perfect cup of frozen yogurt (how much to fill the cup, when and how many toppings to add, etc.)
A dry cleaning franchise owner could write a useful guide on when it's okay to ignore the "dry clean only" tags and when it's not okay.
Pro tip: Organize your amazing content by learning how to create a content calendar.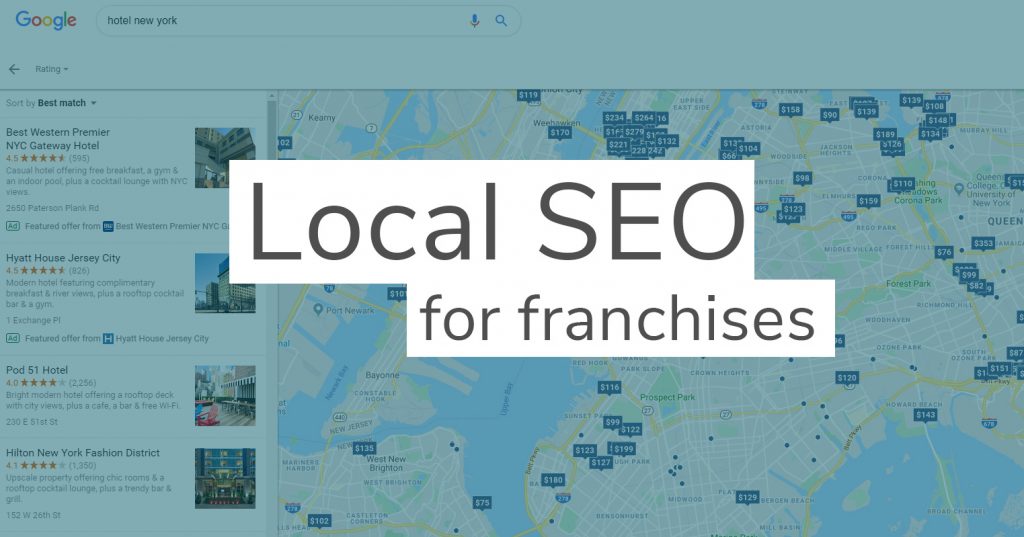 But What if My Goal Is to Rank #1 Overall for "handyman Los Angeles"?
Google has decided that users love aggregator sites.
That's why Google often gives the top spots for these types of queries to sites like Yelp, Angie's List, Home Advisor and Thumbtack. It may not be fair, but it's what we've got.
More important, though, if your goal is to rank #1, it means you want your franchise to rely on organic traffic to drive most of your sales.
Why is that?
Is it because SEO is "free"? Is it because you've tried running ads before and didn't see the ROI?
Your ultimate goal, whether you own a handyman or frozen yogurt or dry cleaning franchise, should be sales. And ranking #1 in local search is not the only way to get sales.
For instance:
What about running some Local Ads to get in the top of the local pack, like this: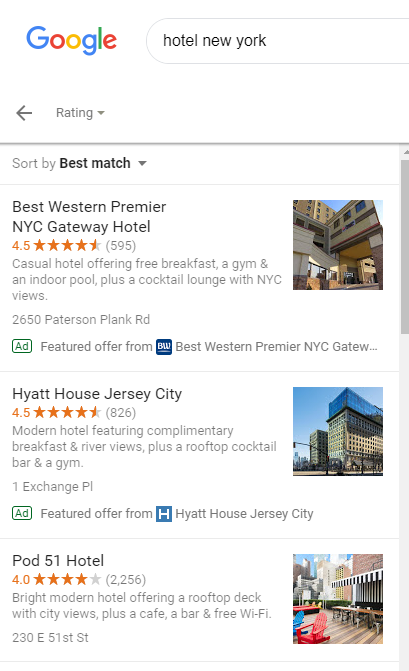 Start your local SEO efforts by taking a top-down approach. Get a feel for enterprise-level digital assets, learn, and apply what works across franchise pages. Need more franchise marketing help? Feel free to drop us a note and make Oneupweb your digital marketing partner