What Is Local SEO and Why Do I Need It?
Local SEO is the art and science of optimizing your business's digital identity so that you appear as a search engine result when users make searches in your geographic area. Organizations that rely on location-based searches, such as restaurants, auto repair shops or healthcare providers can use local SEO optimization techniques to reach more customers and clients in their area of operations.
Why Local SEO Is So Important
While ecommerce is certainly on the rise, nothing beats local. 46% of all Google searches have local intent, which means the user is looking for information on a brick-and-mortar business nearby. Optimizing Google Business Profile and Apple Maps listing positions your brands in front of customers who are ready to convert. No matter how fast Amazon deliveries get, nothing beats local businesses for immediate needs. 50% of consumers who conduct a local search on their phone with visit a local store within one day; 18% of consumers will stop in to make a purchase the same day.
Following just a few basic local SEO tips and insights, you can make substantial improvements in how your business ranks. Here's what you need to know.
What Are Google's Local SEO Ranking Factors?
For years, Google has stated that its top two ranking factors are:
For years, Google has stated that its top two ranking factors are:
Links – Including links to the domain and the number of links on the domain itself.
Content – Quality, user-focused and optimized content will always perform well.
When it comes to local SEO, we'd wager that proximity to the searcher is the next most important local SEO ranking factor.
Check out this screenshot for the query "restaurants in Traverse City":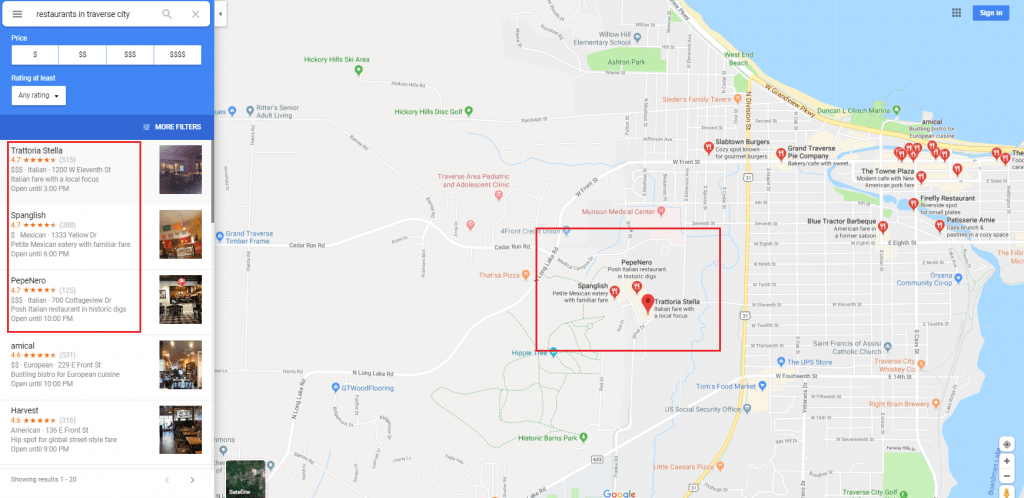 Each of those three restaurants – Spanglish, PepeNero, and Trattoria Stella – is less than 100 yards from our office.
Granted, those three eateries all have great reviews (and deservedly so!), but that's just one indicator of their authority in the eyes of search engines. We love them, but Spanglish's website could use some improvement. PepeNero's website isn't secure. Our SEO research tool, Semrush, puts Stella at an organic rank of 23 for "traverse city restaurants" – not exactly tops.
It's worth pointing out that none of those restaurants are close to the city center of Traverse City – the downtown – which arguably is the default physical location for that query.
How Can I Overcome the Physical Limitations of My Business?
You might love your physical location, but it may not truly reflect your business's primary audience or service area. Perhaps one or more of the following statements resonates with you:
"My business is just outside the city limits and it doesn't show up for city-specific queries."
"My business is located in Dartmouth, but most of my customer base is actually in Fall River – how do I signify that?"
"Why can't I just use a P.O. Box for my address?"
What can you do if your physical location is causing problems? Sadly, we may have to wait until Google stops over-emphasizing the convenience factor when it comes to serving local results. There are subtle ways to improve local SEO performance to reduce the negative impact of a less-than-ideal location.
We once worked with a gentleman who owns a small custom auto shop where customers can visit him, but primarily he travels to the more populous next town over where he's established a name for himself. But when customers in that town search for his services, he doesn't show up.
What gives? He's doing everything else right – he's got a great website with lots of links, amazing local content, an active social presence, etc., but his business is still suffering. We suspected that even with all these other great signals for search engines, Google was still placing too much emphasis on his actual physical location, even though he rarely sees customers there.
To fix this, we suggested he change his address to his target town. Doing so would likely trigger a re-verification process, and a new postcard being sent out. Many co-working businesses offer mailbox services, which would allow him to utilize an address in the community where he does more of his work.
If you do offer services across a region, we have some excellent tips on optimizing your local SEO strategy even if you don't have a set business location. We also recommend that you stop hiding your address if you're a service-area business.
Other Ranking Factors for Local Search
Aside from getting creative with your physical location, you need to pay attention to the other local SEO ranking factors.
These include:
Local Links
Did you sponsor the local baseball team? See if the youth sports league will link to your site. Did you fix a plumbing mess for the café across town? Ask them for a shout-out on Facebook. If you work with local businesses or individuals look for every opportunity to increase your local relevance by highlighting these relationships.
On-page Optimization
Many local businesses tend to overdo it here. Overoptimization, or keyword stuffing, is often penalized by Google and is jarring for the reader. Here's an example: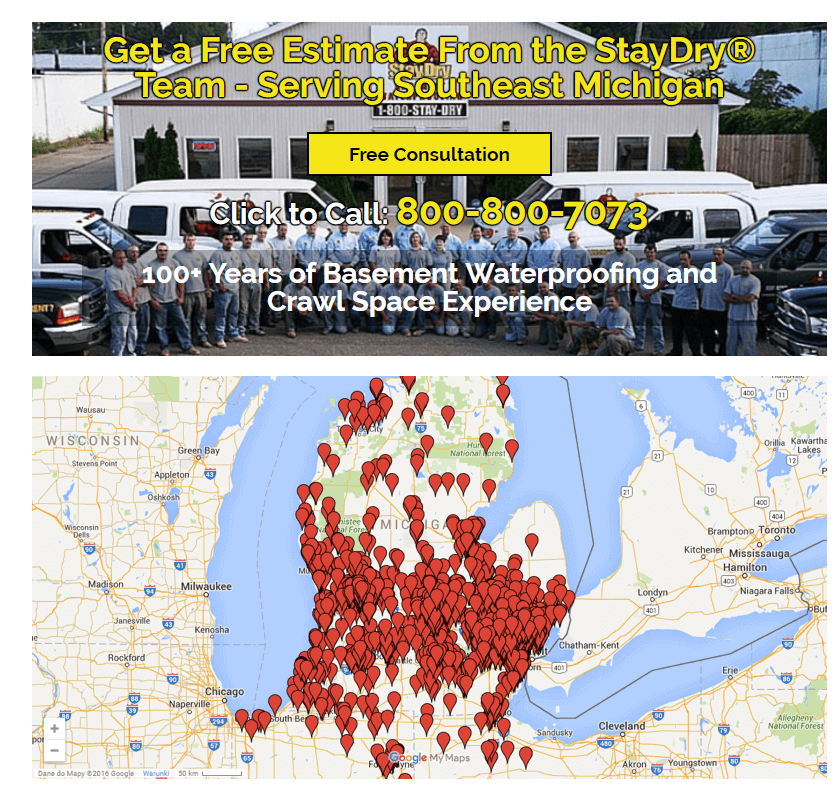 We're not sure what these pins are supposed to represent. They're not office locations, which means they represent either cities they serve or jobs they've completed. Either way, don't do this – there are better ways to communicate your geographic relevancy.
Here is an example of one of their local pages. The geomodifier density is over the top:
Keyword stuffing like this is obnoxious to read and doesn't provide any value to the user. Include your relevant keywords and synonyms in the title tag, meta description, headers and body copy, but make sure you're not sacrificing user experience (UX) and quality content in the process. Also, optimize for "best" and "near me" searches when you can.
Google Business Profile
Take control of your local presence on Google with an accurate Google Business Profile. Formerly known as Google My Business, this is a great way to provide users with information and establish trust. Pay attention to your photos, too. Be sure to answer any questions that come in from the public, and if you have the resources to manage it, assign a phone number so they can text you for information.
Related: Google Business Profile Optimization Tips
Local Listings
How does your business appear on Apple Maps? What does it look like on Yellow Pages? If you ask Alexa what your business hours are, what does she say? Managing your business listings is a critical component of local SEO. Be sure to update contact information, hours of operations and changes to products or services regularly; we recommend checking this every other week.
Number and Quality of Reviews
Local SEO builds trust and authority. It goes without saying that a lot of good reviews is a good thing, but remember that most people who have a positive experience with your business aren't going to leave a review – they'll just thank you and go about their day. You have to encourage your happy customers to leave reviews with signage, timely email follow-ups, and more. Check out this video and blog on how to collect more Google Business Profile reviews.
Review Responsiveness
Do you respond to all reviews, positive and negative? Doing so shows search engines that you're an active business owner who takes time to foster a good community experience – another part of a solid local SEO strategy. Invite negative reviews to reach out via phone or email; if the complaint is legitimate, acknowledge it publicly and then deal with it privately.
Website Speed and Mobile Friendliness
Google now indexes the mobile version of your website first, which means that you must provide an exceptional experience for smartphone users. Don't make them pinch their fingers to read your menu or bury important information five clicks deep. Of particular importance is speed – your site has to load very fast in order to send strong signals to search engines. Head on over to Google's mobile speed test to see how your site is doing.
Social Signals
Are people talking about you on social? Do you respond quickly to questions or complaints? Maintain an active presence on the channels you manage, and search engines will pick up on it. Be careful, however, to not manage more channels than you have time for. If you're trying to do Facebook, Instagram, Pinterest, LinkedIn, Twitter and YouTube and do them all well, you're going to struggle (unless you have a dedicated staff member or you never sleep). Having a crappy social presence does more harm than having no presence at all. Get more in-depth info on which social media channels your business should be on.
Localized Content
Google wants to see that you're an authority for your particular area, which means creating content about that area. Let's revisit our basement waterproofing example from earlier:
They had the right idea for localized content with "Birmingham's Climate," but the execution was incomplete. Here is some content that would help them improve this section:
Average rainfall by season or month, showing how Birmingham's precipitation is higher than the national average, and saying when homeowners need to be concerned about flooding.
Are there any rivers in the area that are prone to flooding?
What kind of waterproofing do "Michigan basements" need? How many homes in the Birmingham area have a Michigan basement?
Is there a popular style of home construction in Birmingham, and if so, how does that relate to the waterproofing services they provide?
Are there extreme temperature swings in the spring? Does rapidly melting snow result in water problems?
Whatever industry your local business is in, creating this kind of helpful, authoritative content that demonstrates your understanding of the area will up your local SEO game.
Need help with your content marketing strategy or execution?
Activity on Your Website
The activity Google sees on your website helps inform how they rank you against your competitors. For instance, if users regularly click to your site from search results, only to quickly hit the back button (because it doesn't load quickly, the content isn't what they were expecting, or the site is poorly designed, etc.), that's not a good sign. If users bounce around from page to page and only spend 11 seconds on your site, that's a problem. Look at your Google Analytics data to get a feel for your visitors' behavior – and the picture that behavior paints for search engines.
Make the Most of Localized SEO with Oneupweb
https://www.oneupweb.com/contact-us/These are just some of the major ranking factors when it comes to local SEO. Combined with robust content marketing, email, social media and paid strategies, business of all sizes can get more out of the digital properties and accelerate growth. Let Oneupweb get your digital marketing up to speed. Contact us or give us a call at 231-922-7722 today.