What Is the PESO Model for Marketing?
Those in the marketing world are familiar with paid, owned and earned media. This familiar model has evolved to include shared media, making it the PESO model.
The acronym stands for different types of media. Here's are the quick definitions and PESO model examples:
Paid media. This is media that you pay to have delivered to specific audiences. For example, paid media includes display ads, search ads or boosted social media posts.
Earned media. This is non-paid publicity (or word of mouth) that you earn based on PR or great content. Examples of earned media include brand coverage in AdWeek or landing a news interview.
Shared media. This is basically social media. However, some types of user-generated content can fit in this category. An example of shared media is posting engaging, organic content on Instagram.
Owned media. This is otherwise known as content that you create yourself. For example, owned media is created when you regularly post industry-relevant blogs on your website.
Embracing Paid, Earned, Shared and Owned Media
Today, the lines between these four types of media have become blurred, as one piece of content could be published by a trade journal, advertised on Facebook, shared organically on social media and then promoted on your blog. This type of connection is what the PESO model is all about. It helps develop industry-leading brands with expansive reach in multiple marketing channels.
A brand could run an ad campaign and then call it quits after seeing some results. But focusing on paid media alone would put a stop to the conversation with their audience, squashing the chances of generating earned media. That's why multiple media types need to work together in today's digital landscape. For example, social media marketing and content marketing have become more of a pull medium instead of just a push – whenthe audience is active and engaged, marketing becomes a two-way street and the prospects come to you.
Because of this, businesses and their marketing partners are using the PESO model to rethink their approach to success. Keep reading to get some ideas for rethinking your own strategy.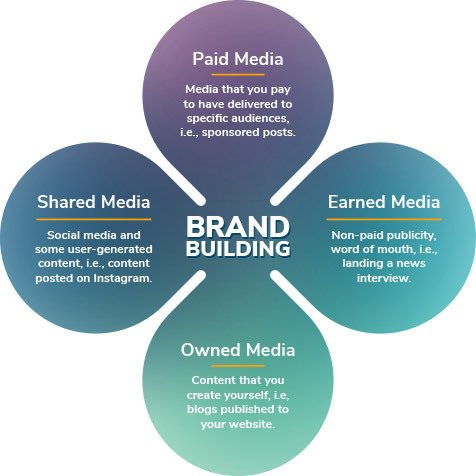 The Rise of Shared Media
Shared media is content generated specifically for easy circulation. Shared media and social media are basically synonymous, though some other user-generated content can be classified as shared media too. Shared media on various social platforms is an essential part of a well-rounded inbound marketing strategy, and its importance continues to grow.
Earned Media for the Win
Of the four buckets, "earned media" is like the Holy Grail. Earned media can be most easily described as the free impressions that result from any non-paid media. Quality content marketing, SEO and various PR strategies are all good drivers of earned media.
Here's an example of how to get earned media: You create a really cool industry-specific guide (owned media) for your audience and promote it with an organic post on Facebook (shared media). Your followers and social ambassadors share it and engage with you, their individual networks see it, and then an authoritative publication mentions the guide on their website (earned media) and gives you a backlink. The super-authoritative backlink boosts your SEO performance, allowing the guide to rank better in search engines, attract more people to your website and attract more earned media.
This type of chain reaction is why earned media is both valuable and difficult to get. But the potential boost in brand impressions, leads and sales is worth the effort.
One more thing to keep in mind: Even though earned media is attracted through non-paid media types, paid media (like ads and boosted posts) can still help you get earned media because it boosts brand recognition and trust. Think of how paid media can help support SEO performance – this is a great example of a symbiotic relationship that makes the PESO method so powerful.
How to Effectively Use the PESO Model
Is your business ready to lean into the PESO model? Here are some requirements that Oneupweb staunchly believes in:
Knock down silos. To get the PESO model to work for your business, the most important step is making sure all internal stakeholders and vendors are working toward the same goals. Chances are, different people are managing different types of media and looking at different data. Find ways to better communicate and support each other.
Try new things. Interesting in beefing up a specific marketing channel? Do it – and think about how it can connect to everything else you already do to work that PESO magic. If you want someone to take a hard look at your current strategy first, consider our FastTrack Program.
Measure twice, cut once. OK, this is a carpentry rule, but it applies to marketing too. Know which KPIs are tied to your goals. Look at that data often to see what's working and what needs to change. And before you react too strongly to a change in the numbers, make sure you have enough information to make a statistically relevant decision.
If you're looking to refine your overall strategy for meeting revenue goals, Oneupweb's digital experts would love to back you up. Give us a call at (231) 922-9977 or fill out our contact form to get started.