Crack the Code With Ed Kauffmann
Name:
Ed Kauffmann
Position:
Web Developer
What's your average day like at Oneupweb?
Busy.
Tell us about a favorite client moment.
When a client quickly realizes that their site is coming together toward the end of the project, and they tell us it's even better than their expectations.
Tell us about a favorite Oneupweb moment in general.
Management brought in home-made tacos for lunch and we all hung out for a while.
What's your favorite blog and why?
Whatever one contains the information I was looking for after a Google search.
What makes Traverse City appealing?
The bays and water activities.
Years from now, what will stick out most about 2014?
The year of renewed interest in space exploration.
What's the last song you intentionally listened to?
"King of Pain" by The Police.
What's your secret guilty pleasure?
Railing against emoticons and too much social media, though I don't feel guilty about it. 😉
Email Ed directly at ekauffmann@oneupweb.com or send him a message on Facebook.
Up Next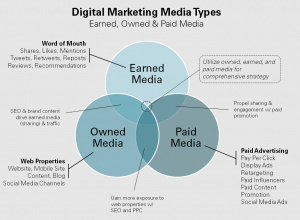 In order to generate quality website traffic and efficient ROI for your business, you already know you need content that's compelling and useful to your target audience. But website content creation is not enough. A great strategy combines different types of media for optimal performance. Let's talk about earned media vs. paid media vs. owned...