Meet Jonelle Carroll-Berube, Our WordPress Expert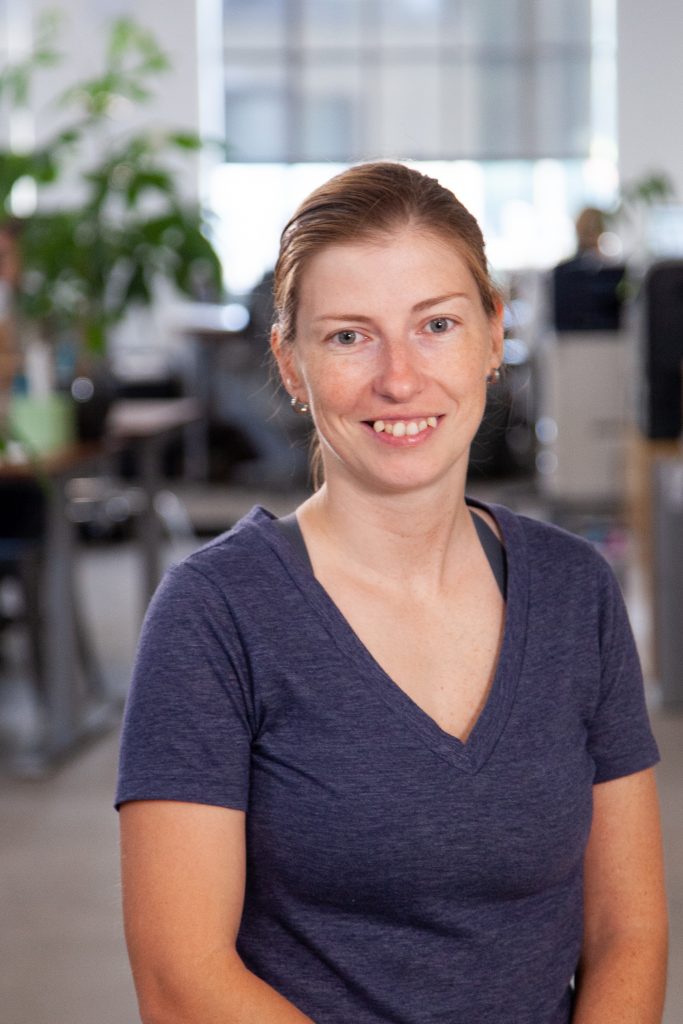 Name:
Jonelle Carroll-Berube
Position:
Remote Lead Web Developer/Developer Advocate
What's your average day like at Oneupweb?
A typical day in my life as a remote employee consists of arriving at my desk and cranking the tunes. (Don't have to worry about anyone not liking my playlists.) Next comes reviewing emails, upcoming tasks, outstanding items and peer code reviews. Once those are out of the way, I dive into the projects assigned to me.
Tell us about a favorite Oneupweb moment.
I seem to have a lot of favourite [Note: You will notice some Canadian spellings. Jonelle is an actual, real Canadian – she's also our Great White North spelling expert for copy we write for our Canadian clients.] moments already. One of the better ones was when I came to Traverse City to meet the team. Everyone was so welcoming!
What's your favorite blog, and why?
In the past year, I've come across Medium. It has some great articles, and not just web-development related.
What do you really do at Oneupweb?
I develop new processes and procedures for the web development team and provide technical assistance wherever possible. My goal is to make lives easier through automation and avoiding duplication. Aside from that, I'm a backend web developer who specializes in WordPress and framework development.
What do you do when you're not at work?
Outside of work, I am a wife and mom to two wonderful kiddos. We have two dogs, one cat. I absolutely love the outdoors, being near the water and spending time with my family. I'm active, I love playing sports, and I'm somewhat of a fitness nerd. I enjoy building/creating things. I'm also a foster parent and an auxiliary police officer for a local police service.
Years from now, what will stick out most about 2019?
Truthfully, starting at Oneupweb.
It's 5:30 p.m. – what's your cocktail of choice?
Cold water, with lime. It's rare that there may be a glass of wine or craft beer involved.
What's the last song you intentionally listened to?
I intentionally listened to "Where You Belong" by Kari Kimmel this week. It really resonates with our household.
What do you carry in your purse?
I don't actually carry a purse … but if it's anything like my laptop bag I could just imagine what would be in there: socks, birthday candles, hair elastics, headphones, Motrin, drawing pencils, free Slurpee and coffee vouchers.
What's your secret guilty pleasure?
Ice cream, cookies, salt-and-vinegar chips. Not all at once, though. Or maybe … ?
Favorite book/movie/album/TV show, etc.?
Favourite TV shows are Live PD and American Ninja Warrior. Our household loves watching baking and cooking shows. We even try to have a Chopped night every once in a while where everyone has to come up with their own unique dish with the ingredients that are in the fridge and cupboards.
Tell us something weird/unique/quirky about yourself.
I'm sure that there are lots. Some things that most folks don't know about me:
My partner and I owned an escape room.
I biked 1,700 kilometers around Ontario, Canada for a charity that a friend and I started.
I stand 5'2" – most folks rarely see me, as I'm remote (or short, who knows).
I was a fitness trainer many, many moons ago.
I was a competitive swimmer.
What's one of life's simple pleasures?
Eating cookies (or any of my partner's baked goods) straight out of the oven.
The internet is listening: Give us some words to live by.
If you never take a step forward, you will always be in the same place.
Favorite Spotify/Pandora station?
For the past week, the "Glory Radio" playlist has been on repeat. It has artists like Young the Giant, Arrested Youth, MISSIO, The Maine and lovelytheband.
Describe yourself in 3-5 words.
Caring, compassionate, dedicated, hardworking, laidback.